Egypt Recruiting Tour for Computer Professionals Masters Program USA: Cairo...
Description
The Computer Professionals Master's Program at Maharishi University of Management is one of the most unique, popular and successful Computer Science M.S. programs in the United States, with 2200 graduates from 83 nations since 1996, and more than 800 current students. Ranked #10 in the U.S. for number of Computer Science Master's graduates in 2016-2017.
The program combines the advanced academics of a graduate level Master's Degree in Computer Science with practical applications in the advanced technical companies in the US.
Meet the Guthrie's
In response to the thousands of inquiries and applications we receive every year from Egypt, Greg Guthrie, Ph.D., Dean Emeritus of the School of Computer Science, Dean of Academic Technology, and Professor of Computer Science, and Computer Science Program Director Elaine Guthrie will be traveling to Egypt from January 22nd through January 30, 2018 to meet with prospective students and top universities in Egypt.
Special features of our Master of Science Degree in Computer Science at MUM:
SPECIAL FOR ALL EGYPTIANS COMING TO THIS MEETING: $3,000 to enroll in the program to qualified applicants in the next month (covers 8 months on-campus)

No English test required

Degree includes paid practical training position at an IT company in the USA

Men and Ladies dormitories are separate, with single rooms for all

Study one course per month
See complete tour schedule here. (http://mscs.mum.edu/egypt-recruiting-tour.html)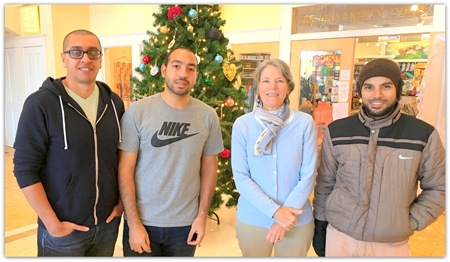 Director Elaine Guthrie with three current Egyptian students
FAQs
Do you have any student videos in Arabic?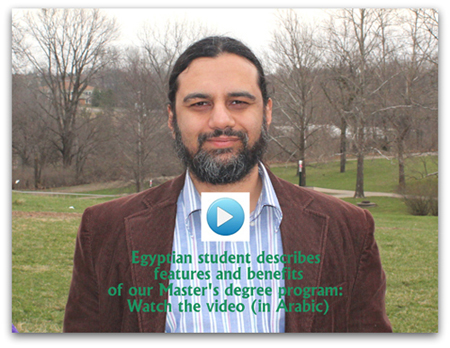 Yes, please see a 7-minute video with Mohamed Samy. (https://mscs.mum.edu/videos.html#video=6qkZleH_oOU)
How can I contact the tour organizer with any questions?
Please contact us at intadmis4@mum.edu or director@mscs.mum.edu to answer your questions & get updated tour details.
See latest tour information here. (http://mscs.mum.edu/egypt-recruiting-tour.html)
Where is Maharishi University of Management located?
Maharishi University of Management is located approximately 5 hours drive southwest of Chicago, in the upper midwest of the United States. Please see this map. ((http://mscs.mum.edu/contact.html)
Maharishi University of Management is accredited by the Higher Learning Commission in the U.S. This is the largest accrediting organization in the US, covering 19 midwestern states.
When are enrollments for international students?
New students enroll in January, April, August and October each year for our MSCS program.
Are there any other similar events upcoming in Egypt during this period?
Yes. See up-to-date tour information for Alexandria & Cairo here. (http://mscs.mum.edu/egypt-recruiting-tour.html)