Event Information
Refund Policy
Refunds up to 30 days before event
Eventbrite's fee is nonrefundable.
About this Event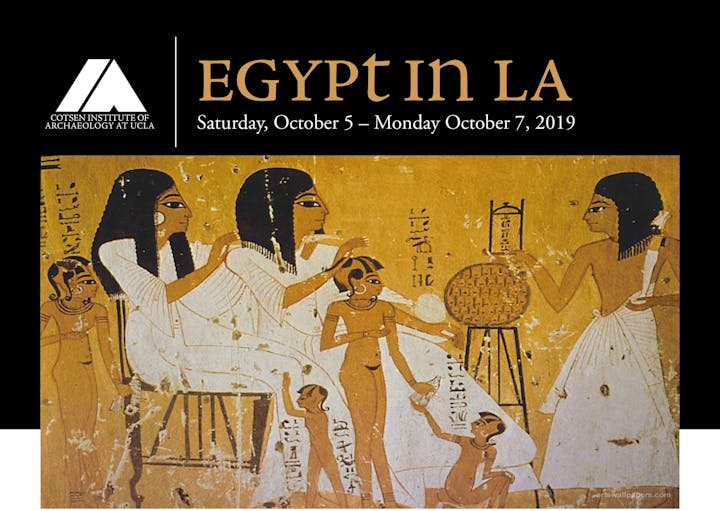 Saturday, October 5, 2019
UCLA Faculty Center 1PM - 6PM
After the program stay for a private reception with our eight visiting professors.
Tickets available at $150.00(Friends of the Cotsen Institute receive a 30% discount: Membership information)
Women in Ancient Egypt: Power, Placentas, and Tattoos
Hear eight of the world's leading Egyptologists, who will appear together for the first time to share some of their views on life in ancient Egypt.
These experts are all editors of the UCLA Encyclopedia of Egyptology (UEE), a prestigious resource of in-depth articles on ancient Egypt that has been a decade in the making. Accessible by the public, these articles cover language, religion, history, art, and a wide variety of other important topics on this critical civilization.
Please join us for this special event which will emphasize the role of women and how they helped shape ancient Egypt as we know it.
Mummies with Ink Recent Discoveries of Tattoos in Ancient Egypt
Prof. Anne Austin, University of Missouri, St. Louis
Tattoos have long been used to express individuality and to show others how the wearer wants to be identified. Texts are virtually silent on the practice in Ancient Egypt, and art historical evidence is unclear. However, in 2014 an extensively tattooed mummy was identified from the community of workers who cut and decorated the New Kingdom's royal tombs at Deir el-Medina. Since then, many other individuals with tattoos have been identified among the numerous unpublished human remains at the site. This talk discusses these tattooed individuals, including the most recent finds from 2019.
Women and Trade in Ancient Egypt
Prof. Juan Carlos Moreno Garcia, Director of ResearchCentre de Recherches Egyptologiques de la Sorbonne Sorbonne Université
By exploring Ancient Egyptian papyri, inscriptions, and figurines it is possible to envision a world of economic exchanges in which women displayed considerable independence. This talk discusses depictions of women as active participants in trade and exchange, sometimes traveling long distances even with nursing infants.
The Power of Images in Ancient Egyptian
Prof. Rune Njord, Emory University
Ancient Egyptian material culture is full of images, much like today's online media. Similarly, the Egyptians had "portraits" made that were idealized beyond recognition or even borrowed other peoples' features. This talk discusses a number of examples that demonstrate how the Egyptians thought of an image (and its possible enhancements), as well as the use of figurines and drawings used to "magically" effect the depicted persons.
How the Female Body Works Ancient Egyptian Concepts of Female Anatomy, Physiology, Medicine and Magic
Prof. Tanja Pommering, University of Mainz, Germany
No Ancient Egyptian texts exist that describe the anatomy of women in detail. It is, nevertheless, possible to reconstruct treatments of female bodily experiences such as conception, pregnancy, and lactation. This reconstruction makes full use of wide range of sources: texts that have give gynecological and obstetrical diagnoses, prescriptions, fertility and pregnancy tests, as well as fascinating magical incantations and spells, magical objects and practices.
On the Verge of Writing
Prof. Andréas Stauder, École Pratique des Hautes Études, Université Paris Sciences et Lettres
Writing is argued to be invented in late fourth millennium Egypt to meet the information-tracking needs of the burgeoning state. This talk examines writing from another perspective, abandoning the categorical definitions and their underlying assumptions.
Meant to Impress: Messages from Egyptian Tombs - How tomb facades communicate with the passerby
Dr. Julie Stauder-Porchet, Swiss National Science Foundation & Université de Genève
At the elite necropolis of Qubbet el-Hawa, three extensively inscribed tombs address the passerby, not only through the hieroglyphs, which could have been read by only a few, but also through their overall visual impact. Although Qubbet el-Hawa was the place farthest away from the capital Memphis, these inscribed facades project multiple lines of connectivity with the Memphite center, and thus the king.
Placentas, Sieves, and the Ancestors
Examining Hieroglyphs in Context
Prof. Willeke Wendrich, UCLA
For years Egyptologists have interpreted hieroglyphs without regard to their context. One such example, designated AA1, was long thought to represent a placenta, and more specifically the placenta of the king of Egypt. However, a different, more complex, meaning is likely when time and place are carefully considered.
Ripped from the Headlines – Of Ancient Egypt Fear-based Violence Against Foreigners Spreads to Native Population
Dr. Jonathan Winnerman, UCLA
The Ancient Egyptians were notoriously xenophobic. Images of the king smiting stereotyped foreigners appear prominently in temples and tombs, and violence against such peoples was an integral part of magical practices. This talk will consider how violence against foreigners is often intrinsically linked to violence against one's own population.

Sunday, October 6, 2019
Vista Theatre 10AM - 12PM Los Angeles, CA 90027
Tickets available at $25.00 (Friends of the Cotsen Institute receive a 30% discount: Membership information)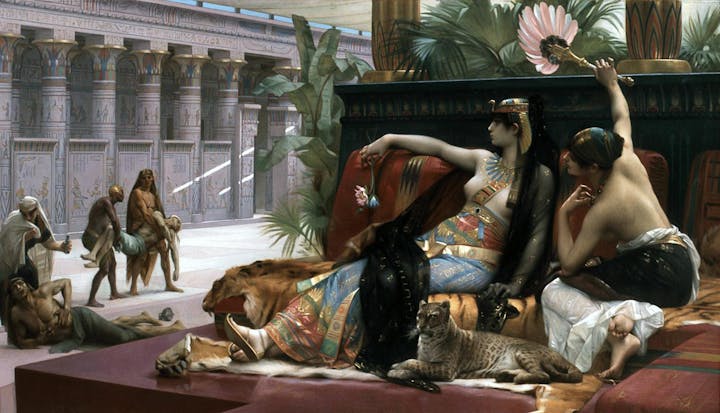 Women & Power in Ancient Egypt
Presented by: Kathlyn M. Cooney
Professor of Ancient Egyptian Art & Architecture Chair of the Department of Near Eastern Languages & Cultures, University of California Los Angeles
A woman's power in the ancient world (and perhaps even today) was always compromised from the outset, and this lecture will address the root causes of this social inequality. Given this social reality in the ancient world, how then did women negotiate their limited leadership roles? Were they able to rule "behind the throne" so to speak?
How are we to find a woman's power when it was so habitually cloaked by a man's dominance? This lecture will address those questions and ask how much of this ancient reality still touches us today.

Monday, October 7, 2019
Getty Villa, 10AM - 1PM
Tickets available at $85.00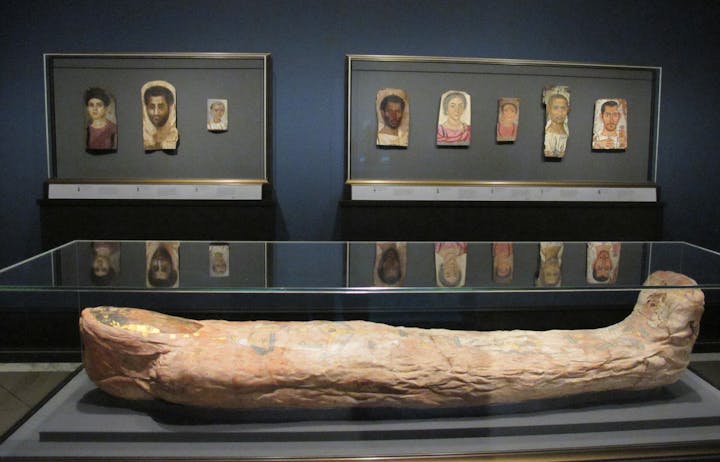 Behind the Scenes at the Getty Villa with Marie Svoboda
Conservator of Antiquities at the Getty, Marie Svoboda, will lead a behind-the-scenes tour of the conservation labs at the Getty Villa in Malibu. The tour will include discussion of the highlights of a collaborative endeavor entitled, APPEAR: the Ancient Panel Painting, Examination, Analysis and Research project. Marie is currently working with 42 institutions on APPEAR which focuses on the technical study of Romano-Egyptian funerary mummy portraits. Lunch at the Villa is included.
Refund Policy
Refunds up to 30 days before event
Eventbrite's fee is nonrefundable.