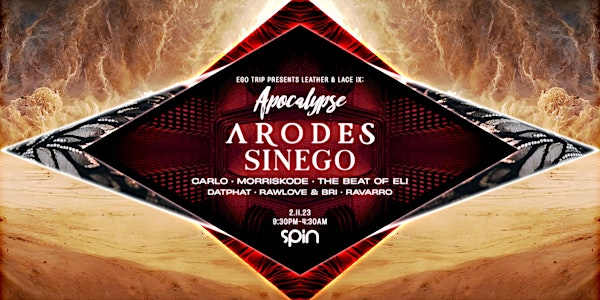 Ego Trip Presents: Leather & Lace IX - Apocalypse ft. ARODES & Sinego
Immersive dance party with three floors of art installations, two rooms of music, and an end of the world theme
When and where
Location
Spin Nightclub 2028 Hancock Street San Diego, CA 92110
Refund Policy
Contact the organizer to request a refund.
Eventbrite's fee is nonrefundable.
About this event
Armageddon…Ragnorak…Doomsday has struck and civilization has collapsed. "What happened? Where are we?" With the world in a daze, these questions hover over the population like a dense fog blocking out the light of humanity. As desperation and lawlessness start to take hold, rumors begin to surface… whispers of a place of salvation and a gathering of those seeking answers. Is this just a brief respite for humankind or a true safe haven (and the start of something more)?
As the location is shared, your legs are already running before you've taken a conscious step; an invisible force nudging you in the direction of hope. What appeared to be an abandoned building is brimming with life within. The air hums with the driving rhythms of ARODES and the salacious Latin melodies of Sinego. The sound of laughter feels foreign, yet somehow familiar.
Dozens of frantic thoughts start to creep into your mind, but you reply to them aloud, "First we dance...then we'll figure out the rest."
As the music begins to bring you comfort, you knowing that you can survive the apocalypse at Leather & Lace.
❥ Three-floors of immersive art
❥ Two rooms of music
❥ Aerial performances
❥ Projection visuals
❥ Craft vendors
❥ Funktion-One and Turbo sound
❥ Costumes encouraged
❥ YOU
Doors Open at 9:30PM
Dance Party Ends at 4:30AM
Saturday, February 11, 2023
San Diego | Spin Nightclub | 21+ Event
• All proceeds help fund the Ego Trip lounge at Burning Man
Ego Trip sets on Soundcloud ☛ soundcloud.com/egotripbrc
Artist Info
–ARODES--
Born in Spain, Adrian Rodriguez aka ARODES was surrounded by music since he was a child. His bohemian parents introduced him to a wide range of genres and he grew up touching vinyls from Reggae to Classic Rock. At eighteen, ARODES attended his first music festival and saw firsthand the power and connectivity of music. He was captivated and knew from that moment on he wanted to become a DJ and producer. He soon moved to Los Angeles and became well known in the event and club scene. Around the world, ARODES has been heard playing in cities such as Marbella, Ibiza, Barcelona, Madrid, Mykonos, Paris, London, Amsterdam, Tulum, Sao Paolo, Los Angeles, Miami or New York. ARODES sets forth on a mission with his attempt to make us re-connect, and fundamentally at its core, to make us feel more. Even though his music belongs to the underground scene, his melodic engaging sound is enjoyable for any kind of ear. Deep and sincere music. Currently, ARODES shares his residency between the magical island of Ibiza and Miami.
https://open.spotify.com/artist/4p2f8wUtltMAFuIJB4NR47
https://soundcloud.com/arodes10
https://www.instagram.com/arodes_ofc
--SINEGO–
Sinego is a music producer whose latin flavored electronic tracks have reached more than 30 millions streams on Spotify . His productions have gone viral on digital platforms thanks to the mix of House with timeless melodies from traditional Boleros (a genre originated in Cuba that gained widespread popularity around Latin America throughout the 20th century).
Thanks to his innovative sound design and production; labels like Warner, Ultra Music, Selected, and Sony Music have trusted Sinego to work with artists like Sofi Tukker, Nervo, The Knocks , Sekai No Owari, Elsa Y Elmar and more in order to take them to distinctive sounds where genres become fluid and give birth to songs that remember artists like Nicola Cruz, El Buho, and Nicolas Jaar.
Now, after playing at festivals like EDC, and gaining support from editorials like Billboard, Rolling Stone, and Forbes, Sinego is planning to bring together the fine line between mainstream latin music and underground electronic music.
https://open.spotify.com/artist/3UlAQex8nw3vquHcmY8fpb
https://soundcloud.com/sinegomusic
https://www.instagram.com/sinego
–SUPPORT–
CARLO
https://soundcloud.com/giancarlobeats
https://www.instagram.com/gianniutah
THE BEAT OF ELI
https://soundcloud.com/thebeatofeli
https://www.instagram.com/thebeatofeli
DATPHAT
https://soundcloud.com/datphat
https://www.instagram.com/datty.issues
MORRISKODE
https://soundcloud.com/morris_kode
https://www.instagram.com/morriskode_music
RAVARRO
https://www.soundcloud.com/ravarromusic
https://www.instagram.com/ravarro_
BRI & RAWLOVE
https://soundcloud.com/bri-rawlove-music
https://www.instagram.com/bri_rawlove_music
--------------------------------------------
✻ PERFORMING ARTS ✻
TBD
✻ CRAFTS AND VENDORS ✻
TBA
✻ AUDIO ✻
Rogue Sound Design - instagram.com/roguesounddesign
✻ PHOTOGRAPHY ✻
Peter Speyer - instagram.com/speyerphoto
✻ VIDEOGRAPHY ✻
TBA
--------------------------------------------
✻ VENUE ✻
SPIN NIGHTCLUB
Spin San Diego
instagram.com/spinnightclub
--------------------------------------------
Experience by…
EGO TRIP
Music • Art • Self-Love • Self-Expression
► Tap into your inner magic
Ego Trip is a community of dreamers, doers and creatives dedicated to building experiences that ignite the human spirit. Existing as a 1920s beautique lounge at Burning Man, and a non-profit event series in Southern California, Ego Trip eloquently uses art, music and fashion to promote the exploration of self-love and self-expression in environments that are vibrantly energetic, playful and welcoming for all!
With a deep appreciation for music and its ability to spark great experiences, at Ego Trip events you're guaranteed to discover artists across a variety of genres who unite to create a soundtrack that will keep you dancing and inspired all night.
linktr.ee/egotripbrc
instagram.com/egotripbrc
fb.com/egotripbrc
soundcloud.com/egotripbrc
#egotripbrc
)'(