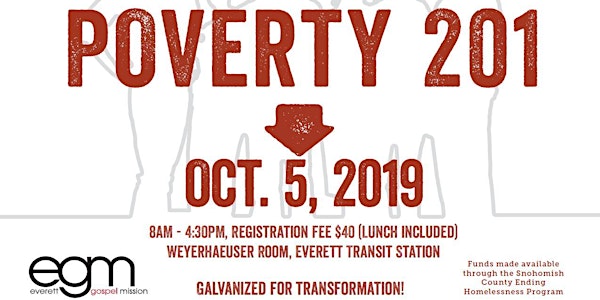 EGM Poverty 201
When and where
Location
Weyerhaeuser Room at Everett Transit 3201 Smith Avenue Everett, WA 98201
Refund Policy
Refunds up to 1 day before event
Description
Building upon the Everett Gospel Mission's (EGM) popular Poverty 101 Class, EGM has responded to numerous requests for practical, how-to courses for developing and conducting effective poverty alleviation strategies, including serving our neighbors affected by homelessness. This has resulted in our new Poverty 201 class.
You will laugh, be moved, inspired, and perhaps confronted. What we are sure of is that each past participant tells us that you cannot partake of EGM's trainings and not be moved in some way
Is this training for me, I am not a professional?
YES! This is not a training targeting professional counselors. It is Intended for anyone who is interested in doing relational poverty alleviation, improving their relational poverty alleviation skills and/or training others in their organizations, but do not consider themselves professional Social Workers, Care Coordinators, Advocates, or Navigators.
Do I have to be a person of faith to attend?
NO! Our goal was to develop workshops that are open and welcoming to persons of faith and those without faith. Workshops where attendees can discuss their faith and how it impacts their action comfortably. Yet, attendees who are not persons of faith will feel welcome and benefit from participating in the workshops.
Saturday Workshop only: Poverty 201 (see below if you have not already attended EGM's Poverty 101)
Saturday, October 5, 2019 | 8:00 AM - 4:30 PM (includes lunch) | Location: Weyerhaeuser Room at Everett Transit 3201 Smith Avenue, Everett, WA
Poverty 201 is a course that focuses on leading healthy and impactful poverty alleviation strategies at your faith community. Poverty 201 takes the foundational concepts of EGM's Poverty 101 to the next level:
providing tools for building relationships that help without hurting
leading organizational change supporting your new / improved strategies
step-by-step instructions on how to connect with local resources (housing, food, health, employment, etc.)
hands-on practice communicating with someone in crisis
Attendance also provides the opportunity to leverage and share resources with other congregations and businesses in the community to strengthen our overall resiliency in relational poverty alleviation.
Friday & Saturday Workshop: EGM Poverty 101 & Poverty 201
Friday, October 4, 2019 | 9:00 AM - 3:30 PM (includes lunch) | Location: Alderwood Community Church 3403 Alderwood Mall Blvd., Lynnwood, WA
Attendance at EGM's Poverty 101 is a requirement for entry into Poverty 201. This special Poverty 101 Class is being offered on October 4th specifically to prepare additional people to become eligible to attend Poverty 201 the following day.
Poverty 101 by the Everett Gospel Mission is a foundation series of interactive exercises and conversational learning. You will be challenged by agrowing self-awareness of how your life experience has fashioned both your understanding of poverty and those who are experiencing poverty.
By the end of Poverty 101, participants will have:
Explored what scripture says about poverty.
Increased self-awareness of life history and how that impacts personal understanding of poverty.
Begun to understand cross-cultural differences of social and economic class.
Learned about communication and relationship differences and how some specific tools can help build healthy interactions between those experiencing poverty and those in the middle and upper class.
Considered how economic, political, and social systems create barriers to change.
.
Facilitators

Sylvia Anderson - Currently the CEO of the Everett Gospel Mission in Everett, WA since 2000 she has previously been the Executive Director of Big Brother's, Big Sisters' of Pierce County, WA. Sylvia is the co-creator of EGM's Poverty 101 and Poverty 201 classes.
Her experience in the homeless and underserved community, as well as her extensive training with Dr. Donna M. Beegle (See Poverty, Be the Difference author), makes her well versed in the poverty discussion; having developed, facilitated, and trained well over 1,000 people with various backgrounds, cultures and professions regarding this issue.
Within her personal life she currently sits on the Board of Directors for Providence Medical Center, was appointed Co- Facilitator to the Everett Community Streets Initiative by former mayor Ray Stephenson and was the 2017 recipient of the Ralli M. Hanson Inspirational Award. Beyond her community work and volunteering she also is a licensed pastor, the cofounder of Kingdom relationships which discusses racial discourse and was a foster mother for high risk boys for many years.
Her ability to teach and train has allowed her the platform as a facilitator with Youth for Christ, many speaking opportunities, conferences and retreats as the keynote speaker. As a trusted ally within the church community, leaders have consulted with Sylvia on matters concerning poverty alleviation.

John Hull - is the Director of Strategic Initiatives of Everett Gospel Mission, executive board member of Snohomish County Partnership to End Homelessness, co-chair of the SnoCO MAC sheltering group and co-creator of EGM's Poverty 101 and Poverty 201 classes.
John has been with EGM for 13 years, including 5 years of direct service as Director of EGM's Men's Shelter. Prior to joining EGM, John spent 10 years supporting and growing private Christian Education around the Puget Sound.
Dedicated to building partnerships with churches that impacts those experiencing material poiverty and vulnerable in their communities, John considers this a vital piece of EGM's strategic framework. "Faith commuinties are ideal place to practice relational poverty alleviation and make a positive difference in the lives of the all people living in their communities. EGM is poised to help by sharing what we have learned, and continue to learn, from those we serve." -John

Jody Beisner, MBA - As one of EGM's newest team members, Jody is here to support EGM's growing training and consulting initiative and is co-creator of Poverty 201.
With 30 years of management consulting experience within the healthcare and insurance sectors, Jody has led many teams through large-scale change efforts. She served as curriculum developer and adjunct professor in Project Management at California State University Fullerton for several years. Jody enjoys collaboration and those moments when people are deepening their relationships through life changing, paradigm shifting learning.
"Everett Gospel Mission's training and consulting services enable engagement with the community to alleviate poverty. And that is our mission. If you're interested in EGM's services at your organization, contact me and let's start the conversation. We have many creative solutions to explore." -Jody jbeisner@egmission.org

Suzanne Peterson - is the Director of Everett Gospel Mission's Women's and Children's Shelter and is co-creator of EGM's Poverty 101 and Poverty 201 classes. She has over 14 years of experience managing programs for homeless women and children.
Suzanne also specializes in training for health care professionals. Having trained over 400 nursing students at the University of Washington, Bothell campus regarding the various aspects of poverty, causes and best practices for service delivery. Suzanne has developed poverty training in Snohomish County and presents in a creative, interactive and informative challenging style. Suzanne has been a Gold Star speaker for Communication Across Barriers since 2016, a national consulting firm that provides training that empower professionals who assist people with moving out of poverty.
Suzanne is a proven advocate for and trusted ally of the materially poor and marginalized. Combining her vast experience in relational poverty alleviation and as an educator, Suzanne provides coaching services to Poverty 101 and Poverty 201 Alumni when seeking advice or counsel on their alleviation practice.
Funds made available through the Snohomish County Ending Homelessness Program.
FAQs
Are there ID or minimum age requirements to enter the event?
No ID is required. 14 is the minimum age to attend Poverty 201.
What are my parking options at the event?
Friday: A parking map of Alderwood Community Church is provided. The Poverty 101 class will be held in room W200, which is nearest the parking lots off of 195th Place, SW.
Saturday: A parking map of Everett Transit is provided . If all of the parking lots are full, park east of the station on the other side of the train tracks (you will need to access that lot using Hill St) and then the pedestrian bridge to get across the tracks. The Weyerhauser Room is located on the top floor of the transit building.
What will be provided at the event? What do I bring into the event?
Pens and note paper will be provided. A workbook that you can keep with important reference materials will be provided. We will provide food (snacks and boxed lunch with vegetarian, dairy free, and gluten free options), beverages (water, coffee, tea).
How can I contact the organizer with any questions?
Jody Beisner can be contacted at jbeisner@egmission.org