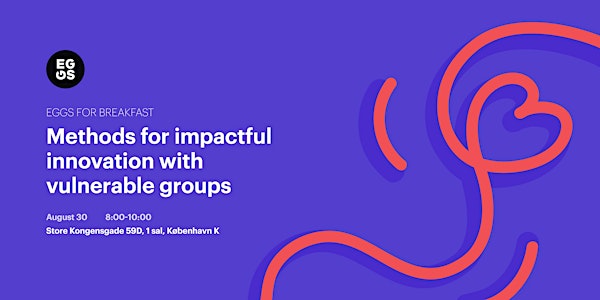 EGGS for Breakfast: Methods for impactful innovation with vulnerable groups
Exploring cases and methods for impactful innovation with vulnerable groups.
When and where
Location
Store Kongensgade 59D 59D Store Kongensgade 1264 København Denmark
About this event
Date and time: August 30th, 8:00-10:00 am
Place: EGGS Design, Store Kongensgade 59D, Copenhagen
Language: English
Audience: Innovators in the public and private sectors working with complex problems
Tickets: Please register via Eventbrite
'Methods for impactful innovation with vulnerable groups'
Finding solutions to complex problems and working with innovation in contexts with many stakeholders, including vulnerable people, is not easy. It requires new ways of working. What do you do when regular user insight work doesn't provide the necessary answers? Or when you work within a vast system with many different stakeholders, where it is impossible to predict the full impact of a change, like in the public sector?
Presentation 1: Synne Christiansen, Public Lead, EGGS Design Norway
Synne Christiansen will take us through the inspiring case of Alvorlig Sykt Barn (Severely Ill Child). We'll explore experimenting as a method, which helped the team move forward in this complex public service innovation project where the aim is to create a holistic and seamless solution for children with complex needs and their families.
Presentation 2: Alix Gillet-Kirt, Digital and Associate Designer, UN Refugee Agency
At her work at UNHCR, Alix Gillet-Kirt uses design methods for co-creation, such as participatory design, to design with refugees. The participatory approach to designing for people in vulnerable situations helps create relevant and helpful digital tools for the users. In her talk, she will walk us through her examples from UNHCR.
Presentation 3: Jesper Christiansen, Senior Advisor, Bikuben Foundation Denmark
Jesper Christiansen will share what approach to change they use at Bikuben Foundation to address complex social issues such as marginalized youth who struggle to get into education and work. Beyond the design of new services, how do we mobilize collective missions that both create bottom-up change movements and new policy agendas? How do we invest in portfolios of experiments cutting across sectors and jurisdictions?
---------------------------------------------
About Severely ill children - Children and young people with complex needs: The life event Severely Ill Child is a significant innovation initiative in the Norwegian public sector that will identify and suggest solutions to the needs of severely ill children and their parents. The goal is for them to experience seamless, personalised and predictable public services to support them in their challenging life situation.The project is rooted in the digitalisation strategy for the Norwegian public sector. Across sectors, work will be done together to develop services perceived as coherent for the users - where the users will no longer be the coordinator between the services
About Alix Gillet-Kirt: With over 15 years of experience in the design business, Alix explores ways of creating more meaningful and beautiful digital ecosystems and services. From entrepreneur to in-house designer, from teacher to consultant, she has collaborated with many exciting people and teams across the globe. Always on a quest to design for change, Alix joined UNHCR, the UN refugee agency in August 2019.
About Jesper Christiansen: Jesper has a long track-record of working with ambitious governments, public organisations and international institutions - in all parts of the world – (such as Mindlab and Nesta) to deliver better outcomes and systems transformation.
About Bikubenfunden: The Bikuben Foundation works to create new opportunities for young people on the edge, meaning people between the ages of 13 and 30 who are facing complex social problems. The Foundation aims to boost their resilience and capacity to cope with life. They are focused on developing and deploying innovative ideas, structures, and methods for the purpose of creating the best obtainable social value. They consider collaboration an ideal approach to the creation of new opportunities and the facilitation of permanent change.
--------------------------------------------
Programme:
08.00 Breakfast and mingling
08:10–10:00 Presentations, Q&A and networking
--------------------------------------------
You're welcome to bring a colleague, but please register both of your names, as the number of tickets is limited.
We look forward to sharing an inspiring morning together!
Please note that: During the event, EGGS Design will take photos/video/audio. By participating in the event, you give EGGS Design consent to use this material for internal use and promotion on the internet and other medias. You can withdraw this consent at any time by contacting EGGS Design.