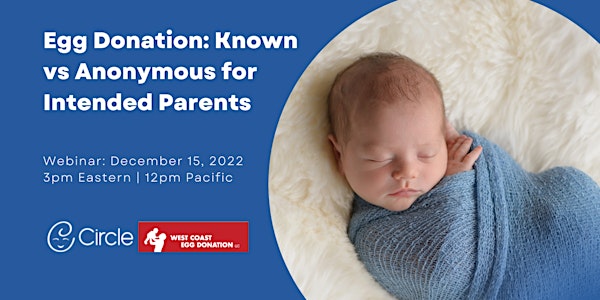 Egg Donation: Known vs Anonymous for Intended Parents
Thinking about growing your family via egg donation? Join us for 30-min and learn the differences between known vs anonymous egg donation.
About this event
Egg Donation: Known vs Anonymous for Intended Parents
The road to parenthood through egg donation is a big decision. It may feel a little overwhelming at first trying to decide how to pick the perfect egg donor - and whether or not you should go with a known or anonymous match. That's why Circle and West Coast Egg Donation are here to help.
Join Circle Surrogacy and Egg Donation and West Coast Egg Donation as we discuss everything you need to know about "known" and "anonymous" egg donation.
We're hoping this information will give you what you need to make an informed decision on which type of egg donation match is the right one for you.
During this webinar, we'll discuss:
Known vs anonymous egg donation
How has anonymity changed over time?
Dispelling misconceptions/fears about known matches
The benefits of known egg donation
When is the best time to meet my donor?
Open Q&A
Our panelists include:
Rachel Campbell, Senior Manager of Egg Donation and LCSW, Circle Surrogacy & Egg Donation, LLC. Rachel earned her Master of Social Work degree from Boston University and worked in both child welfare and adoption before joining the Circle team in 2005. In her time with Circle, Rachel has held a variety of roles, including Intended Parent support, screening and matching surrogates and egg donors, and providing surrogate support. Rachel presently manages the Egg Donation Department, overseeing egg donor intake, prescreening, screening, and matching between egg donors and IPs.
Laura Davis, Director, West Coast Egg Donation, LLC. Laura has been working in the third-party fertility field since 2008 and has a unique insight into the world of family-building. A married mother with two children of her own, Laura was passionate about sharing the amazing gift of being a parent with others, prompting her to become an egg donor and then a gestational carrier. Laura found her passion and worked for several years as case manager for a surrogacy agency before helping create and launch West Coast Egg Donation in 2014. As the Director, Laura is the main person of contact for WCED from the initial screening and application, pairing egg donor and intended parents, through the egg retrieval, providing support along the entire process to both egg donors and intended parents. Laura thrives in her role and is thrilled to have the opportunity to work with egg donors and intended parents daily.
Reserve your spot today! To register, fill out the form and you will be sent instructions from GoToWebinar on how to join the session!