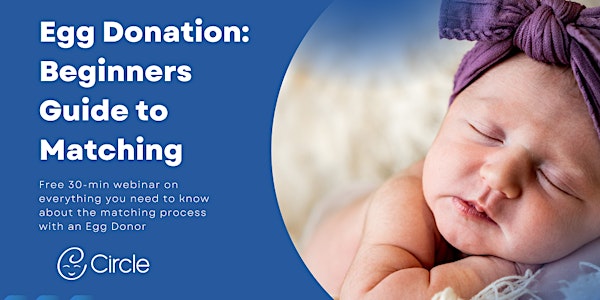 Egg Donation: Beginners Guide to Matching
How are egg donors matched with intended parents? Join us on Sept 27th at 1:30pm EDT and find out!
About this event
Egg Donation: Beginners Guide to Matching
Are you interested in growing your family through egg donation? We invite you to join us on September 27, 2022 for a free 30-minute webinar as we guide you through everything you need to know about the matching process with an egg donor.
During this webinar discussion will include:
Egg Donor requirements
An overview of the timeline and steps in matching and cycling
What to look for in an Egg Donor
Navigating Circle' Egg Donor Database
and more
A Q&A session will also be available at the end of the webinar.
Reserve your spot today! Registration is FREE. Once registered, you'll receive instructions from GoToWebinar on how to join.
About Circle Surrogacy & Egg Donation
Circle Surrogacy & Egg Donation was founded on the belief that everyone should have the opportunity to be a parent. To this day, that belief is at the core of everything we do. We are a full-service agency, headquartered in Boston, with an office in Los Angeles, London, UK, New York City, San Francisco, and Washington D.C (and coming in 2022 to North Carolina). Circle has a 99.3% success rate, which is the highest in the industry and has brought over 2,600 babies (and counting!) into the world. We have a devoted team comprised of experts in the field, combined with those who have personal experiences such as former egg donors, surrogates, and parents through surrogacy, IVF, and adoption. Our innovative offerings include one all-inclusive cost that covers any complications that may arise during your journey. Our mission is to go above and beyond to grow families around the world by connecting, guiding, and supporting intended parents, surrogates, and egg donors on one of life's most extraordinary journeys. Together, we make parenthood possible.