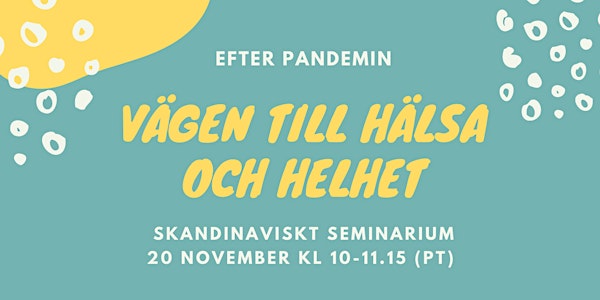 Efter Pandemin -Vägen till Hälsa och Helhet
Samtal om hur vi går vidare från pandemin mot hälsa och helhet för både kropp och själ!
About this event
Svenskt/Skandinaviskt webbinarium 20:e november kl 10-11.15 (PT). Svenska kyrkan, SWEA, Svenska konsulatet SF, SACC, Skandinaviska skolan och Silicon Vikings.
Vi samlas på zoom för att under Joakims ledning och med en kunnig panel samtala om hur vi går vidare från pandemin mot hälsa och helhet för både kropp och själ. Vilka resurser kan vi erbjuda, hur går man vidare i livet efter denna omvälvande tid och vad ska man tänka på speciellt när det gäller barn och unga. Webbinariet inramas med nyutgiven musik från ABBA, som gjort comeback och kan visa vägen till att tänka nytt och hoppfullt!
Link to join Webinar
https://us06web.zoom.us/j/86072065112
1. Hur kan vi stödja varandra när krisen drabbar? Vilka resurser, individer och evenemang kan vi hänvisa till internt/externt?
2. Erfarenheter från barn och ungdom med inledning av Ursula Hultquist och Kristin Hamren.
3. Vägledning i livet - erfarenheter från diakoni och själavård. Inledare Viveca och Hans Bratt Hernberg.
4. Isolering och aktivering av äldre. Inledare Barbro Osher: "Osher Life Long Learning program" över hela USA och Professor Karin Gaensler.
Panel:
Joakim Schröder, moderator, präst i Svenska kyrkan SF och under 20 år aktiv i bl a Storkyrkan i Stockholm, skådespelare, regissör och producent
Ursula Hultquist, ordförande SWEA SF, Communication & Development Manager, CASSY Counseling och Support Services for Youth och tidigare under 6 år YMCA Silicon Valley.
Johanna Svedberg, M.A. LMFT. Licensed Marriage and Family Therapist med B.A. i Psykologi och M.A i Counseling Psychology från California State University East Bay.
Kristin Hamren, assistent Svenska kyrkan SF, administratör, och utbildad psykolog, Umeå Universitet. Leder barngrupper och annan verksamhet och ger samtalstöd inom Svenska kyrkan.
Hans och Viveca Bratt Hernberg, senaste tre åren verksamma i Svenska kyrkan LA, där Hans är kyrkoherde och Viveca verksam som terapuet och även på SWEA LAs styrelse. Tidigare var de verksamma i Klara kyrka, Stockholm, som präst och terapeut och studierektor. Hasse var rocksångaren från Norrland som "kallades" att bli diakon i Storkyrkan bland utslagna på Sergels torg.
Barbro Osher är Honorär konsul på Sveriges Generalkonsulat i SF och ordförande i Bernhard Osher Foundation och Barbro Osher ProSuecia Foundation.
Professor Karin Gaensler fick sin MD på Harvard och är sedan 40 år verksam på UCSF där hon är Krishnamurthi Endowed Chair in Hematological Malignancies, UCSF.