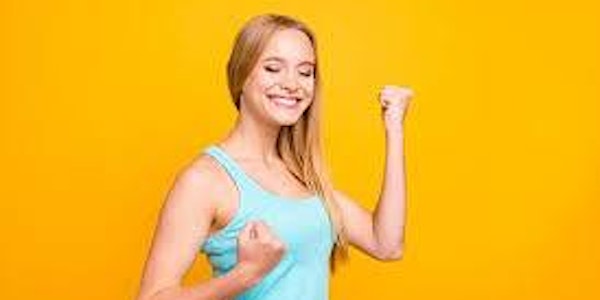 EFT for Self Confidence and Resilience
Would you like to improve your self-esteem and resilience? Join today!
About this event
Feeling not as confident as you could be? Would you like to feel more resilient and able to face life's challenges more easily? Is it time for a self-belief re-boot? Then this workshop will really help you. The class is easy to follow in a friendly and relaxed environment. Curious? Please join!
EFT is a powerful tool used by psychologists and is proven scientifically to work.
Experienced EFT practitioner, Isabella Katis, is available for private one on one sessions or corporate classes after this workshop. Isabella is also a qualified Neuroscience Based Coach, Keynote Speaker, Manage Your Weight Without Dieting Consultant, Sleep Soundly Consultant, Meditation Teacher, Reiki Practitioner, ThetaHealer, Channel and Intuitive Tarot Reader. Isabella holds a degree in psychology and education.
The class is easy to follow in a friendly and relaxed environment. This workshop will not be recorded for your privacy and peace of mind. It is held in a confidential environment. Curious? Please join!
Testimonials:
"I did a tapping session with Isabella to help relieve anxiety and it was incredible. I hadn't tried tapping before and Isabella helped explain the process and what to expect. Throughout the session my anxiety levels dropped to 0 - I couldn't believe it! I found the process really interesting and powerful. Over the next few days I continued to have low anxiety levels and put into place what I learnt from the session. I would definitely recommend Isabella to anyone." Lauren Kelindeman, Lawyer, Commercial and Franchising Senior Associate.
"I had a tapping session with Isabella to address some issues around anxiety and went in with an open mind. Isabella explained the process and benefit of the session before doing a deep dive into our session. She has a very friendly disposition and has a way of making you feel very comfortable. We achieved level 0 and she gave me advice as to how to move forward! I found the process very interesting and pleased that I tried this approach! I would definitely recommend Isabella for a EFT session if you are looking to relieve anxiety! ", Tania Teperson, Personal and Corporate Image Consultant
"I just had the pleasure of doing a 'Mindset' Tapping session with Isabella.I didn't know what to expect, but I instantly knew I was in good hands. Isabella put me at ease as we chatted about what's going on in my life. I wasn't sure which issue to work on, but Isabella expertly guided me to intuit the best place to start and off we went. The process of exploring my Mindset/ patterned beliefs was super easy and I am still surprised at how quickly my negativity shifted from negative to positive... in fact I even feel eager! I would highly recommend a session with Isabella." Hali Gabardi, Programme Facilitator and Leadership Coach.
"Thank you for yet another incredible EFT Tapping Session. After each session, I find that my vibration has lifted. When I first did EFT Tapping with you, I had no idea about EFT Tapping, now I can see the benefits. I've enjoyed every session and learnt so much." Lina Jabbour, Writer
"EFT is a powerful, elegant technique that helps me focus on what's important to me. Your words with the tapping open limitless possibilities for me in living a life I love. Funny how everyone is relaxed and they have a smile on their faces at the end of each session. Truly transformative." Dianne Kitson
"I attended Isabella's EFT webinar and got so much out of it. I felt heavy and stuck at the beginning and light and hopeful at the end. Thank you Isabella." Amanda Aravena, Corporate Trainer