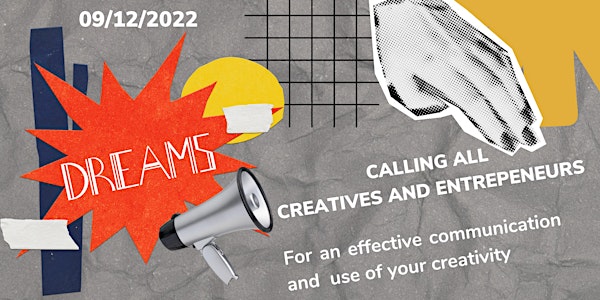 Efficient & creative communication for artists and entrepreneurs
You'll learn how to engage your audience on social media and use criticism as a creative tool and turn them into an efficient project.
When and where
Location
Dublin 2 St Stephens Green Dublin 2 Ireland
About this event
In this course you will see how to get your ideas off the paper and get to know the needs of your audience in depth, learning communication techniques and how to identify the best ways to interact your public.
Who will guide you on this journey is the multifaceted communicator Lu Olivier, who is a journalist, writer, producer, presenter and director. Lu has been a reference in Brazilian communication since the 2000s. Currently, she is working on a new TV production to be shot in the first trimester 2023 in Spain.
We are facing a run for likes, followers and greater digital presence. With our attention being the biggest exchange money, interaction with the audience is one of the greatest challenges of our time. Lu, with all her experience working in different channels, will help you explore the limits of language, understand how far you can expose yourself online and teach you you how to deal with criticism constructively to boost your fan base, your product or business.
Language: English
Duration: 2.5 -3.5 hours
Course Delivery: Classroom/ Virtual Live/ On-Site
Topics:
* Creative Minds and the Influent people of our world
* Communication and Creativity through time
* Medias and their influence
* The art of listening
* Questions to be made
* How to gather data and apply it to biuld your project
* Tips to survive in the era of the communicators
* Criticism as a creative tool
Why taking this workshop is a good idea?
You'll hav the oportunity to raise and share your challanges with other artists and entrepeneurs and also network.
Identify weak spots in your current communication.
Learn how to work with criticism.
Undertand how to create a clear communication strategy.
Manage the different types of communication and how to walk among them without losing your essence.
Objectives:
At the end of this workshop participants will be able to:
Plan and develop an effective communication strategy
Manage different types of communications
Respond well to criticism
Develop tools that will help support your communications plan
Target Audience:
Anybody who is interested in learning and developing Communications Skills
Note:
In spite of any eventual issues, we reserve ourselves to the right of chaging the date of the event or switching to an online event giving notice to all atendees and the option for a refund in case they don't agree with the changes.
If you would like to get this workshop customized and delivered exclusively for your group or your company, we have an On-Site Training Option you can reach us at hello@dreamscontent.com for more details about on-site or corporate training.
Offers:
Groups of 3 people 15% Discount
Groups of 5 people 20% Discount
Groups of 10 people 25% Discount