Event Information
Refund Policy
Refunds up to 7 days before event
Description
Clean & Affordable Energy Conference
World Forestry Center - 4033 Southwest Canyon Road, Portland, OR
Schedule for November 15th, 2018:
8am-5pm: Main Conference
5pm-7pm: Clean Energy Awards Reception
Panel 1:  Are New Energy Storage Technologies a Game-Changer?
Emerging energy storage technologies may change how we think about and plan the Northwest electric system.  What are these technologies?  What benefits, including community resilience, do they offer?  And how should they be employed?
Moderator: Adam Schultz, Oregon Department of Energy
Ken Dragoon, Flink Energy Consulting and the Renewable Hydrogen Alliance
Nate Sandvig, National Grid


Panel 2: Beyond Savings - All the Benefits of Energy Efficient Buildings
Energy efficient buildings save money and energy. They're also healthier and more comfortable and can help improve community outcomes related to housing stability and economic development.  How can we make energy efficient buildings and their benefits available to all?
Moderator: Oregon State Representative Pam Marsh
Carolina Iraheta Gonzalez, Verde
David Olivas, Yakama Nation Housing Authority
Amy Cortese, New Buildings Institute
Panel 3: Opportunities and Challenges for the Bonneville Power Administration in Helping the West Develop More Clean Energy Resources
How will carbon pricing, capacity markets, and broader regional market coordination help BPA remain financially strong and fully committed to its fish and wildlife responsibilities and all public interest obligations? - Speakers to be announced.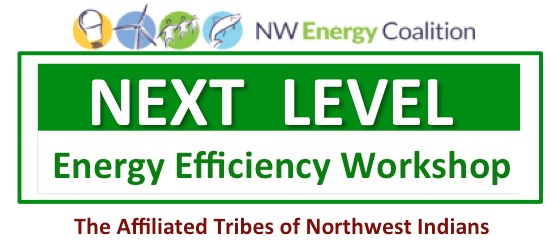 Nov. 14th, 2018: 8:30
am - 4pm at the Native American Student Community Center - 710 SW Jackson St, Portland, OR
In the Northwest's clean energy economy, energy efficiency drives the lion's share of commerce, employment, and greenhouse gas reductions. The Next Level Energy Efficiency Workshop will explore how we can make EE work even harder.
Starting with an overview of energy efficiency contributions to the Northwest's electric system, economy, our health, and the environment, the workshop will examine how we can tackle financial and workforce challenges in the public, commercial, and residential sectors to increase energy efficiency investment and the benefits it yields. And we'll learn how home-based energy efficiency measures are improving air quality and contributing to the health of kids and families in tribal communities.
Sessions will include:
EE financing options for commercial buildings

Energy Services Contracts in the public and private sectors

Successful EE financing approaches for multi-family housing

Successful EE financing approaches for residential and small commercial

In-home Air Quality with the Tribal Healthy Homes Network

Developing a demand-side services workforce
The workshop will be a great place to connect with energy efficiency service providers, policymakers, state and local government representatives, tribal representatives, and community advocates.
Date and Time
Location
Refund Policy
Refunds up to 7 days before event