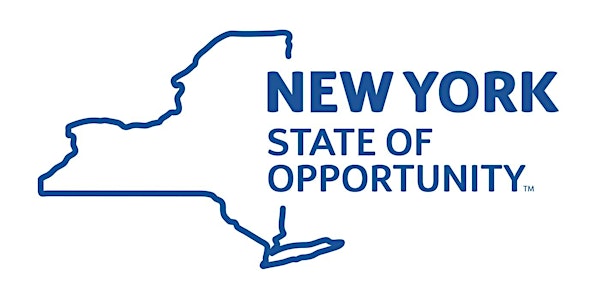 Efficiency Revolution - Tarrytown, NY
Location
DoubleTree by Hilton Hotel Tarrytown
455 South Broadway
Tarrytown, NY 10591
Description

Exciting news for innovative builders, developers, consultants and interested individuals in New York State!
NYSERDA will be hosting educational and networking events throughout the State in the upcoming months. These Efficiency Revolution events will introduce you to new technology, products, and industry players leading the charge for high performance buildings.
Highlights Include:
Exhibitors of complementary products and services aimed at advancing New York State's building market.
Networking opportunities between developers, builders, HERS Raters, architects, engineers, HVAC technicians, Passive House consultants and NYSERDA personnel.
Workshops throughout the morning, with some sessions repeating in the afternoon:

Pre-Fabricated Building Envelope Systems in New Construction

Presented by: Karan Gupta of Build SMART

Insulated Concrete Forms (ICF) - Extremely Fast and Cost Effective

Presented by Steven Bluestone of Helix Rebar LLC & ICF Panels LLC
Passive House presentations
Fostering a Culture of Cooperation within High Performance Building Teams
NYSERDA Clean Energy Fund Housing and Renewable Energy Programs
AIA, PHIUS and BPI CEUs available!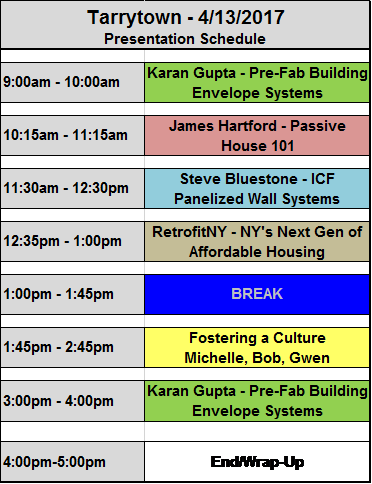 Course Descriptions
Pre-Fabricated Building Envelope Systems in New Construction: Karan Gupta - Build SMART
Karan Gupta, Energy Efficient Design Specialist at Build SMART North America will discuss the use of a specific type of pre-fabricated panel system to achieve high-performance new construction quickly, easily, and cost-effectively. Karan will explain how this system can simplify the design process from the beginning and can be used in a variety of construction types including single family and multifamily construction achieving results up to and including Passive House standards.
Insulated Concrete Forms (ICF) Panelized Construction – Extremely Fast and Cost Effective: Steve Bluestone – Helix Rebar LLC & ICF Panels LLC
Multifamily development requires adherence to strict building/fire codes. For decades, concrete blocks (CMU's) have been a favored structural system. While simple to work with, they present drawbacks when attempting to create high-performance buildings. Extra steps are required to deal with air/water/vapor control, thermal/sound insulation, and furring/framing.
Veteran ICF builder Steve Bluestone will introduce a new ICF panelized system using a new code approved reinforcing product that results in shorter construction schedules, safer jobsites, less waste, and a lighter building. The net end results are significant cost reductions across the board. The session will also briefly cover the use of autoclaved aerated concrete (AAC) panels and blocks for the construction of high performance buildings.
Passive House 101 - James Hartford
The Passive House Standard is a design and construction regimen that achieves real and measurable energy use reductions in the realm of 70% to 90% less energy than conventional, code-compliant buildings today. While the concept is commonly referred to as "Passive House" or "Passivhaus", the principles apply to all building types. Careful design, energy modeling, third-party review and testing, and properly executed construction results in buildings that are more resource-efficient, comfortable, healthier, and resilient than what is otherwise available on the market today.
RetrofitNY - New York's Next Generation of Affordable Housing: Loic Chappoz - NYSERDA & Greg Hale - State of New York, Office of the Governor
NYSERDA has launched a new initiative called RetrofitNY, a deep energy retrofit innovation program to induce the private sector to design innovative, cost-effective and replicable deep energy retrofit solutions for existing affordable residential buildings. RetrofitNY is modeled after a successful Dutch initiative called Energiesprong.
NYSERDA intends to help harness the collective market power of affordable housing organizations in New York to engage a wide range of industry stakeholders to collaborate on the cutting edge design and widespread deployment of cost-effective deep retrofit solutions. These solutions can serve as an important tool for the preservation of affordable housing units throughout the State by dramatically lowering and stabilizing energy and system maintenance costs while improving building quality. While public subsidies and other sources of funding may be needed to develop and pilot the initial retrofit packages, it is anticipated that once tested and proven, these solutions will be able to be implemented on a large scale with little to no subsidy.
Fostering a Culture of Cooperation within High Performance Building Teams: Michelle Tinner, Robert Grindrod – CLEAResult & Gwen McLaughlin – TRC Solutions
In the field of high performance building, a lack of communication between those who design details and those who install them can lead to increased costs and performance losses. (Designers may not see the potential pitfalls presented in their specifications that a GC may be able to address more effectively. General Contractors may be unfamiliar with certain technical requirements or potential cost savings embodied in the bid specifications. Subcontractors, left to themselves, may apply time-tested but undesirable methods and materials.)
IPD develops a culture of cooperation, provides transparency, and ultimately eliminates waste and inefficiencies. According to Integrated Project Delivery for Public and Private Owners, IPD is "based on principles of mutual respect, mutual benefit and reward, collaborative decision-making, early involvement of key project participants, early goal definition and intensified planning, and open communications."
NYSERDA's Low Rise Residential and Multifamily New Construction Programs promote higher levels of comprehensive building and energy performance, up to and inclusive of net zero performance. NYSERDA offers project teams technical support and guidance to achieve higher levels of energy performance and health & safety from planning through construction. Through working with the teams over the course of their projects and conducting case studies, we have identified practical applications of IPD. We will present on the solutions project teams have used that can be replicated, with a focus on cost optimization and strategies that recognize operational costs and savings and management of perceived risks.
Presenter Profiles
Karan Gupta
Professional Title: Energy Efficient Design Specialist
Organization: Build SMART
Additional Credentials:
Karan Gupta is an Energy Efficient Design Specialist at Build SMART North America with several years of experience specializing in new construction, building retrofits and energy conservation measures, active energy management strategies, building energy modeling, project design and planning, and financial analysis. He is a Certified Passive House Consultant and a PHIUS Certified Builder. He holds a BA in Economics from New York University and Master's degrees in Environmental Management and Forestry from the Nicholas School of the Environment at Duke University.

Steven Bluestone
Professional Title: Partner/Member
Organization: HelixRebar LLC & ICF Panels LLC
Additional Credentials:
Steve Bluestone, a Builder/Developer/Property Manager of mixed use residential buildings throughout the NYC metropolitan area has been a leader in the field of producing high performance structures for decades.

James Hartford
Professional Title: Partner
Organization: River Architects & President – Passive House Alliance Hudson Valley
Loic Chappoz
Professional Title: Team Lead for Multifamily Initiatives Focused Existing Buildings
Organization: New York State Energy Research and Development Authority (NYSERDA)
Greg Hale
Professional Title: Senior Advisor to the Chairman of Energy & Finance
Organization: New York State Office of the Governor
Michelle Tinner
Professional Title: Operations Manager
Organization: CLEAResult
Additional Credentials:
Michelle Tinner is Operations Manager for the NYSERDA Low-Rise Residential New Construction Program implementation team at CLEAResult. Prior to CLEAResult, Michelle founded the BPI accredited company MBT Design in 2009, embracing a building science whole systems approach toward work as a home performance contractor and HERS Rater. Ms. Tinner joined CLEAResult in 2015. She and her team provide program development and technical support to NYSERDA as well as education, outreach and coordination with and for program partners and industry professionals.
Robert Grindrod
Professional Title: Senior Technical Support Analyst
Organization: CLEAResult
Additional Credentials:
Robert Grindrod is a Building Science Consultant at CLEAResult. Grindrod started his career insulating homes in the mid 70's and over the years evolved to be engaged with many aspects of building energy use, health and safety, and water conservation. He joined CLEAResult in 2006 as a Technical Field Rep in the NYSERDA Home Performance with Energy Star Program and helped lead CLEAResult's work in NYSERDA's Multifamily Building Performance Program (MPP).
Gwen McLaughlin
Professional Title: Pipeline Manager
Organization: TRC Solutions
Additional Credentials:
Gwen McLaughlin of TRC Solutions is the Pipeline Manager for NYSERDA's Multifamily New Construction Program. Ms. McLaughlin brings over a decade of experience in program management, field investigation, and green building consulting to her role in MF NCP. Her responsibilities include program development, quality assurance, and coordination with NYSERDA, program applicants, and technical consultants.
Register Today!
Please contact Devin Walker with any questions and for additional event information
518.207.4528