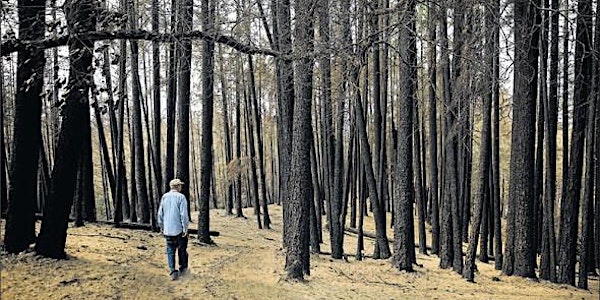 Effects of 2020 Glass Fire on Mark West property
Moderate hiking tour of property burned in 2020 Glass Fire in the Mark West area of Santa Rosa.
When and where
Location
Saint Helena Road Saint Helena Road Santa Rosa, CA
About this event
Location: 7125 St. Helena Road, Santa Rosa CA 95404
Driving Directions: From Santa Rosa: If you can come up Calistoga Rd, after first steep grade, turn right at St. Helena Road and follow for 2 1/2 miles. Past former Christmas tree plantation, past red barn and large windmill. Turn down paved driveway (at orange cone) and almost immediately park on right side of pavement along tributary creek. If you come up Mark West Springs Road, turn left on St. Helena Road and follow above directions. If coming from St. Helena, from Hwy 29, turn left at Madrona Avenue and turn right on Spring Mountain Rd. Follow for 9 miles and turn left at our driveway on the left and follow above directions. From Sonoma take Highway 12 towards Santa Rosa. Turn left at Calistoga Road and follow above directions.
About the site:
Almost the entire 122 ac. property was affected by the Glass Fire, and 45 acres of the eastern portion that was planted in Douglas-firs on the north facing side 40 years ago was moderately and severely burned. The main residence built in the 1850's, the historical 1840's red barn, and all four rental houses and several outbuildings were saved from the September 28, 2021 Glass Fire, by the Owner, age 82. The elevation is from 800 to 1,000 ft., mostly hilly terrain.
The forest has been actively managed by the owners, Jim and Betty Doerksen, and hired crews to reduce the fire hazard by removing flammable brush, thinning conifer trees, pruning up to 20 ft. and controlled brush burning of hundreds of piles every year. In addition, for the last 25 years, this property has been used for recreation and as a nature based outdoor classroom and activities with the non-profit Landpaths.
About the project: There is an ongoing 45 ac. forest restoration project that began with logging 1 million board foot of only burnt dead larger diameter Douglas-firs in April 2021, and now are cutting and piling (manually and mechanically) smaller burnt Douglas-firs trees.
Since 1994, this property has been protected forever by a conservation easement by the Sonoma County Ag and Open Space District and now the owners have a life estate with a non-profit LandPaths that bring kids to the outdoors in nature. The owner would like to see this restoration work done while he is still able to do so.
About the property owner and project lead: Jim Doerksen purchased the property in 1967 and retired in the early 80's with his wife Betty. He is a Civil Engineer, Land Surveyor, Hydrologist, Realtor, and has managed this property as a timber farm and has planted over 1 million Douglas-fir and redwood seedlings on this and surrounding acreage for other neighbors. They had also operated an 8-acre choose-and-cut Christmas tree business until 2010.
Our outing: The owner will lead the moderate hike, mostly shaded, to show the logged areas, massive restoration project to remove dead trees by logging and remaining dead tree removal and piling, and possibly may see some helicopter logging being performed in the neighborhood. The hike will be done before noon and there is a nice gazebo at the pond for those who wish to eat their lunch.
What to bring: Snacks, water, sun protection, hiking apparel.
Cost: Free
Maximum capacity: 30
Questions? Contact Jim Doerksen, (707) 539-7004, betdoe6@gmail.com