Description



Effective Workplace Posture & Ergonomics
It's no surprise that certain physically demanding jobs pose a risk of injury, but what about desk jobs? You've probably heard that sitting for long periods of time, "is the 'new' smoking". But what does that mean? The reality is your poor posture at work, regardless of how strenuous the activity is either aggravating or causing your chronic pain.
By Attending This Workshop, You Will Learn:
- Proper biomechanics for desk jobs.
- Therapeutic exercises to help recover from chronic problems like back pain, neck pain, and stiffness.
- Preventative strategies to keep these and other issues at bay.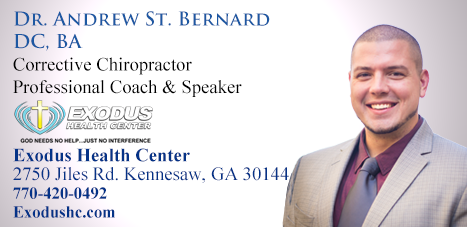 About Dr Andrew St Bernard, DC
Dr Andrew is passionate about helping people achieve their God given health potential. Dr Andrew graduated from Life University with honors and has worked and trained under some of the top doctors in the world of chiropractic and natural health care.
Dr Andrew is a renowned speaker and has had the privilege of teaching and leading people in corporations, schools and community organizations. He loves to give back to his local community through dinner and lunch and learn events.
Dr Andrew is a husband to Candace and a father to Gaby, Charlotte and Genevieve. He enjoys strength training and taking care of his body and spending time with his family. He is active in his church and is passionate about praying with his patients and seeing God use him to make a difference in people's lives.