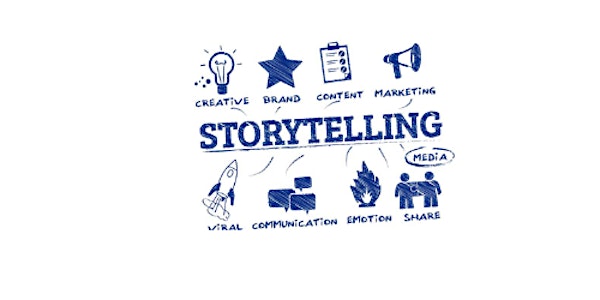 Multiple dates
Effective StoryTelling: The Power of Words & Emotions in Storytelling!
Storytelling is a million-dollar asset. You can take a small brand to a new dimension & major abundance with a POWERFUL IMPACTFUL STORY!!
Date and time
January 26 · 10:30am - October 5 · 11:30am PST
Refund Policy
Contact the organizer to request a refund.
Eventbrite's fee is nonrefundable.
About this event
Organizer of Effective StoryTelling: The Power of Words & Emotions in storytelling!
If this describes your current situation this class is for you...
-You started a company and created a product/service.
-You have a solid foundation and started to generate revenue.
-Business is not bad but it could be a lot better.
-You don't want to get deeper into debt but you need access to more capital.
-Working so hard using so much will power and seeing limited results.
The most Powerful tool to scale your business is Effective Storytelling!! Having the best product or service in the world means nothing if you are not able to effectively tell your story that translates into more sales with less work!!
Persuasion is the centerpiece of business activity. Customers must be convinced to buy your company's products or services, employees and colleagues to go along with a new strategic plan or reorganization, investors to buy (or not to sell) your stock, and partners to sign the next deal. But despite the critical importance of persuasion, most business owners struggle to communicate, let alone inspire.
Are you ready to learn how to EFFECTIVELY tell your story??
Why is storytelling important in business? Storytelling conveys purpose and businesses with emotions creating a connection to the brand that wins the loyalty of consumers. So it's not enough to have a product or service that solves a problem - your company needs to stand out.
When you come up with an idea for your business there will be a story behind it - whether it's to do with developing a new product or growing your business. Tell this story and provide the context so your customers and stakeholders understand why your service or product is worth buying/investing in.
Your idea has been created to solve a problem so tell the story of how you were affected by this problem and how this led to your product/service. Ensure that you're making the story relatable to the audience by using real-life situations as this makes it easier to see why your goods will add value to their lives.
Using storytelling in this way helps the audience to connect with you so they trust you, the human, and therefore they trust the brand. This is especially the case when the story is very relatable, which also has the added benefit of being easier to understand and more memorable as it's personally relevant - the audience can see themselves as the character in the story.
I will help you create/ write a captivating story that drives sales & takes your business to the next level of success!!
-Simply, stories are very engaging. Whether you are using a story in a pitch, an advert etc, you are less likely to lose your audience's attention. This is why public speakers frequently begin presentations with stories.
-Stories are also highly structured forms of communication so they help with the audience's understanding.
-As you hear a story unfold, your brain waves actually start to synchronize with those of the storyteller, says Uri Hasson, professor of psychology and neuroscience at Princeton University. When he and his research team recorded the brain activity in two people as one person told a story and the other listened, they found that the greater the listener's comprehension, the more closely the brain wave patterns mirrored those of the storyteller.
-I specialize in writing stories for companies pitching at SXSW.
-Startups looking to pitch to investors OR established brands looking to re-launch.
-Brands that want to connect with their target audience.
-Business owners looking to drive sales and increase their monthly revenue.
What's included:
-A powerful capitiving story to scale your business/brand.
- One on One pitch/story writing session.
-Personal development/ removing limited beliefs and confidence session .
About the organizer
For a brand to stand out in today's crowded marketplace, they need to enthrall their customers both existing and prospective. That starts with establishing and embodying a recognizable personality through calculated and compelling storytelling, creating a one-of-a-kind experience for customers. Through storytelling, brands can cultivate more authentic, personal connections with customers. This sort of emotional branding can increase customer retention and bolster revenue. After all, a brand thrives on its perception. Telling a story that resonates with people can shape how they perceive and feel about you, thus influencing whether or not they buy your product or service.
Creating magic; lighting fires touching the deepest essence of who you are as a business or brand to drive sales and connect with your customers. I'm a lyrical alchemist gifted with the ability to write captivating stories to unlock investors, drive revenues and much more.