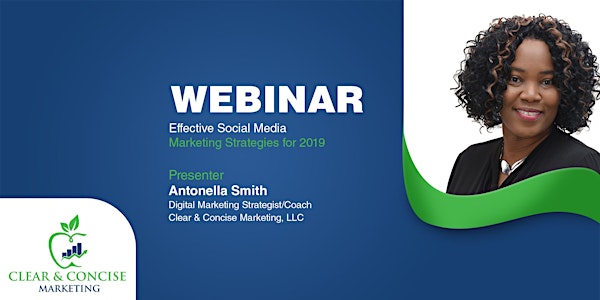 Effective Social Media Marketing Strategies for 2019 (Live Webinar)
Location
Clifton, NJ 07015
Description
Finding it hard to run your business and keep up with the latest social media marketing trends?
You are not alone.
Join me for a powerful webinar that is designed for business leaders and owners and is geared towards sharing the benefits of understanding how to use social media to grow your business. You will
understand the current trends,

learn how to develop strategies and execute them well.
Webinar Objectives:
● Social media 2019 trends
● Social media strategy development
● Audience engagement
Select a webinar date, register and see you soon!


Presenter: Antonella Smith is the CEO and Marketing Strategist/Coach of Clear and Concise Marketing LLC. Her consulting company exists to provide businesses with effective marketing solutions to help them turn their business pains into business success. They are a results-driven strategic partner.




_____
Terms of Participation Agreement
By registering for this event, you also consent to receive email communication from Clear and Concise Marketing LLC about events and updates that may interest you.