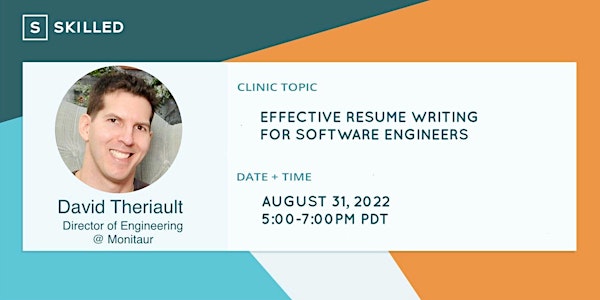 Effective Resume Writing for Software Engineers
Skilled Clinic in Effective Resume Writing for Software Engineers led by mentor and Director of Engineering, David Theriault.
About this event
Build the right resume to get hired. This interactive presentation will discuss the best ways to get your resume noticed and perhaps most importantly what not to do. We'll cover topics including how to phrase your bullet points, how to tailor your resume for a particular job, how your resume should evolve over time, cover letters and more. There will be lots of time for viewers to participate and ask questions. Presented by David Theriault, a software engineering leader with over 15 years of experience in startups and enterprise companies. David has conducted hundreds of technical interviews and reviewed thousands of resumes.
This 2-hour virtual event will be held via Zoom. This is a classroom experience with student participation requested.
Please visit www.skilledinc.com or hacktheinterview.io for further information on mentorship and upskilling opportunities.