Effective Outreach and Engagement of Families in Self-Advocacy

Wednesday, November 8, 2017 from 9:00 AM to 5:00 PM (PST)
Event Details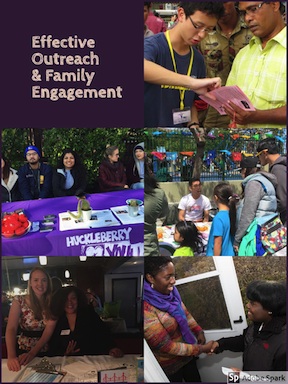 Standards Application-107:
Effective Outreach and Engagement of Families in Self-Advocacy
Who should attend: 
Family support providers that want to strengthen their family engagement and outreach skills.
Participants will:
Deepen their knowledge of applied strategies that support the implementation of Community Building Standards of Quality for Family Strengthening and Support.

Gain a general understanding of outreach through an ethnographic lens:
1) The importance of the role and responsibilities of the outreach worker
2) The issues or barriers that may be experienced by the outreach worker
3) The design and implementation of outreach plan

Develop effective outreach skills and strategies to access ethnically diverse target populations (Children, youth, parents, fathers, immigrants, homeless, LGBTQ).

Participants will understand the importance of partnering with, and supporting families for self-advocacy.
Presenters:
Dr. Martina Ayala, San Francisco Family Support Network

J. Antonio Aguilar-Karayianni, M.A.
Partial List of Guest Presenters:
Berta Hernandez, Instituto Familiar de la Raza

Mary Therese Garcia

Jenny Zhong, Kai Ming

Jessica Huang

Amy Yu
NOTE: The "Standards Application" training series is intended to deepen the understanding of the Standards of Quality for Family Strengthening & Support , by the National Family Support Network.  This is a standards application training that will provide implementation strategies for the Community Building Standard.
Community Building:
Standard CB.1 - Program is involved in engaging families in, the larger community building process.
Standard CB.2 - Program supports the development of community based leadership.
Standard CB.2 - Program builds collaborative relationships with other organizations to strengthen families and communities. 
We will integrate the following Protective Factors developed by the Center for the Study of Social Policy:
Social Connections

Concrete Support in Times of Need
and review the following Family Support Principles developed by Family Support America:
#5 - Programs are embedded in their communities and contribute to the community-building process.
#6 - Programs advocate with families for services and systems that are fair, responsive, and accountable to the families served.
Check-In:
9:00 am  Networking, coffee, and full breakfast.
9:30 am  Training begins promptly. 
*Lunch and materials provided.
Payment Methods:
By CREDIT CARD: Register and pay, here on Eventbrite
By CHECK: Contact Ricardo Eugenio, SFFSN Administrative Associate, ricardo@sffsn.org
Refund and Cancellation Policy:
Note: This policy applies to each ticket purchased for individual participants. 
If you cancel more than 5 days before the training, you will be refunded your registration fee less a $10 cancellation fee.
If you cancel less than 5 days before the training date, no refund or credit will be given. 
SFFSN reserves the right to cancel this training if minimum registration requirements are not met. A refund will be giving to those who are registered. 
For questions regarding refunds, registration, general information, or be added to the training announcement email list, please contact Ricardo Eugenio, Administrative Associate, at (415) 917-3376, or at ricardo@sffsn.org.   
For other information regarding SFFSN trainings, contact Dr. Martina Ayala, Director of Training at martina@sffsn.org.
WEBSITE: www.sffamilysupportnetwork.org
San Francisco Family Support Network Photography / Videotaping
We often take pictures or shoot videos at San Francisco Family Support Network events to use in SFFSN publicity materials and on our website. The SFFSN reserves the right to document its services and the public's participation in SFFSN sponsored events. Official representatives of the SFFSN may take photographs, videotape, or use other recording devices within the event venue and at SFFSN-related events and activities for SFFSN purposes. These photographs and video may be copied, displayed, published (including on any library web presence), and telecast for such purposes as promotion, publicity, and news to inform the public about the SFFSN. All such photography/videotaping will be in accordance with SFFSN procedures. If individuals do not wish us to use a picture or video of them or their child, they should tell a SFFSN staff member prior to the event. This policy extends to photographs and filming by SFFSN staff at SFFSN events and at SFFSN booths and programs at public events in the community.
When & Where

Mercy Housing Community Room
1180 4th Street
San Francisco, CA 94158


Wednesday, November 8, 2017 from 9:00 AM to 5:00 PM (PST)
Add to my calendar
Organizer
Founded in 2004, the San Francisco Family Support Network is a unique partnership of the stakeholders in the Family Support field: families, community-based organizations, public departments, and private foundations. SFFSN's mission is to work collectively to achieve quality programs, coordination of resources, and policies that support all San Francisco families.  For more information, visit our website at www.sffsn.org.