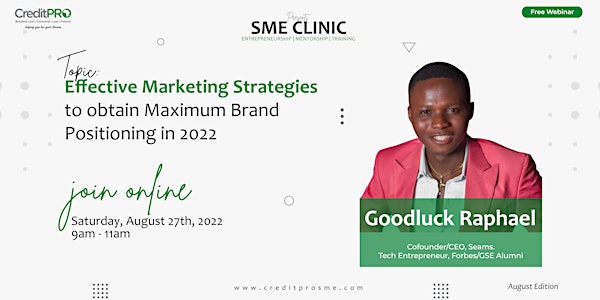 Effective Marketing Strategies To Obtain Maximum Brand Positioning In 2022
Learn what is and how to craft the perfect marketing strategy step by step. Tips and tricks from Tech Entrepreneur & CEO Goodluck Raphael.
About this event
Are you an entrepreneur seeking for online presence or are you venturing into business as a starter?
Come learn about proper brand positioning from an experienced entrepreneur who has been able to build his empire at this free webinar. Click the link to register…
Why is an effective marketing strategy important?
Every business should have a marketing strategy, no exceptions. Marketing results don't just happen by chance. Creating a strategy ensures you're targeting the right people, with relevant content that appeals to them. The more time you spend creating a clear strategy, the more opportunities you create to sell.
Goodluck Raphael is a Youth Innovator and Tech-Entrepreneur. He is the Co-founder of Seams, an online marketplace for making bespoke African outfits. Seams has been selected by Forbes as one of the top 200 startups in Nigeria from a pool of 5000 companies.
He has a background in product/content marketing and product management and has built and scaled several products to thousands of users across a number of industries.
He would be educating us on ways to position your brand to succeed through effective marketing tips to reach out audience in 2022.
SME Clinic is brought to you by CreditPRO. This is a monthly program aimed at providing healing solutions to SME businesses in terms of knowledge, skill set and technical know-how, to enrich and grow a profitable business.
This is our contribution towards giving back to society. We hope to touch thousands of SME businesses in immeasurable ways.