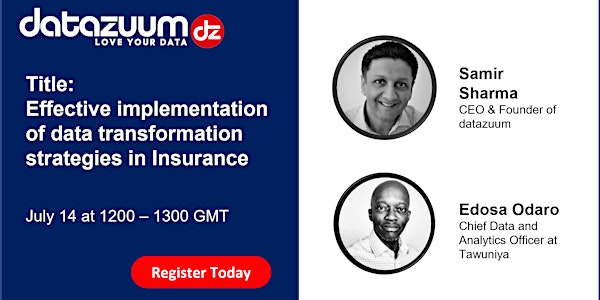 Effective implementation of data transformation strategies in Insurance
I will be discussing the challenges Insurers are having with data and analytics in this webinar with Edosa Odara
About this event
Please join us to discuss an extremely important subject for insurers worldwide. Whether you are an insurer or provide services to the Insurance industry such as claims administration or loss adjusting then this webinar is for you.
Many insurers are facing intense competition and data can be a differentiator, however, many are still experiencing challenges in implementing successful data strategies.
I discuss these challenges and more with Edosa Odara Chief Data and Analytics Officer at Tawuniya.
You will get insights and tips on how to be successful in implementing data strategies that will help you prioritise the right data initiatives and uncover opportunities that will increase revenue and profits.
Please join us and bring your questions to the session.
***Only for those working in the Insurance Industry***
About Edosa:
Edosa is the Chief Data and Analytics Officer at Tawuniya - the largest insurance company in the entire Kingdom of Saudi Arabia - with a broad ranging transformational remit across governance, privacy, and advanced analytics.
As a global cross-industry AI and data transformation leader, Edosa Odaro is the mastermind behind several innovations that have resulted in organisational success thanks to the effective implementation of data transformation strategies. In leadership positions across diverse sectors, he has helped over 35 leading international organisations deliver significant impact through analytics and intelligent interventions.
As a Nigerian-born data specialist with an academic background in economics, computer science, business, technology and innovation, Edosa is a firm believer in the importance of a significant focus on people and on culture as well as a brand of inclusion that is underpinned by a diversity of minds. From his vast store of meticulous field notes and interview transcripts chronicling 23 years of experience, he has compiled a record of insights and methodologies never before presented into his new book: Making Data Work.
A keen advocate for diversity, a trusted adviser, an experienced presenter and a regular speaker, Edosa is a multi-award winner, including being named a Financial Times Top 100 Most Influential Leader, a Global 100 Data Activator, and one of the UK's 30 Most Influential Black Leaders in FinTech & Data.
Beyond the world of work, Edosa enjoys spending time with his wife and two sons - experiencing a variety of activities, including football, cycling, running and skiing.
About Samir
Samir is the CEO and Founder of datazuum, a data consultancy group in Data Strategy & Analytics. Helping companies prioritise data initiatives, uncovering growth opportunities using data to increase revenue and profit. His clients range from medium sized businesses through to large multi-nationals across the UK, Europe and North America.
Previous to datazuum Samir worked at Computer Sciences Corporation, Accenture, Christie's, and Vertex Business Services where he led the development of their data and analytics business.
He writes regularly about data strategy, roadmap development, data fluency and how to build effective data teams; sharing his experiences and lessons learned with as many people as possible. He often breaks down difficult concepts into simple frameworks, so that anyone can understand their meaning and purpose.
He speaks regularly at numerous events as a keynote speaker, run the Data Strategy Show podcast – voted in the Top 10 Podcasts of 2022; as well as leading Ask Me Anything events with top data leaders.
Samir lives in London with his wife and daughter.