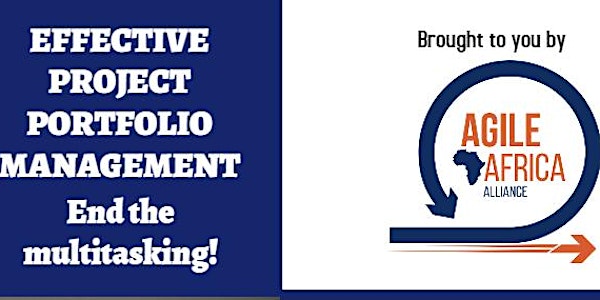 Effective (Agile & Lean) Project Portfolio Management: End the Multitasking
When and where
Location
https://zoom.us/j/143614816 Password: 713785
Description
You have too much work to do, and it's all #1 priority. You start work and can't finish it before you have to start something else. You know there's a better way than lurching from one chunk of work to another.
Agile and lean project portfolio management helps everyone end the multitasking—and increase throughput. You can manage your own project portfolio. You can help management create and manage an overall project portfolio for your organization. And, you don't need a lot of math to do it.
With a few simple measurements, you can manage your project portfolio, regardless of where you are in the organization. You can see where you have enough teams to staff projects—and where you don't. You can help people articulate the business value of the projects in the project portfolio so it's possible to make decisions and stick with them.
Join Johanna to learn about practical and pragmatic approaches to visualizing and managing the project portfolio.
Speaker's Bio
Johanna Rothman, known as the "Pragmatic Manager," provides frank advice for your tough problems. She helps leaders and teams see problems and resolve risks and manage their product development. Johanna was the Agile 2009 conference chair. Johanna is the author of these books:
Modern Management Made Easy (a triad of books)

Write a Conference Proposal the Conference Wants and Accepts

From Chaos to Successful Distributed Agile Teams: Collaborate to Deliver (with Mark Kilby)

Create Your Successful Agile Project: Collaborate, Measure, Estimate, Deliver
Manage Your Project Portfolio: Increase Your Capacity and Finish More Projects, 2nd edition

Agile and Lean Program Management: Scaling Collaboration Across the Organization

Project Portfolio Tips: Twelve Ideas for Focusing on the Work You Need to Start & Finish

Diving for Hidden Treasures: Finding the Value in Your Project Portfolio (with Jutta Eckstein)

Predicting the Unpredictable: Pragmatic Approaches to Estimating Project Schedule or Cost

Manage Your Job Search

Hiring Geeks That Fit

The 2008 Jolt Productivity award-winning Manage It! Your Guide to Modern, Pragmatic Project Management

Behind Closed Doors: Secrets of Great Management
She writes two blogs on her web site, jrothman.com, as well as a blog on createadaptablelife.com.