Sales Have Ended
Registrations are closed
We look forward to meeting you in Brussels!
Sales Have Ended
Registrations are closed
We look forward to meeting you in Brussels!
Description
The Energy Future Exchange, EFEX, hosts its Brussels conference, a comprehensive celebration and call-to-action highlighting the potential of the EU and US to lead in creating a clean, climate-friendly energy future, Tuesday, September 24, 2019, at the SQUARE Convention Center. Featuring insights and innovations from both sides of the Atlantic, this one-day event culminates EFEX's two-year transatlantic civil society dialogue. Participation is free and open to the public.
Monika Zimmermann, a leading figure in international sustainability cooperation, will moderate the conference, which is divided into three segments: discover, engage, and act.
DISCOVER | 10-12
Jan Rosenow from the Regulatory Assistance Project opens the day with a keynote address focusing on the role of energy efficiency in the broader energy transition;
Danielle Turkov Wilson, Founder and Director of Think-Film Impact Production and Impact Producer of
The Future is Sh*t premieres the new film about unexpected approaches to the energy transition and discusses the role of film in creating global social change.
Dr. Carolyn Snell from the University of York whose research investigates the intersections of energy, climate, and social policy, including the concept of fuel poverty.
ENGAGE | 12-15
A lunch buffet is available while exhibitors from the US and EU demonstrate and discuss their approaches to addressing the challenges of the energy transition, including educators, SMEs, community organizations, start-ups, and NGOs. Exhibitor tables provide a chance for presenters to connect with conference attendees, and interviews offer a platform to introduce new ideas to the conversation.
Among the exhibitors and interviewees are
Steve McClain from Strategic Microgrid
Frank Adam from GICON
Michael Schneider, econnext / autarq / GRIPS LUMENION
Jason Morenikeji, Founder and Director, Urban Farming Company
Dr. Radostina Primova and Martin Keim from the Heinrich Böll Stiftung
Carine Sebi from Ecole de Management Grenoble
Jessica Glicker from Buildings Performance Institute Europe (BPIE)
Anne Katherina Weidenbach from European Commission
Wendy Sanassee from EarthSpark International
Francisco Gonçalves from Energy Cities
Jan Rosenow, Regulatory Assistance Project
ACT | 15-16.30
With a specific focus on finance, but with an eye to the social and equity questions essential to sustainability, the final segment offers a path to realization, featuring
Irena Spazzapan, SYSTEMIQ;
Michael Schneider, Co-CEO and Co-Founder, econnext.eu; and
Dries Acke, Director for the Energy Systems Initiative at the European Climate Foundation.
This segment and the conference will conclude with closing remarks from Domenico Rossetti di Valdalbero, Deputy Head of Unit at the European Commission, DG Research and Innovation, Directorate Clean Planet, Euratom Research Unit. .
An on-location reception will immediately follow the program.
Participation is free of charge, but we ask that you register in advance to help us reduce waste.

This is a one-of-a-kind conference seeking to celebrate the diversity of thought, action, and inspiration making civil society the leaders in pushing the transatlantic energy transition forward. Sponsorship and exhibitor opportunities are still available. If you are interested in being a part of the EFEX 2019 program, write to Max Gruenig, max@energyfuturex.org, for more information and to discuss options.
We hope to see you in Brussels.
The EFEX Brussels Conference is also part of the EFEX Study Tour taking place from September 22-28, 2019, in Belgium and the Netherlands. You can find the most up-to-date information about the study tour itinerary here.
Speaker Bios
Jan Rosenow is a Principal and Director of European Programmes at the Regulatory Assistance Project (RAP), a global team of highly-skilled energy experts. Jan has several board appointments including the IEA's demand-side management programme, eceee, and EVO. Jan also has a passion for energy research. He is an Honorary Research Associate at Oxford University's Environmental Change Institute. In recognition of his work within the field, Jan was named one of the world's Top 25 energy influencers.
Jessica Glicker works at Building Performance Institute Europe where she is part of the ExcEED project team. She holds a Masters of Science in Economics and Policy of Energy and the Environment from the Energy Institute, University College London. For her dissertation, she focused on green bond financing for energy efficiency in the buildings sector in emerging economies. Prior to joining BPIE, Jesse worked at the International Energy Agency as an analyst on the energy efficiency team, where she focused on clean energy investment and finance. While at the IEA, Jesse was the representative to the Energy Efficiency Financial Institutions Group (EEFIG), where she will continue to remain active. Additionally, Jesse worked for several years in architecture in New York City, at a sustainable architecture firm, where she became a LEED Accredited Professional (Leadership in Energy and Environmental Design). In 2017, Jesse co-founded the Paris Women in Energy and Climate Network, and remains active in coordinating and finding ways to bring together the climate community.
Francisco Gonçalves joined Energy Cities in April 2017 to manage projects on urban sustainable energy management, smart cities, and citizen participation. He holds an MSc in Environmental Engineering, an Executive Master in Management, and is a certified Project Management Professional (PMP). Francisco believes cities' and communities' actions are key for an effective energy transition. Before joining Energy Cities, he worked for almost a decade at Lisboa E-Nova (Lisbon Energy and Environment Agency). During that time, he gained a deep knowledge on how cities and their stakeholders operate. His areas of expertise are sustainable energy management (renewables and energy efficiency), climate change mitigation, and supporting local authorities in planning and implementing sustainable energy and environment policies. He identifies himself with the "Bruxellois" relaxed way of living, reflected in the way citizens occupy the public space.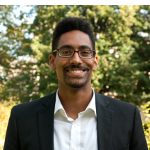 Martin Keim has been Head of European Energy Transition Programme at the EU office of the Heinrich Böll Foundation in Brussels since July 2019. He is responsible for all issues related to the ongoing energy transitions within Europe, including EU legislation, internal energy markets, digitalisation and external energy relations to third countries. He is the responsible chief editor for www.energytransition.org, Heinrich Böll Foundation's international online blog on global energy transitions. Before joining the Heinrich-Böll-Stiftung, he worked as a research assistant at the Stiftung Wissenschaft und Politik (SWP) in Berlin, also known as the German Institute for International and Security Affairs, within the project "The Geopolitics of Energy Transformation". Prior to SWP, Martin gained experience in EU energy affairs within the private sector. His main topics included renewable energies legislation, digitalization, e-mobility charging infrastructure and CO2 emission targets. Martin holds a BA in "International and European Governance" from the University of Münster, and a MA in "International and European Governance" and "Strategy, Intelligence and Risk Management" from Sciences Po Lille and the University of Münster.
Steve McClain, CEO of Strategic Microgrid, has served for over thirty years as an owner and an executive in energy, finance, construction, manufacturing and distribution. Steve has founded startups and led mergers and acquisitions, performed turnarounds and consulted on energy, manufacturing, aerospace, asset based financing, and acquisition integration. Steve's industry and community activities include: Board of Directors of an apparel manufacturer, wholesaler and retailer; member of Governor Jan Brewer's Energy Task Force in 2013; Executive Committee of the Industry Advisory Council at ASU's Del Webb School of Construction; Director and Treasurer, the Arizona Chapter of the Associated General Contractors; Life Director and Past President of the Arizona Builders Alliance; National Director of the Associated Builders and Contractors; member of the Leadership Circle of the Phoenix Children's Hospital Foundation.
Jason Morenikeji has a solid 15-year background in innovation, entrepreneurship and industrial design. He has demonstrated a clear passion for addressing the critical sustainability challenges we face globally. As founder and director of Urban Farming Company, his vision is to map and implement a trajectory for a future-ready food system by addressing consumer desirability, technical feasibility and technical viability.
Dr Radostina Primova is Head of Climate and Energy programme at the European Union office of the Heinrich-Böll-Stiftung in Brussels since November 2015. She is in charge of the EU external partnerships and international cooperation in the field of climate and sustainable development policies. Prior to this, she worked as EU Affairs Consultant at Hinicio, specialising in EU sustainable energy projects, in particular in relation to the development of renewable energy, hydrogen storage, certification schemes, and energy efficiency technologies. Radostina has also gained professional experience in a number of other institutions, such as the Institute for European Studies (IES) in Brussels, the Department for Federal and European Affairs in the Bremen Senate, Stiftung Wissenschaft und Politik (Berlin), and the Jean Monnet Centre for European Studies (CEuS) in Bremen. Radostina holds a BA in Integrated European Studies, a MA in Political Science from the University of Bremen and a PhD in Political Sciences from the VUB Brussels.
Wendy Sanassee joined the EarthSpark team in February 2016 as a Community Engagement Associate in Les Anglais, Haiti and is now Director of Haiti Operations. With a broad set of responsibilities, she collaborates with stakeholders within and outside the organization for the promotion and sustainable operations of EarthSpark's microgrids in Haiti. Her past experience includes water systems engineering, sustainable development analysis, and wildlife conservation in Mauritius. Wendy holds a BEng (Hons.) in Chemical and Environmental Engineering and an MSc in Project Management from the University of Mauritius. She is fluent in French, English, Haitian Creole and Mauritian Creole.
Dr Carolyn Snell is a Senior Lecturer in Social Policy at the University of York. She has a multidisciplinary background, her academic career began with a degree in Politics and English Literature and was followed by an MA and PhD in Social Policy. Following this she held a research post at the Stockholm Environment Institute. Since 2011 Carolyn's research and publications have largely focused on energy policy in the UK, with a particular interest in fuel poverty, austerity, and vulnerable groups. Carolyn's most recent research has considered the fairness of domestic energy efficiency policies across the four UK nations, and has questioned whether vulnerable groups such as disabled people and children have been sufficiently supported through policy. Carolyn's research has led to revised public health guidelines around fuel poverty, and she regularly provides advice to the energy sector about working with vulnerable households.
Irena Spazzapan joined SYSTEMIQ in 2018 to lead the energy platform and focus on the energy transition away from fossil fuels. Irena is passionate about driving change in the energy sector by applying new disrupting technologies enabled by increasingly cheap renewable energy and digitalisation. At SYSTEMIQ, Irena focuses on both advisory and investing activities with the aim of pushing energy demand on a firm decarbonisation path in a cost-competitive market approach. Prior to that, Irena was at Goldman Sachs for 12 years where she worked in gas & power origination covering European utilities, and before that she worked briefly at the United Nations.
Michael Schneider left the banking sector in 2015 to focus his career entirely on pursuing business models supporting the achievement of the UN Sustainable Development Goals (SDGs). Together with fellow entrepreneurs Jobst von Hoyningen-Huene and Alexander Voigt, and jointly with members of internationally renowned families, he built econnext - an industrial holding with purpose (www.econnext.eu). The econnext Group companies are active in the fields of energy storage, solar roof tiles, composite material recycling, hybrid energy systems in Africa and providing capital market SDG-Screening to asset managers and asset owners worldwide.
Carine Sebi is Assistant Professor and member of the energy management team at Grenoble Ecole de Management where she leverages and disseminates research projects in close relation with energy stakeholders. She is specialised in energy efficiency evaluation (with a focus on the building sector). She is currently analysing the energy communities.
Daniel Walia studied civil engineering and has a strong interest in environmental protection and resource conservation. Therefore, sector coupling is one of his main interests, not only converting the electrical energy system towards sustainability but also transport and heating. His work and research at the Chair for Wind Energy Technology (LWET) at the University of Rostock is focused on the development of floating offshore wind turbines. Within this scope he works on on the design and optimization of floating substructures with the aid of coupled aero-hydro-servo-elastic simulations and physical model tests.
Anne Katherina Weidenbach is a lawyer and policy officer at DG ENERGY, Energy Efficiency Unit, European Commission. Her work is focussing on the implementation of the Energy Efficiency Directive, in particular on the consistent interpretation and practical implementation of the energy savings obligation. Prior to joining the European Commission, she worked as deputy head of section at Bundesnetzagentur/Germany, chaired the ACER Task Force responsible for the capacity allocation in the gas sector and worked for several years as an attorney-at-law, inter alia in Brussels with an international law firm where she practiced in competition and energy law.
Monika Zimmermann works as a freelance expert for urban sustainability, project design and management, and as trainer, presenter and moderator. International cooperation between cities and the networking of high-level actors is one of her core competencies.
Monika Zimmermann held the office of Deputy Secretary General of ICLEI – Local Governments of Sustainability and acted as Deputy Executive Director of the ICLEI World Secretariat, Bonn (2013-2018).
Co-funded by the European Union. EFEX is a two-year endeavor financed in large part through the European Union Delegation to the United States Transatlantic Civil Society Dialogues program. This website was created and maintained with the financial support of the European Union. Its contents are the sole responsibility of Ecologic Institute and do not necessarily reflect the views of the European Union.
Organizer of EFEX 2019 Energy Future Exchange
Ecologic Institute is an independent non-profit center for sustainability based in Washington, DC. Our mission is to promote greater transatlantic understanding of environmental policies, sustainable economic and political development, and environmental protection through research, publications, educational exchanges and public events. We accomplish this through dedication to discovering fresh insights into sustainable social and environmental policies.
Ecologic Institute is a legally and financially independent IRC 501(c)(3) public charity. As a place for informed dialogue and debate about the future of environmental policy, we believe diverse perspectives, dynamic exchanges and innovative approaches are the keys to building a vibrant, sustainable future.