Sales Have Ended
Registrations are closed
See kõnekoosolek on juba minevik. Jälgige ERK kodulehte ja osalege meie järgmisel koosolekul. Kohtumiseni!
Sales Have Ended
Registrations are closed
See kõnekoosolek on juba minevik. Jälgige ERK kodulehte ja osalege meie järgmisel koosolekul. Kohtumiseni!
Description
Teema: Strateegia "Eesti 2035" (klikka >> EV peaministri Strateegiabüroo koduleht)

Toome enne suurt suve ja teemaringi hooaja lõpetuseks teie ette raskekahurväe. Teie ette astub Jaan Varese lapselaps, USA kõrgelthinnatud jurist, Riigikohtu nõustaja, otsitud koolitaja
Mr. Michael Gallagher. Loe ettekandjast ja ettekandest SIIT.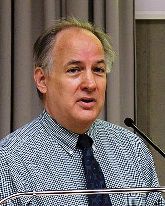 Ettekanded:
Michael Gallagher: . 45 min + 20 min Q&A


Ettekande sisu ja fookuse tutvustus ilmub siia peagi.
Ootame ettekannet kuulama eelkõige poliitikahuvilisi noori, riigiteaduse õppureid ja poliitikuid.
Jälgi meie strateegialehte kodulehel - toome seal ära mõnede kodumaiste ja rahvusvaheliste ekspertide arvamused sellest, mis asi on strateegia ja milline võiks sobida Eestile.


Ivar Raig, ERK: Mõtteid ja arvamusi kaasaegsest populismist:

mõiste, tunnused, vahendid, struktuur ja roll ühiskonnas, populistlikud valitsused, näited Eestist ja välismaalt ning populismi arvatav tulevik.

15 min + 5 min Q&A. Põhjalikum info kodulehele ilmuvatel kuvadel. Kuula lühiettekannet.

*palun registreeruge, et teaksime arvestada auditooriumi suurusega.
- - - - - - - - - - - - - - - - - -

ERK maikuu kõnekoosoleku avab ERK üldkoosolek - 10 min.

Soojenduseks:
Vaata, millised küsimused jäid vastuseta EV presidendi poolt oktoobris 2018 ja millele ta nüüd vastas.
27-02-2019 tuli välja Euroopa Komisjoni raport, st hinnag sellele, kuidas paistab Eesti numbrites teiste riikide taustal.
Soome Parlamendi Tulevikukomisjon avaldas 2018. a. kevadel aruande: Soome sada uut võimalust 2018-2037, ühiskonnakorraldust muutvad radikaalsed tehnoloogiad.


- - - - - - - - - - - - - - - - - -
ERK aastaraamat "Mõõt või meelevald" on veel saadaval, kuid mitte kauaks.

Rooma Klubi raportitele aluse pannud raamat "Kasvu piirid" andis ennustuse, et aastatel 2020-2025 algab pikaajaline ja kõikehõlmav kriis, mille käigus sureb 2/3 inimkonnast ja mis põhjustab saja-aastase majandusliku languse. Eesti 2035 seda ette ei näe. Millele ehitada strateegia, kui midagi pole teada?
---
Palju huvipakkuvat ja ülevaatlikku infot leiad Eesti Rooma Klubi kodulehelt.

Külalised on oodatud registreerumisega

KUI SA EI ELA TALLINNAS, tea, et meil on esindajad Tartus ja Saaremaal, Jõgeval ja Pärnus. Küsi!
---
Küsite:

What are my transportation/parking options for getting to and from the event?
Registreerunud saavad tasuta parkimise juhised.

How can I contact the organizer with any questions?
Miks on osa teksti võõras keeles?
Sest enamik äppe ei näe Eestit oma sihtriigina. Kus on kohalikud itimehed?