Sales Have Ended
Registrations are closed
See kõnekoosolek on juba minevik. Jälgige ERK kodulehte ja osalege meie järgmisel koosolekul. Kohtumiseni!
Sales Have Ended
Registrations are closed
See kõnekoosolek on juba minevik. Jälgige ERK kodulehte ja osalege meie järgmisel koosolekul. Kohtumiseni!
Description
Teema: BINAARSED OPOSITSIOONID. Tõe teooria.
Inforing - mis on toimunud kahe koosoleku vahepealsel ajal. Muuhulgas kuuleme:

Töörühmade esindajad
CoR raportid 2018/2019
ERKAR 2019

Ettekanded:
Arvo Raudsepp/Härmo Saarm
Miks ma loen Sirendit?

Arvo Sirendi: kuula Dr. Sirendi mõtteid strateegiate rakenduste kohta


Kaheharuline inimaru ja mõtte hargnemine ehk Binaarseid opositsioone ja muid dihhotoomiaid

.
Miks oli vaja kirjutada kuus tihedas kirjas raamatut?
Mis neid raamatuid ühendab?
Kes neid lugema peaksid?
Tõe teooria ja kaheharuline inimaru ühe valitud raamatu näitel.

Margus Punab:


Tervis kui ühiskonna arengu marker

. Rahvatervise töörühmast.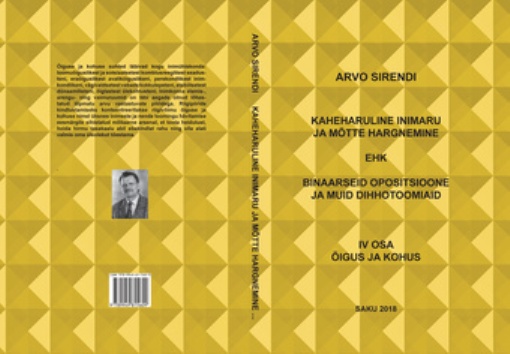 Meist igaühelt nõutakse elukeskkonna juhuslikkuse ja paratamatuse toimeväljas üksnes arukaid valikuid ja vastutust, kuid mistahes valikuid ning neist tulenevat on osatud üsnagi suvaliselt kas heaks kiita või hukka mõista. Hinnangute suhtelisuse laiutamine ei peaks muutma suhteliseks inimtahet ja tööd. Inimese olemise, mõtlemise ja tegutsemise ruumis kohtame nii intuitsiooni kui inspiratsiooni, teadmisi ja kogemusi, valgusallikaid ja teetähiseid, moraali ankruid ja kõlbelisi piire, soove ja hirme ning usku, lootust ja armastust. See joonistab välja eesmärgistatud tulevikupildi, mis on väljendatav ka teksti ja kontekstina. Aeg määrab selle kvaliteedi.

Inimene ja inimloomus
Inimene/keskkond
Maalise eluviisi kultuur
Vaim
*ERK aastaraamat "Mõõt või meelevald" on veel saadaval, kuid mitte kauaks.
---
Palju huvipakkuvat ja ülevaatlikku infot leiad Eesti Rooma Klubi kodulehelt.

Külalised on oodatud registreerumisega

KUI SA EI ELA TALLINNAS, tea, et meil on esindajad Tartus ja Saaremaal, Jõgeval ja Pärnus. Küsi!
---
Küsite:

What are my transportation/parking options for getting to and from the event?
Registreerunud saavad tasuta parkimise juhised.

How can I contact the organizer with any questions?
Miks on osa teksti võõras keeles?
Sest enamik äppe ei näe Eestit oma sihtriigina. Kus on kohalikud itimehed?