Eesti Rooma Klubi aastakonverents 2019 / Annual Conference 2019 of EstCoR
About this Event
Eesti Rooma Klubi aastakonverents on traditsiooniline sündmus.
Maailma rahvaid ja riike mõjutab üha enam globaliseerumine, mille suunajateks tahavad olla suurriigid. Et selles keerulises protsessis mitte olla objekt ja ohver, tuleb väikeriikidel enam tunnetada oma võimalusi ja vastutust maailmas toimuva eest.
Jätkame Hardo Aasmäe algatatud Eesti Rooma Klubi suunda geopoliitilistes arutlustes. Kohalikke strateegiaid raamistavad ikka need võimalused ja piirangud, mille annavad maailma tegelikkus ja endale võideldud või kaotatud koht selles. Konverents vaatleb Eesti ja väikeriikide arenguid ning rolli globaalse jätkuvuse tagamisel.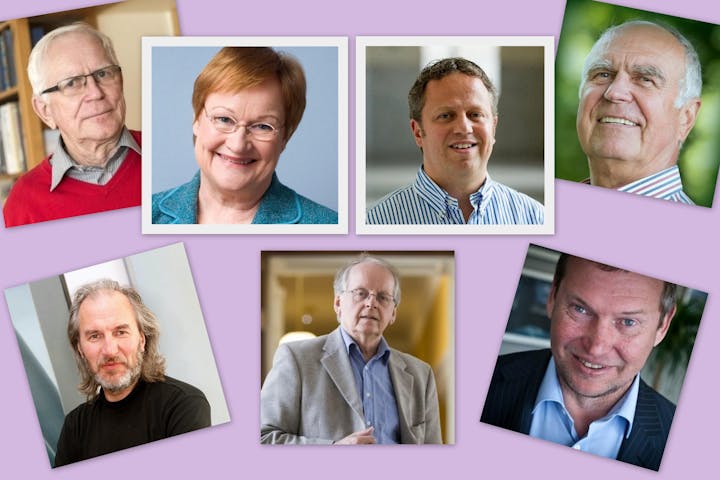 KAVA (algus kl 13:00)
Avamine - Andres Tarand, Rooma Klubi/ Club of Rome auliige
Tervitus - EV Riigikogu
13:15-14:00 Avaettekanne - Lauri Mälksoo, akadeemik. Saalile küsimusteks 10 min.
Milline roll on kiiresti muutuvas maailmas väikeriikidel?
Kas muutuv maailmakord kujutab endast väikeriikide jaoks uusi ohte või toob kaasa ka uusi võimalusi?
Kuidas saavad väikeriigid kasutada rahvusvahelist õigust, näiteks Julgeolekunõukogu liikmena?
14:10 - 15:45
VÄITLUSRING - kogemustega juhid jagavad oma nägemust sellest, milline on väikeste roll suures voolus ja kuhu meid kantakse
Osalevad:
Jätkame küsimuste ja kommentaaridega. Osaleb saal.
Lõpetamine. Endel Uiga raamatu esitlus.
- - - - - - - - - -
Täname toetuse eest: Sillamäe sadam SILPORT, Tiit Vähi ja Karli Lambot
KONVERENTSIL OSALEMINE VAID REGISTREERUMISEGA
Vt eelmiste konverentside materjale.
- - - - - - - - - -
Dear participant,
Welcome to our annual conference! Please register.
The conference is held in Estonian, except president Halonen's presentation.
Kindly let us know if you would need a translator or would like to have an interview with any of the panelists. Conference materials would be sent by request.
- - - - - - - - - -
Konverentsi pakume soodsalt meie autorite väljaandeid.
Nende hulgas viimased eksemplarid ERK aastaraamat 2018/2019, P. Tammert, K. Vipp, A. Tarand jt ning meie väärikaima liikme dr Endel Uiga mälestuste pildiraamatut, välja antud New Jersey, 2019.
Kas Sinul on Rooma Klubi raport - inimkonna 4 võimalikku teed, juba loetud?