EED Live Info Webinar – Aug 13, 2015 – FREE Registration

Thursday, August 13, 2015 from 7:00 PM to 8:30 PM (CEST)
Event Details
A Synthesis of Coaching and Leadership with Relationship Dynamics™.
"Absolutely one of the best courses that a coach can take. You're in for a treat! It offered a new paradigm for creating truth and authenticity. I can't recommend it strongly enough to anyone looking for a more magical, authentic, coaching capacity."
– Fernando Lopez, CPCC, ORSCC, Relationship Systems Coach and ORSC Supervisor – Toronto
An advanced workshop series for anyone who works with human development and behaviour.
EED Special Live Webinar:
Turn Conflicts into Your Ally!
A FREE interactive video conference presenting
the EED Advanced Training Series and its special applications
hosted by Troy Yorke
creator and founder of EED
(1:00PM Toronto / 7:00PM Paris)

Emergent Essence Dynamics™ is a simple and elegant system that transforms the "coach/client" relationship into a parallel process using Relationship Dynamics™.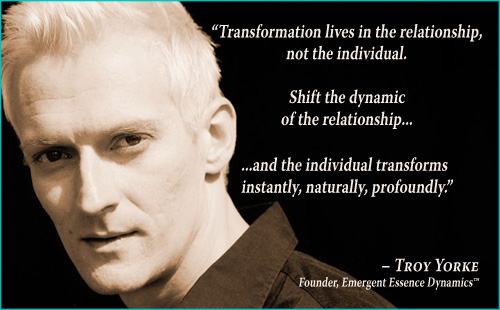 Coaches, Consultants, Facilitators, Healers, Leaders…
This FREE 90-minute webinar gives you an exciting overview of the EED Program and how it can apply to conflict resolution
This webinar will demonstrate and discuss some of EED's more innovative techniques for working very differently and directly with conflicts: whether they be external conflicts in a group or relationship or the internal conflicts of an individual.
These techniques apply to leadership, coaching of individuals/partners/groups, mediation and much more!
A live demonstration

 of revolutionary techniques that open new ways to deal directly with conflict and resistance
Inspiring lectures and interactive discussions

 that highlight the range and depth of EED's straight-forward philosophy and concrete tools
                    ★★★ 7:00–8:15PM (Paris): Live Video Webinar ★★★
                              8:15–8:30PM (Paris): Q & A Session
(1:00–2:30PM Toronto)
join by internet or telephone
Whether a coach, consultant, healer or facilitator, EED trains you to work more freely and provocatively with clients:
Use resistance to provoke more creativity and brilliance

Quickly reveal the deep hidden beliefs that are creating and driving the conflict at hand

Organically track and amplify your client's unique process of transformation that is emerging through their conflicts
EED has you spend less time thinking and more time creating more fluid relationships that provoke higher productivity and deep sustainable change.
Join us for this fun and interactive event!
Registration FREE
(webinar link will be provided upon registration) 
Maximum number of participants: 24
(You will be automatically added to our wait-list if the maximum of 24 is exceeded)
We look forward to igniting more fire, passion and creativity in your work with human development and behavior!
We know you'll be thrilled by the experience!
For more information
please contact:
Helen Henrich (Europe)
tel: +49 7127 955700
Ashley Abbott (Toronto)
tel: (647) 478–1701
Register now for 2015/2016 courses in Heidelberg, Paris, Barcelona and Toronto!
Click a city to download a registration form
Click to watch an interview with EED's founder Troy Yorke
and see a live demo of basic EED coaching:
"Use Provocation to Cut through Resistance or Ambiguity"
Troy Yorke

, creator and founder of Emergent Essence Dynamics™, travels globally leading EED workshops and Practicums, and is a senior faculty member with the Coaches Training Institute. His diverse background for over 25 years as concert pianist, composer, writer, Film/TV actor, and producer incorporates a wealth of knowledge working with human creativity and behaviour – making him a dynamic trainer and coach who focuses on natural brilliance as the means to excel.
The EED Advanced Training Series consists of three core training modules followed by optional Practicums and Supervision.
EED courses have run since 2006 in various locations across the globe including Canada, Norway, France, Germany, England, and Spain
Visit our Facebook Page
for course dates, locations and program descriptions
Join our mailing list
for the latest news and updates
Organizer

"Challenging, provocative, dynamic, no surrender, inspiring, authentic. These courses make you live a new and powerful way of being with others – to interact with them in such a way that you are fully present while taking part in the transformation as it is happening."

– Frank Nesi, Co-Active Coach, Barcelona, Spain
Emergent Essence Dynamics™ harnesses a person's innate Resilience to reconcile fear-based behaviours, converting patterns of Resistance and Self-Sabotage into a liberated state of creativity and well-being. Drawing from fields as diverse as Psychology & Neuroscience, Quantum Physics & Buddhism, Acting & Improvisation, EED breaks new ground in  leadership and coaching using fractal dynamics to amplify Resilience, release Resistance and Reconcile core conflicts. EED's simple and innovative model significantly enhances individual & team coaching, facilitation, therapy, and conflict resolution with applications extending to the healing arts, leadership development, mediation, consulting, sales and more.