Description
Playing with Lego has long been associated with creativity and meaning-making. Those colorful blocks help kids develop spatial reasoning and problem solving skills, both important to have in engineering solutions. Legos can be a literal building block for many engineering activities and projects. Come to this session to play with Lego's, including Mindstorm EV3 Robots, Lego Wedo and just plain blocks to see how you can take advantage of these for a variety of projects, content areas and grade levels.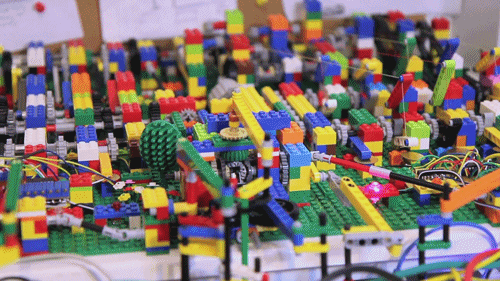 The session will feature various Lego engineering stations and challenges. We will also share resources for implementing Lego, play and engineering into your instruction.
---
The Edumaker's Lab is a monthly series (formerly known as the Open Making Hours) where teachers students and the general education community can come and experience maker practices centered around one demo, tool, or resource, with hands-on activities and challenges designed for all ages. The Lab will take place the first Wednesday of each month from 3pm to 6pm, and will be open ended so participants can arrive at any time, preferably before 5pm, and still engage with the day's topic, ask questions, and learn in a collaborative environment.
Upcoming Edumaker events:
October 3: Circuit playground! Create and use simple circuits with paper, cardboard and a few other components
November 7: 3D Modeling and coding with Tinkercad Codeblocks
December: No event due to Hour of Code 12/6/18
January 9 (2nd Monday): Getting on with Microbit
February 6: Making with MESH
March 6: Lego Engineering
April 3: Arduino Arcade
May 1: Break to Make
Please visit our Eventbrite page for more details on registering for any of these (and other events).
If you have questions or suggestions, contact fnieto@acoe.org or call 510-670-7751