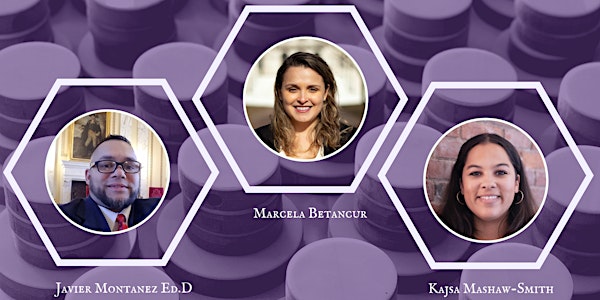 EduLeaders of Color RI September Meetup-Welcome Back!
Join us for our first EduLeaders of Color RI meetup of the school year!
When and where
Location
Venture Cafe Providence 225 Dyer Street Providence, RI 02903
About this event
" Este trabajo de abogacía no es fácil, pero cuando se tiene el apoyo de gente sincera y con elndeseo deayudar, la carga se hace más liviana!" -Ramona Santos
"This work of advocacy is not easy but when you have the support of sincere people and with the willingness to help, the load becomes lighter!" -Ramona Santos
Are you committed to creating innovative solutions that empower students
Do you want to meet and connect with like-minded leaders and educators who are committed to redesigning systems that meet the needs of all learners?
Interested in joining a community of leaders and educators after work to vibe, chill, and build?
We are super excited to co-host our first EduLeaders of Color RI meetup of the school year with PLEE (Parents Leading for Educational Equity) during Providence Venture Café's "Thursday Gathering!"
We're starting off the school year by providing a space where educational leaders and community member can connect, unite, and build. Our education ecosystem focuses on empowering leaders and educators of color by creating opportunities where we can cultivate our network, build social capital, and elevate our voices. This work involves everyone. We welcome all but specifically focus on creating a supportive space for groups of people that historically have been underserved and marginalized.
Our September meetup will be held at the Providence Venture Café. We will feature several leaders who are working to improve our communities.
Speaker line-up:
Javier Montanez Ed.D
Javier was born and raised in Brooklyn, New York to a family of 12. He has been happily married for 34 years and he and has three sons and five grandchildren. Javier has had the privilege of educating and inspiring youth for the last 23 years.
**There's way more to his story that he will only share at the meetup!
Marcela Betancur
Marcela Betancur immigrated to the United States from Colombia at age 12, where she moved to Central Falls. Her early professional career has focused on affordable housing, civil liberties, and a wide arrange of policy work in education, low-income communities, and young families.
Marcela served as the Chapter Director of the New Leaders Council Rhode Island Chapter for three years until 2018 after transitioning to the National organization's board. Since 2017 she has served as the Vice President of the Rhode Island Latino Political Action Committee and Civic Fund, an organization that seeks to increase the participation and visibility of Latinos in politics. Marcela proudly serves on the boards of New Urban Arts Board and Generation Citizen.
In her role as the Director of the Latino Policy Institute, Marcela works to promote and connect non-partisan data about Latinos in Rhode Island with a statewide and regional approach. The Latino Policy Institute stimulates public policy discourse by objectively examining and communication the evolving Latino experience in Rhode Island.
Kajsa Mashaw-Smith
Kajsa Mashaw-Smith is the Private Meetings & Events Sales Manager of District Hall Providence, managing the bookings for the space rentals. You will often find her engaging with clients and touring the space. Kajsa is a Rhode Island native and has recently returned home from California, where she was the Director of Events for a non-profit organization, planning and executing their various meetings and conferences. Kajsa holds a bachelor's in Spanish Language & Literature as well as a bachelor's in Latin American & Caribbean Studies from Rollins College. She is excited about connecting with the local community and being a part of the continued growth and development of the city of Providence.
We look forward to seeing everyone! Light food, beer, and wine will be served during the event.
In Solidarity,
EduLeaders of Color RI