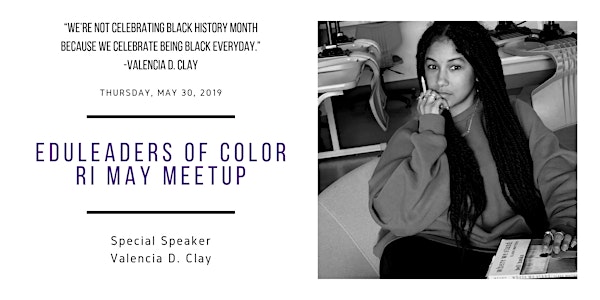 EduLeaders of Color RI May Meetup featuring Valencia D. Clay
When and where
Location
The WaterFire Arts Center 475 Valley Street Providence, RI 02908
Description
Are you committed to equity?
Looking to connect with other leaders and teachers leading the charge for educational equity?
Interested in learning from other teachers, leaders, and experts in the community?
Make sure to join us for our May 2019 meetup! This will be the last convening of the school year so we are ending the year big for teachers and leaders in Rhode Island!
EduLeaders of Color R.I. is super excited to feature Valencia D. Clay at the next meetup. Valencia D. Clay hails from Harlem, NY and is a middle-grade teacher at the Baltimore Design School. She is a graduate of Morgan State University. During her tenure with Baltimore City Public Schools, she earned a Master's in Special Education and a certification in Administration and Supervision from Johns Hopkins University.
Valencia is a co-founder of the Flourishing Blossoms Society for Girls, Inc., a support network for young girls from urban areas, with a mission to mentor and provide service opportunities. She is also the author of Soundless Cries Don't Lead to Healing: A Critical Thinking Guide Toward Cultural Consciousness. Through social media and her blog, ValenciasGarden.com, she is leading our generation to empower themselves through literacy and learning.
Valencia has been named a 2019 National Geographic Education Fellow. It's an opportunity that she describes as "the biggest news of her life." Throughout the year, she will focus on bringing National Geographic resources and programs to her students in Baltimore and other urban school districts throughout the country.
Check her out on NBC News: Valencia D. Clay: A Baltimore teacher's mission to educate and inspire students

You'll also have the opportunity to learn about what Breakthrough Providence is doing to build a more diverse pipeline of educators.
Our convenings cultivate spaces that foster community, networking, and innovation all centered on addressing systemic inequities. We also focus on highlighting the work of educators and leaders within our state that are committed to equity in education. Attend the meetup and support leaders of color who are deeply dedicated and committed to transforming our system to meet the needs of historically marginalized communities.
It's been a successful and empowering year, and we are looking forward to the work ahead of us!
We hope to see you there.
In solidarity,
EduLeaders of Color Rhode Island