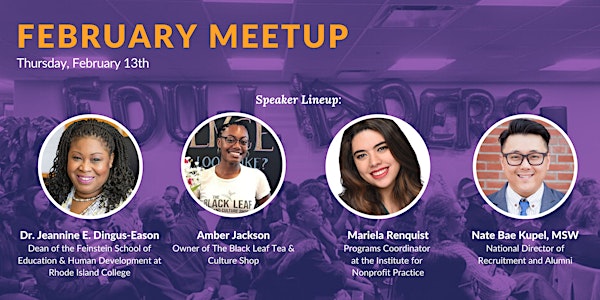 EduLeaders of Color RI February Meetup
Join us for our first meetup of 2020
When and where
Location
Rhode Island Community Foundation 1 Union Station Providence, RI 02903
About this event
"We need to radically define what we're doing in education to create new systems."-Carlon Howard
Are you committed to finding solutions that'll improve our education system?
Do you want to support a community of educators and leaders across the state of Rhode Island and beyond?
Are you interested in meeting and connecting with like-minded leaders and educators who are working to build a diverse workforce?
Our education ecosystem provides a space where you can do all of the above. We unite and empower leaders and educators of color by creating spaces where we can build our network, social capital, and elevate our voices. This work involves everyone and so we welcome all but specifically focus on creating a supportive space for groups of people that historically have been underserved and, marginalized.
The February meetup will be hosted at the Rhode Island Foundation in Providence. We will feature several innovative leaders from different backgrounds who are working to improve our learning communities.
Speaker line-up:
Dr. Jeannine E. Dingus-Eason
Jeannine Dingus-Eason is Dean of the Feinstein School of Education and Human Development at Rhode Island College. Prior to relocating to Rhode Island, she served as Professor and Program Director of the Executive Leadership Doctoral Program at St. John Fisher College in Rochester, New York. A graduate of the University of Washington with a doctorate (Ph.D.) in Curriculum and Instruction, Dr. Dingus-Eason holds a Masters in Secondary English Education and a Bachelors of Arts in English, specializing in African American literature from the University of Rochester.
Her research interests include the professional socialization of teachers, specifically, Black intergenerational teachers, examining familial and cultural influences as well as the intersections of race, class, and gender on their work. For this area of research, Dingus-Eason earned a Spencer Pre-Dissertation Fellowship. Additionally, her research focused on bridging historical and contemporary contexts of Black education in the urban North, as demonstrated in her study of Black teacher recruitment to the North. Dr. Dingus-Eason has published articles in educational research journals including Teachers College Record, Urban Education, and, International Journal of Qualitative Studies in Education, to name a few. She is currently completing her book, A Thousand Worries: Black Mothers of Sons with Autism, to be published by SUNY Press.
Amber Jackson
Amber is a Chicago native and the owner of The Black Leaf Tea & Culture Shop. When moving to Providence in 2017, she quickly noticed the lack of diversity and didn't feel welcomed. From there she decided to use her love for teas to not only establish financial independence but to also create spaces and curate conversations for the local Black community. This creating The Black Leaf Tea & Culture Shop in 2019.
Mariela Renquist
Mariela is the Programs Coordinator at the Institute for Nonprofit Practice. Combining a passion for equity and community-based solutions, Mariela has worked in community development, arts advocacy, and refugee services. Before joining the Institute for Nonprofit Practice in 2018, Mariela worked at the Massachusetts Association of Community Development Corporations (MACDC) where she coordinated courses for the Mel King Institute and launched their inaugural Certificate Program. She is involved in her Providence, RI community through volunteering with animal shelter and foster programs, as well as advocating for safe and affordable housing.
Mariela attended the University of Richmond, where she studied International Studies: World Politics and Diplomacy and History.
Nate Bae Kupel, MSW
Nate has worked in the nonprofit and social impact sectors for 14 years with organizations committed to diversity, equity and inclusion through youth leadership development, mentorship, workforce development, healthcare, clinical social work, and more. Currently, he is the National Director of Recruitment and Alumni.
Nate has also worked in the Asian American Community which includes community-based research at the Institute for Asian American Studies at UMass Boston, anti-racism training experience with the Asian American Resource Workshop, and has served as President of the Board of Directors for Boston Korean Adoptees, Inc, and the Greater Malden Asian American Community Coalition. In 2019 Nate was appointed by the Massachusetts Attorney General, Maura Healey to serve a three-year appointment on the Commonwealth of Massachusetts Asian American Commission where he is currently the chair of the Legislative Committee.
Nate holds a Master of Social Work from Simmons College, a BA in Sociology and a Certificate in Asian American Studies from the University of Massachusetts, Amherst. He is also a graduate of the Core Certificate Program at the Institute for Nonprofit Practice.
We will be serving food, wine, and beer at the event. We look forward to connecting with everyone!
In Solidarity,
EduLeaders of Color Rhode Island