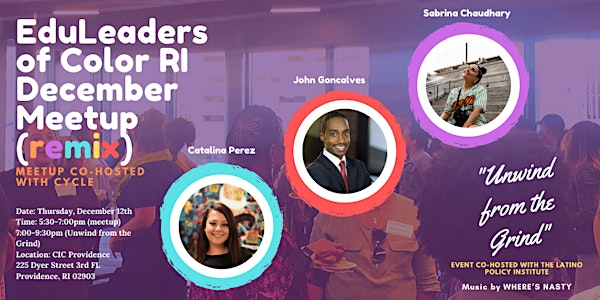 EduLeaders of Color RI December Meetup (Remix)
We are adding an extra feature to the December 2019 meetup (read all the way through)!
When and where
Location
Cambridge Innovation Center 225 Dyer Street 3rd FL Providence, RI 02903
About this event
"Beyond my own family reunions, this is the only space where I'm surrounded by family and a room full of hues that value my identity and commitment to education." -Meetup attendee
We are excited to co-host the EduLeaders of Color R.I. December meetup with CYCLE (Center for Youth & Community Leadership for Education), an organization that partners with communities and schools to build capacity, alliances, and power, through learning, relationships, and organizing.
Do you want to meet, connect and build with like-minded leaders and educators who are committed to educational equity?
Are you interested in learning more about how educators/organizations in the state of Rhode are working to address inequities in education?
Are you exhausted and just need a space to be yourself, vibe other like-minded people and celebrate your successes?
Our education ecosystem provides a space where you can do all of the above. We unite and empower leaders and educators of color by creating spaces where we can build our network, social capital, and elevate our voices. This work involves everyone and so we welcome all but specifically focus on creating a supportive space for groups of people that historically have been underserved and marginalized.
Our December 2019 meetup (remix) will be hosted at the Cambridge Innovation Center in Providence. We are adding an extra feature to this meetup (read all the way through)!
Speaker line-up:
Catalina Perez
Catalina's current work at CYCLE supports the development, coordination, and implementation of key technical assistance and training opportunities for youth and parent organizing groups all over New England, including leadership for CYCLE's Youth Leadership Institute. Catalina is passionate about supporting youth to use their voice and take action to create change in their communities.
Previously, she worked with youth and parents in Rhode Island supporting college access for middle and high school students in Pawtucket, Central Falls and Woonsocket. Catalina received a BA from Rhode Island College and a Community Interpreting Certificate from Boston University's Center for Professional Education. She is currently studying for her Master's in Community Development at Roger Williams University and is also a board member at Youth in Action.
John Goncalves
John has been a resident of Providence, Rhode Island for over 25 years. John graduated from Brown University with a B.A. in Education in Human Development and also received an M.A. in education and teaching degree from Brown University. John is a passionate educator and author of the children's book It's Important: Teaching The Importance of Kindness, Empathy, Inclusivity, Difference, and Compassion. His books are designed to embrace multiculturalism and diversity and to promote social-emotional development and character growth.
Currently, John serves as a teacher and Diversity Coordinator at the Wheeler School in Providence. Previously, he served as a private school teacher for several years in Minnesota where he has also served as Lower School Faculty Council Chair, Annual Fund Faculty chair, tutor, and coach in addition to serving on multiple school committees.
Outside of being an educator, John has served as a mentor for Big Brother Big Sisters of the Greater Twin Cities, an Event Planner for the Brown Club of Minnesota, and has been involved in many political campaigns including roles as Chair of the Minnesota Senate District 60 Committee, Administrative Director, Strategy Director, Policy Aide/Advisor, and Director of Student Engagement in city council, mayoral, attorney general, congressional and U.S. Senate races.
Sabrina Chaudhary
Sabrina an entrepreneur, an advocate, a creative, and a community builder. She is the co-founder of Stay Silent PVD, an events and marketing agency that has been one of the driving forces behind New England's creative scene through arts, music, fashion and events since 2012. She is also the co-founder of Trade Pop-up, a nonprofit focused on the development of creative entrepreneurs based in Fox Point.
Stay silent is also known for some of the best signature events and experiences out there. If you've never swagged surfed at PVD Fest, made the perfect memory partying with thousands of other beautiful people at their music festival DAY TRILL, or ended your night with the electric slide to "Before I Let You Go" at any of their events, then you're missing out!
The Rhode Island native has also worked as a content manager for brands and artists such as BET Music Matters, DJ Paul of Three 6 Mafia, Pastry Shoe Company, and more.
Remix: Equity Institute and Latino Policy Institute will partner up again, but this time we're co-hosting an "Unwind from the Grind" after meetup event.
This year has been filled with hard work, and we'd like to take a few hours to connect, dance, and heal. As a way to celebrate all our successes and efforts to address educational equity, we are creating a space that embraces culture, unity, and dope dance moves.
Please join us after the meetup to celebrate our identities, education, and community. We have WHERE'S NASTY from Stay Silent on the turntables and a beautiful space for you to get down! This event will take place promptly after the meetup from 7:00pm-9:30pm.
We will provide food, wine, and beer at this event!
In Solidarity,
EduLeaders of Color Rhode Island