Event Information
Location
Rosey Concert Hall
Institut Le Rosey
1180 Rolle
Switzerland
Institut Le Rosey's second International Festival of Education!
About this event
PLEASE NOTE THAT A PAYPAL ACCOUNT IS NOT REQUIRED TO PROCESS PAYMENT BY CREDIT CARD.
IN CASE OF ANY ISSUES, PLEASE EMAIL US DIRECTLY AT : festival@edufest-rosey.ch or contact us at +41 21 822 55 00.
Education can be a serious business, but it's also an exciting one! We want to offer a one-day event that inspires and questions – and helps us celebrate our profession.
Join over 40 education experts from across the world for our second international festival of education.
Sessions will be taking place in either French or English. Please see our programme to check specific session languages.
THE LINE-UP
Check out our festival line-up below! For full details on speakers and their sessions at the festival, head to https://www.edufest-rosey.ch/2022-programme/
🎤 FESTIVAL KEYNOTES:
Dylan Wiliam
🎤 SESSION SPEAKERS:
Becky Allen • Emmanuelle Anex • Angeline Aow • David Ardley • Diana El Azar • Tom Bennett •Tatiana Bésory • Adam Boxer • Pedro De Bruychere • Isabelle Chappuis • Celina Chien • Robin Corminbeouf • Anne Corriveau • Eowyn Crisfield • Natasha Devon • Tom Duckling • Liz Free • Jack George • Laetitia Grail • Carl Hendrick • Lee Howell • Conrad Hughes • Leila Ibnou-Zekri Ould-Ali • Adrian Kearney • Nancy Lhoest-Squicciarini • Robin Macpherson • Jean-Jacques Martin • Raphael Minder • Martin MusÁlek • Allison Ochs • Carli Ochs • Dan Pearcy • Parm Plummer • Vivienne Porritt • Tj Power • Gabriele Rizzo • Martin Robinson • Karen Taylor • Erin Threlfall • Roger Wehrli •Sandrine Wenger • Julia Wilke • and more!
Organisations present include researchED, WomenEd, TeacherTapp, Swiss Center for Positive Futures, myBlee math, International School of Lausanne, Aiglon College and more!
Exclusive international media partner: The New York Times in Education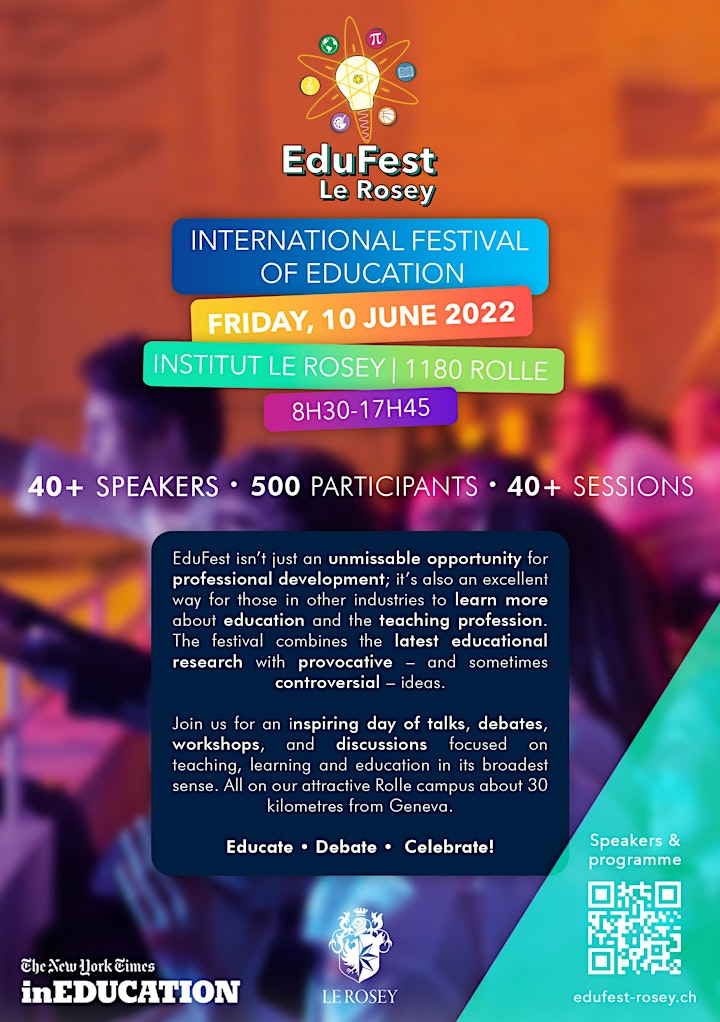 Date and time
Location
Rosey Concert Hall
Institut Le Rosey
1180 Rolle
Switzerland