Educators Workshop featuring Christopher Emdin, PhD
Description
Reality Pedagogy - "The 7C's"
Merging real stories with theory, research and practice, explore a new approach to teaching and learning for every stakeholder in urban education.

Putting forth his theory of Reality Pedagogy, Christopher Emdin, PhD, provides practical tools to unleash the brilliance and eagerness of youth and educators alike-both of whom have been typecast and stymied by outdated modes of thinking about urban education.


---
About Christopher Emdin, PhD.: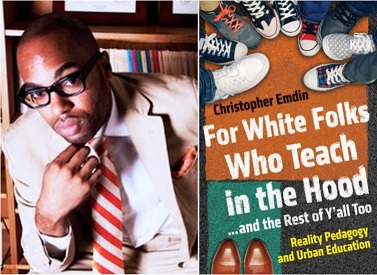 Christopher Emdin is an Associate Professor in the Department of Mathematics, Science and Technology at Teachers College, Columbia University. He also serves as Director of Science Education at the Center for Health Equity and Urban Science Education and is the Associate Director of the Institute for Urban and Minority Education. Emdin is an alumni fellow at the Hutchins Center at Harvard University, and currently serves as Minorities in Energy Ambassador for the U.S. Department of Energy and the STEAM Ambassador for the U.S. Department of State.
Emdin holds a PhD in urban education with a concentration in mathematics, science, and technology; master's degrees in both natural sciences and education administration, and bachelor's degrees in physical anthropology,
biology, and chemistry.

He is the creator of the #HipHopEd social media movement, and a much sought-after public speaker on a number of topics that include hip-hop education, STEM education, politics, race, class, diversity, and youth empowerment. He is an advisor to numerous international organizations, school districts, and schools where he delivers speeches, and holds workshops and professional development sessions for students, teachers, policy makers, and other education stakeholders within the public and private sector.
---
For more information and questions: Contact the CSRD at csrd@asu.edu or by telephone at 602-496-1376.