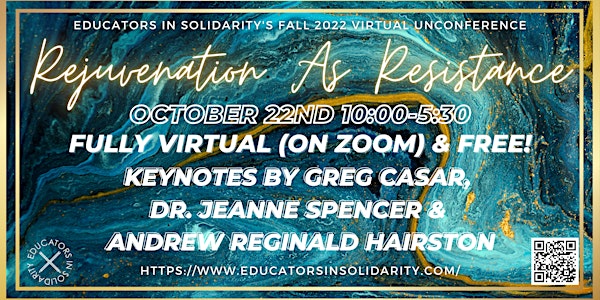 Educators in Solidarity Fall 2022 Virtual UnConference
Educators in Solidarity is excited to present our bi-annual Cultural Proficiency UnConference on Saturday October 22nd!
About this event
"Caring for myself is not self-indulgence, it is self-preservation, and that is an act of political warfare." Audre Lorde
Our theme for this Unconference, Rejuvenation as Resistance, endeavors to create space for recovery, reinvigoration, and renewal. Our schools are currently facing unprecedented challenges, including burnout, teacher shortages, and attempts to censor teaching about racism and LGBTQIA+ people–on top of the long standing structural inequities that have contributed to the current "education survival complex" in our school systems. As abolitionist and education scholar Dr. Bettina Love describes: This pitiful existence of the education system has become normalized to the point that many teachers are broken, fighting to just survive, and working to protect children from the very system that is intended to uplift them. This situation is what we have been given, but that does not mean it is what we have to take.
We challenge the narrow-minded concept of recovery only in terms of learning loss. A sole focus on addressing academic underperformance that privileges test score gains over student well-being reinforces a deficit ideology rooted in racism, ableism, and classism. Recovery implies a return to baseline, reifying the status quo. We can do better. Nancy Gutiérrez & Mary Rice-Boothe implore us to consider how the break from traditional schooling might have offered some students a welcome reprieve from the most oppressive aspects of schooling:
What will you tell students who were relieved to have a break from constant reprimands from in-school police and out-of-school punishments from teachers or principals who did not take the time to get to know them? What will be different for students who were glad for the time to read or write what interests them, rather than sit in a classroom counting the seconds until the bell rang, because they could not relate to and were not challenged by the material being taught?
Educators and students alike need support for their social and emotional recovery from the cumulative, collective trauma inflicted by local policies and broader sociopolitical forces.
Rather than narrowing our focus as educators to accelerating students' academic competencies, or attacking students and teachers for their identities, leaders should provide the support and funding needed to transform our schools into antiracist, restorative spaces that support the development of students' social and emotional skills and capacity to engage in a democratic society.
At this Unconference, we commit to building our capacity as anti-racist educators, practicing ongoing reflection about our own racial identities, and engaging in dialogue about the systemic racism in our schools and communities. Through rest and rejuvenation, we can sustain our commitment to challenge harmful practices and systems and build the schools our communities need and deserve.
All session information including session schedules and descriptions are available on our website by clicking here! Even though this UnConference is virtual, we'll still be following the "rule of two feet." That means that you can use your two feet to "walk" in and out of sessions to maximize your learning! There is no requirement to stay in one session for the entire time, so feel free to pre-register for all of the sessions that you are interested in. We'll share more about session pre-registration and the day's detailed itinerary as the event nears.
All UnConference synchronous learning sessions will take place on Saturday, October 22nd from 10:00am-5:30pm CST via Zoom. Please click here to view the session schedule that includes registration links to each session.
We are excited and honored to have the following speakers as keynotes for this UnConference:
Launching Keynote: Greg Casar (Democratic Nominee for Congress, Texas Congressional District 35)
Opening Keynote: Dr. Jeanne Spencer (Educational Leadership & Policy and Special Education Profession, University of Texas at Austin)
Closing Keynote: Andrew Hairston (Director of the Education Justice Project, Texas Appleseed)
Our partner organizations include:
Austin Justice Coalition
Texas Appleseed
Austin Area Association for Bilingual Education
Round Rock Black Parents
Pride of the Eastside
Drop the Charges
BRAVE Communities
Measure
Creative Action
Equality texas
UnConference Sponsor:
Solution Consulting Co.
Please contact educatorsinsolidarity@gmail.com by October 1st for any accommodations or accessibility needs.
Please reach out to Hannah Friedman at hannahtf@gmail.com or Carshandra Hollins at carshandra@gmail.com with any questions.