Where Do We Go From Here? Reflecting on Personal Progress and Next Steps as Antiracist Educators
About this event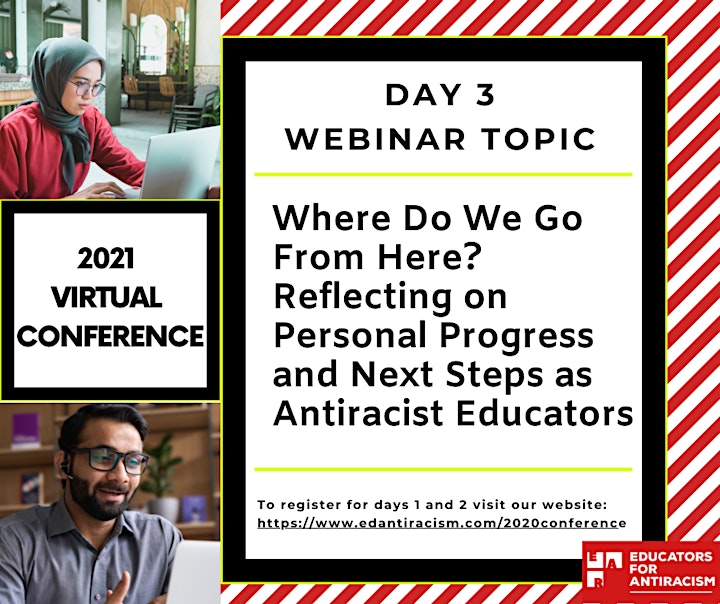 *ASL interpretation will be available
Conference Schedule - Day 3
11:00-12:00 pm EST - Webinar: Where Do We Go From Here? Reflecting on Personal Progress and Next Steps as Antiracist Educators
12:00-12:30 pm EST - Break
12:30-1:30 pm EST - TEA + Facilitated Small Group Discussions
What is a TEA? The words Transparent, Evolving, and Accountable capture the experience we strive to create: an opportunity for group members to collectively process their webinar experience and speak their truths in a brave, inclusive space.
1:30-1:45 pm EST - Break
1:45 - 2:30 pm EST - Closing Ceremony: Empowering others to do this work
Note: Although we encourage you to consider joining our powerful and uplifting TEA discussions, they are not required. Therefore, you are welcome to join a webinar without its corresponding TEA. The maximum attendance for TEA discussions is 300 participants.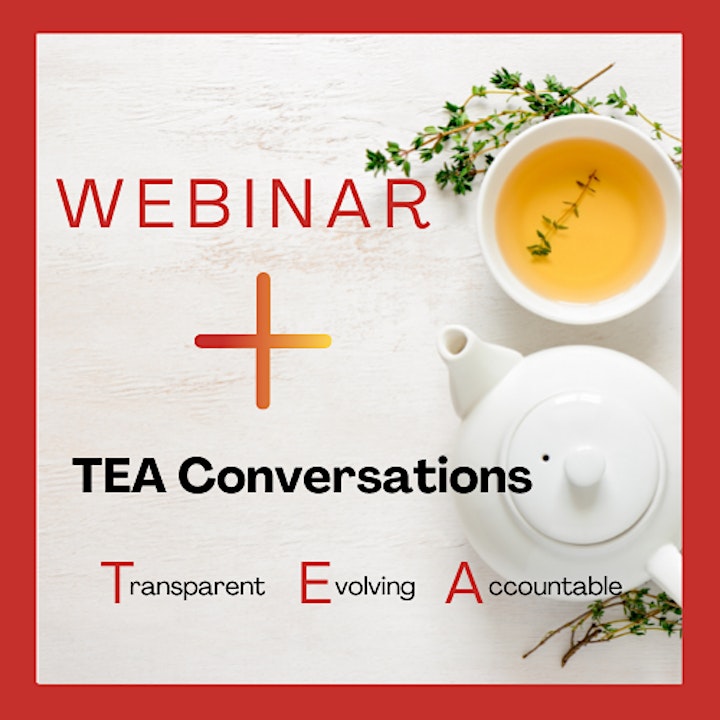 Terms and Conditions
By clicking on the link to participate in the online seminar hosted by Educators for Antiracism, Inc. ("EFA"), and/or by participating in such seminar in any manner, whether observing, speaking, or otherwise, and in consideration of EFA's granting permission to me to participate in such seminar without cost to me, I voluntarily agree and confirm as follows:
1) I will act and speak in a courteous and respectful manner to the seminar leaders and the other participants at all times; I will not use disrespectful or inappropriate language; and I agree to follow requests and instructions from the leaders so that they may provide information and lead discussions in such a way as to maintain a respectful exchange of ideas and perspectives at all times.
2) I am not joining or participating in the online seminar for an improper purpose, which includes for the purpose of intentionally disrupting the seminar or treating any leaders or participants in a disrespectful manner.
3) EFA has the right to terminate my participation in the online seminar at any time and without warning for my failure to maintain standards or for any actions or conduct by me which a leader deems inappropriate or incompatible with the purposes of the online seminar.
4) I will voluntarily leave the online platform immediately if I am requested to do so by a leader when, in the sole discretion of that leader, my conduct is abusive, disrespectful, or made for the purpose of disrupting the seminar; that I may be removed from the meeting without warning if I do not do so voluntarily when requested; and if so removed it is without recourse and without EFA's permission to return to the seminar.
5) I voluntarily release from liability and waive any and all claims against EFA and its officers, directors, employees, agents, or representatives (collectively, "EFA"), that arise or may arise out of my participation in the online seminar in any way, and I agree to indemnify and hold EFA harmless for any and all damages of any kind or type that result from my participation therein.
6) I am at least 18 years of age, or if I am under the age of 18 years I have permission to participate in the seminar in accordance with the above terms by my parent or legal guardian, and that my parent or legal guardian voluntarily agrees to the release and indemnification terms in paragraph 5 above on my behalf and on their own behalf.