Description
Educational Event Synopsis
We have all likely heard some of these words: Bitcoin, Blockchain, Mining, governments embracing Smart Contracts, other governments ban blockchain economies.
What does this mean to you? Is it just something you hear in the media and you just don't get? Is Bitcoin a way to launder money and buy drugs online? Are cryptocurrencies are a bubble which will soon explode?
Whatever your perception, blockchain technology is gaining traction and has the power to disrupt not only the financial industry but almost every industry. During this talk we will have the opportunity to make sense of this technology and its applications in non-technical plain English. We will go through how this complex technology works, strengths, weaknesses, security and how it is used in practice. We shall discuss the challenges faced by those developing commercial ideas and how the power of the blockchain can be harnessed to create game-changing positive improvements.
Speaker's Bio
Christian Bajada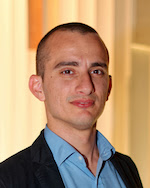 Christian Bajada has been working in Information Technology for the past ten years. He has a Masters in Information Security, CISA, and OSCP. He held positions in security research, development of PA-DSS compliant software, and setting up Information Security Management Systems for compliance with ISO 27001 and PCI. He heads the Information Security team for a leading gaming company.