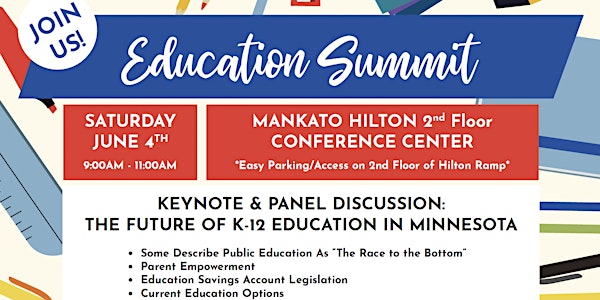 Location
Hilton Garden Inn Mankato Downtown
20 Civic Center Plaza
2nd Floor Conference Center
Mankato, MN 56001
Keynote and Panel Discussion on the Future of K-12 Education in Minnesota featuring Catrin Wigfall from Center for the American Experiment
About this event
Topics Include:
Some Describe Public Education As "The Race to the Bottom"
Parent Empowerment
Education Savings Account Legislation
Current Education Options
No cost to attend with a complimentary breakfast from Olives.
We will be accepting donationsin any amount to the Center of the American Experiment and OAK (Opportunity for All Kids).Limited Seating so please register.
Keynote Speaker:
Catrin Wigfall is a Policy Fellow at Center of the American Experiment. Catrin's experience in education and policy research began during her time with the Young Leaders Program at The Heritage Foundation. Her interest in education policy led her to spend two years teaching 5th grade general education and 6th grade Latin in Arizona as a Teach for America corps member. She then used her classroom experience to transition back into education policy work at the California Policy Center before joining American Experiment in February 2017. Catrin graduated summa cum laude from Azusa Pacific University in California, where she earned a Bachelor of Arts degree in Political Science.