Description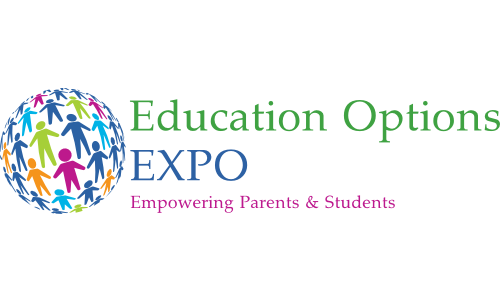 The purpose of the Education Options Expo is to introduce parents to respectful learning options for K-12 students, such as apprenticeships, homeschooling, self-directed learning, democratic schooling, entering college early, musical arts, physical arts, and more.
****Free Childcare & Parking Included with Ticket Price*****
The Education Options Expo is an educational forum where parents of PreK12 students meet the world leaders in education and empowered learning. The presentations will cover hot topics like: homeschooling, maker movements, agile learning, computer programming, unschooling, self-directed learning, and threat management.

You will meet other parents similar to you and get a chance to build positive relationships which may benefit your child's life in the short-term and in the long-term.

The Education Revolution is happening everywhere and will emphasize learner-centered learning, as opposed to one-size-fits all education.
Come get your questions answered by educators and leaders who have decades of experience empowering parents and students.
Get Free Education Options Newsletter here
Confirmed speakers include:
Luke Rudkowski - Founder of Change Media University, New York City, NY
(Premier Journalism School)

Kenneth Danford - Founder of North Star Teen Center, Sunderland, MA
(Self-Directed Center for Teenagers - National Expansion)
Jill Pillot - Founder of Ricochet Academy, San Mateo, CA
(Apprenticeships & Internships for the Fashion Industry)
Wes Beach - Founder of Beach High School, Soquel, CA
(Innovative Self-Directed School)
Connie Giffin - Forensic Researcher of Holistic Schools, Ecuador
(Holistic Schools that Are Changing the World)

Rahman Jamaal MC - Founder of Rap Force Academy, Redwood City, CA
(Using Lyrical Art to Express & Understand Oneself)
Paul Bulakowski - Co-creator of MindMyEducation, Berkelely, CA
(Curriculum for Self-Directed Learners in Private/Public Schools)
Dale Brown - Founder of Threat Management Center, Detroit, MI
(Preventing Threats in Schools &Neighborhoods Using Psychology & Tactics)
Matt Beaudreau - Owner of Acton Academy, Rocklin, CA
(Democratic School - National Expansion)
Valerie Jaeger - Founder of Full Circle, Concord, CA
(Deschooling & Self-Directed Learning)
Exhibitors
Acton Academy
Ricochet Wearable Art Academy
North Star Teen Centers
Mind My Education
Beach High School
Rap Force Academy
Threat Management Body Guard Academy
Peach Blossom School
Homeschool Association of California
Full Circle Family
Mother Nature Rocks - Holistic Schooling
Change Media University

More speakers and exhibitors to be announced...
Ticket Costs for March 25, 2017:
Single Admission (1 Adult) - $50
Double Admission (2 Adults) - $65
Group Admission (3 Adults) - $95

VIP Dinner* - Optional (1 Adult) - $60
Member Price (1 Adult) - $25

*Food/Drink not included, but your seat will be reserved.

If paying at the door, please use exact cash only.
Lunch will be onsite by the tasty, and healthy, Street Fusion (http://www.yelp.com/biz/street-fusion-san-jose-2). Attendees will be responsible for their own lunch. I will be eating from Street Fusion. :)

Go to 1195 Clark St., San Jose, CA on March 25, 2017.
https://www.EducationOptionsExpo.org
The Future of Education is happening now. We are here to help your family succeed in it!
In gratitude,
David J. Rodriguez
Founder
info@EducationOptionsExpo.org