Education Institute of Hawaii 3rd Annual Hawaii School Empowerment Conferen...
Description
The Education Institute of Hawaii (EIH) is pleased to announce the 3rd Annual Hawaii School Empowerment Conference to be held on Saturday, January 14, 2017 from 8:30 a.m. through 3:30 p.m. at the Hawaii Convention Center.
Opening Remarks by Governor David Ige, First Lady Dawn Ige and Hawaii Board of Education Chairman Lance Mizumoto followed by featured keynote speaker Tony Wagner who is a leading education thought leader and visionary, and breakout sessions.
BREAKOUT SESSIONS
Empowering Learning Communities Through Culturally Relevant Assessments
Creating, Imagining and Innovating a Culture of Learning
Student Voice and Empowering Students
New School Innovation Grants: A Focus Group with Governor David Ige
Waipahu High School: A Model for Innovation in Teaching & Learning
Kaimiloa Elementary: Visible Learning - Creating a Community of Innovators
Hana High & Elementary: Neccessity is the Mother of Invention - A small school's journey to self-empowerment
Mililani Waena: Fostering "Least Restrictive Environment" Leadership
The Kumu Hina Project: A Place in the Middle - Hawaiian Perspective on Diversity & Inclusion
Design Thinking & School Innovation
A Bold New Vision for Public Education in Hawaii
Research Practice Partnerships
Ka Helena A'o: The Learning Walk
Parents for Public Schools Hawaii: Supporting Family Engagement in School Policies & Practices
Elevating the Teaching Profession in Hawaii
Teachers, A Community, and the Schools Our Keiki Deserve
Voice of Hawaii School Principals
Tony Wagner currently serves as an Expert In Residence at Harvard University's new Innovation Lab and as a Senior Research Fellow at the Learning Policy Institute, founded by Linda Darling-Hammond in 2015. Prior to these appointments, Tony was the first Innovation Education Fellow at the Technology & Entrepreneurship Center at Harvard, and the founder and co-director of the Change Leadership Group at the Harvard Graduate School of Education for more than a decade. His previous work experience includes twelve years as a high school teacher, K-8 principal, university professor in teacher education, and founding executive director of Educators for Social Responsibility.
Tony is a frequent speaker at national and international conferences and a widely published author. His work includes numerous articles and six books. Tony's latest, Most Likely To Succeed: Preparing Our Kids for The Innovation Era, co-authored by Ted Dintersmith, was just published by Scribner. Creating Innovators: The Making of Young People Who Will Change The World, was published by Scribner in 2012 to rave reviews and has been translated into 12 languages. His 2008 book, The Global Achievement Gap continues to be an international best seller, with a Second Edition recently released.
Tony recently served as the Strategic Education Advisor for a major new education documentary, "Most Likely to Succeed," which had its world premiere at the 2015 Sundance Film Festival. He also collaborated with noted filmmaker Robert Compton to create a 60 minute documentary, "The Finland Phenomenon: Inside The World's Most Surprising School System" in 2010.
Tony earned an M.A.T. and an Ed.D. at the Harvard University Graduate School of Education.

Message from Tony Wagner:
"Innovators and the things they create are the lifeblood of our economy, and now more so than ever before ... The problem is that the highly disruptive nature of innovation creates new challenges to traditional authority, and successful leadership of an innovative enterprise requires a different kind of authority ... Authority still matters for successful innovation, but it is not the authority that comes with a position or title. It is the authority that comes from having some expertise, but it also comes from the ability to listen well and empathetically, to ask good questions, to model good values, to help an individual more fully realize his or her talents – and to create a shared vision and collective accountability for its realization."
Tony Wagner from Creating Innovators: The Making of Young People Who Will Change the World
This conference will be a once in a lifetime opportunity for Hawaii principals, teachers, parents, students, education leaders, and community leaders to learn from two of the top thought leaders in public education and school empowerment.
For Hawaii DOE schools: The content and information presented at the conference will include topics such as instructional leadership, effective teaching strategies, innovation for teaching and learning, teaching the whole child, closing the achievement gap, elevating the teaching profession, early learning, use of relevant curriculum, assessment for learning, project-based learning, education reform, and implications of the new federal "Every Student Succeeds Act" and much more. These are all topics clearly related to the Hawaii Education Blueprint, DOE Strategic Plan, Hawaii federal ESSA plan, Strive HI Accountability, DOE priority strategies and school academic plans.
Event Ticket Price Includes: Conference Registration, Continental Breakfast, Lunch, Parking Validation for the Hawaii Convention Center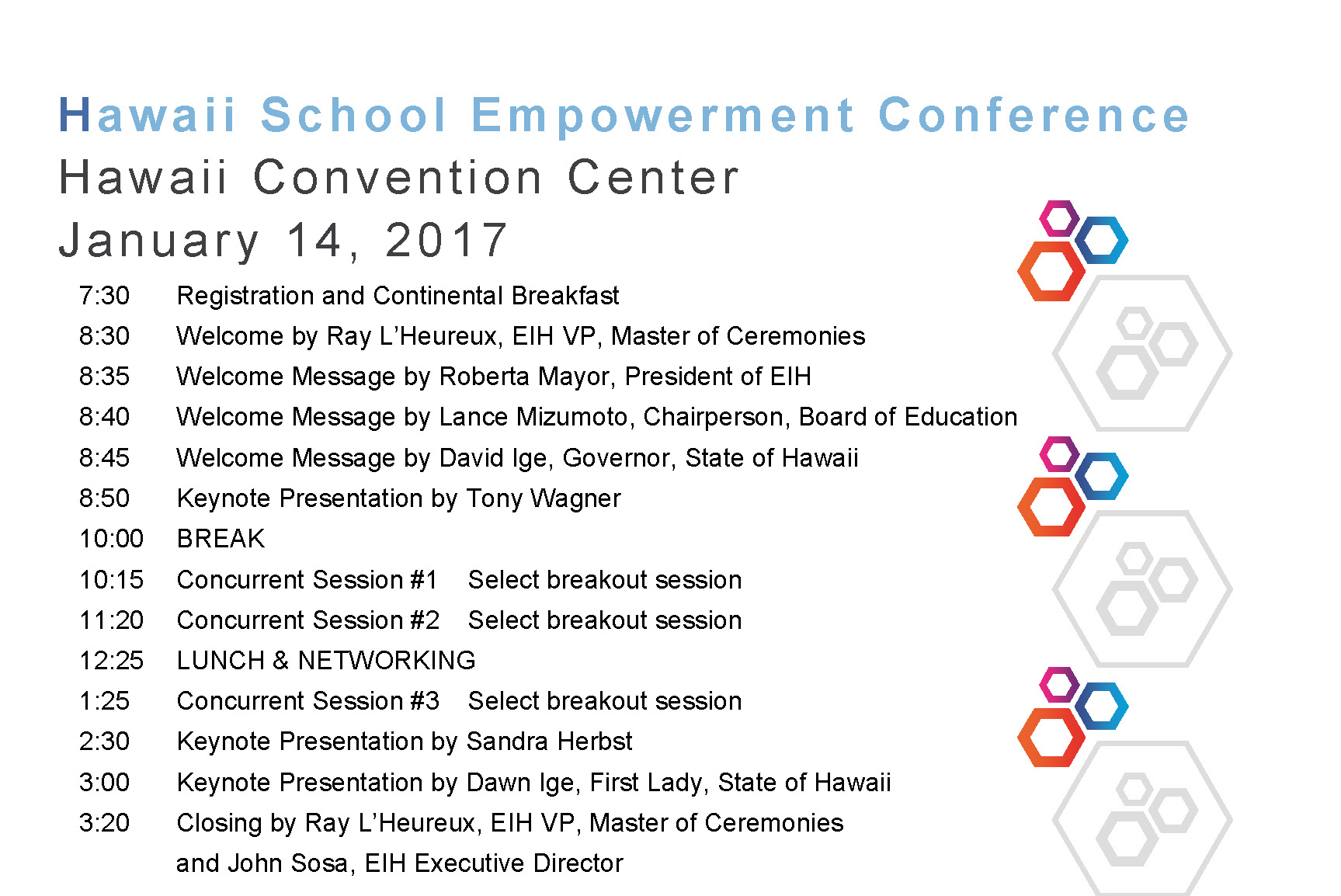 FAQs
What are my transport/parking options getting to the event?
From H-1 Eastbound
Take the PUNAHOU STREET Exit
Merge RIGHT onto Punahou Street
At the 1st stoplight, turn RIGHT onto BERETANIA STREET
At the next stoplight, turn LEFT onto KALAKAUA AVENUE
Proceed approximately ½ mile
Entrance to the parking garage is on the RIGHT


From H-1 Westbound
Take the KING STREET Exit
Proceed approximately 1.5 miles (Note: King Street changes to Beretania Street)
Turn LEFT onto KALAKAUA AVENUE and proceed approximately ½ mile
Entrance to the parking garage is on the RIGHT


Where can I get the information needed for a Hawaii DOE Purchase Order?
Please make your DOE Purchase Order to: "Hawaii Center for Instructional Leadership", P.O. Box 30483, Honolulu, Hawaii 96820

Hawaii DOE Vendor Number #145982
How do I enter ticket orders when paying by Hawaii DOE Purchase Order?
Please chose the "Pay by Check" from the dropdown box for "Payment" box that appears under Ticket Buyer information section.
If you need further assistance with submitting your ticket order, please contact Denise Murai, Event Coordinator via email at denise.fujii.murai@gmail.com.
Where can I contact the organizer with any questions?
Contact Event Coordinator, Denise Murai via email at denise.fujii.murai@gmail.com or Darrel Galera at (808) 778-6378 or via email at darrel.galera@gmail.com.