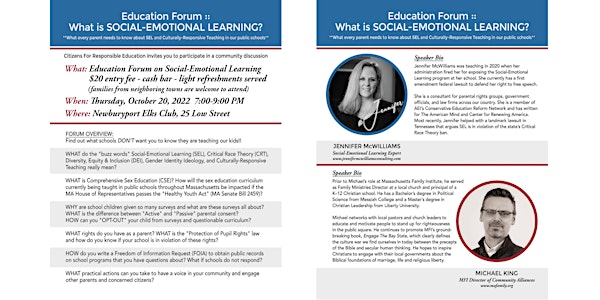 Education Forum: What Is Social-Emotional Learning?
Education Forum: What Actually is Social-Emotional Learning, Culturally Responsive Teaching & Comprehensive Sex Education? Come Learn!
When and where
Location
Newburyport Elks Function Rooms 25 Low Street Newburyport, MA 01950
About this event
What every parent NEEDS to know about Social-Emotional Learning (SEL), Culturally Responsive Teaching and Comprehensive Sex Education (CRE) in Schools.
Find out what schools DON'T want you to know about WHAT they're really teaching your kids.
WHERE: Newburyport Elks Club, 25 Low St. , Newburyport, MA 01950
WHEN: Doors Open at 6:30pm. Forum starts promptly at 7pm.
$20.00 Participant Registration Fee (all proceeds go toward the funding of this educational event)
Cash Bar - Light Refreshments Served
Participants from surrounding towns are welcome.
We will feature our guest speakers followed by a Q & A session.
FEATURED GUEST SPEAKERS: Jennifer McWilliams and Michael King
Jennifer McWilliams is a former teacher and Social Emotional Learning expert.
Jennifer McWilliams was teaching in 2020 when her administration fired her for exposing the Social-Emotional Learning program at her school. She currently has a first amendment federal lawsuit to defend her right to free speech.
She is a consultant for parental rights groups, government officials, and law firms across our country. She is a member of AEl's Conservative Education Reform Network and has written for The American Mind and Center for Renewing America.
Most recently, Jennifer helped with a landmark lawsuit in Tennessee that argues SEL is in violation of the state's Critical Race Theory ban.
Michael King is the Director of Community Alliances at the Massachusetts Family Institute.
Prior to Michael's role at Massachusetts Family Institute, he served as Family Ministries Director at a local church and principal of a K-12 Christian school. He has a Bachelor's degree in Political Science from Messiah College and a Master's degree in Christian Leadership from Liberty University.
Michael has spoken at about 200 churches in Massachusetts over the past 6 years, educating and inspiring people to get involved in their local schools and government. Michael was thrilled to be a part of the historic OPT OUT of Sex Education movement in Worcester last year! Over 3800 students opted out of pornographic sex education in kindergarten through 12th grades! He is also excited to be working with about 30 churches across Massachusetts that have decided to start Learning Centers to meet the education needs of so many students leaving the public schools in Massachusetts. Michael hosts weekly video calls on Monday nights at 7:30 and 8:00 to educate parents about explicit sex education, school alternatives, and pornographic books in school libraries. For more information about these weekly calls regarding sex education and school alternatives, text the word "Champion" to 87891. For the call regarding explicit books in school libraries, text the word "Books" to 87891.
WHAT YOU WILL LEARN:
WHAT really is being taught in our schools with regard to the "buzz words" Social-Emotional Learning (SEL), Critical Race Theory (CRT), Diversity, Equity & Inclusion (DEI), Gender Identity Ideology, and Culturally Responsive Teaching.
WHAT Comprehensive Sex Education (CSE) is and what the impact will be on sex education already being taught in public schools throughout the State of MA if the MA House of Representatives passes the "Healthy Youth Act" Massachusetts Senate Bill 2459.
WHY our kids are given all these surveys in school and what they are really about. WHAT the difference is between "Active" and "Passive" parental consent. HOW you can "OPT-OUT" your child from being administered these surveys and from participating in sex education.
WHAT rights you have as a parent. WHAT the "Protection of Pupil Rights" law is and how to know if your school is violating these rights.
HOW to write a Freedom of Information Request (FOIA) to obtain public records about topics that are being taught that you have questions about that your school officials do not answer.
WHAT actions you can take to have a voice in your community to engage other parents and citizens.