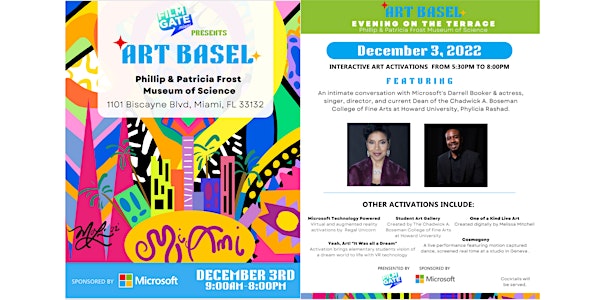 EDUCATION DAY @ FILMGATE INTERACTIVE powered by MICROSOFT
You are cordially invited to a FilmGate Interactive Festival event at Frost Science.
Date and time
Saturday, December 3, 2022 · 10:30am - 8pm EST
Location
Phillip and Patricia Frost Museum of Science 1101 Biscayne Boulevard Miami, FL 33132
About this event
Tech Talks, powered by Microsoft:
Enjoy a full day of thought-provoking conversations by leading experts and artists, working with cutting edge technology. Breakfast included.
10:30AM - SOLARPUNK Opening Lighting Talks -
Diliana Alexander, FilmGate Founder & Director
Doug Roberts, Vice President, Science Education & Director of the Frost Planetarium
Miri Chekhanovich & Edith Jorisch, the creators of Plastisapiens
11AM - How NOT to build a Metaverse:
Best and worst– practices for designing a metaverse, and shine some light on what is (and isn't!) next for this new paradigm.
Joanna Popper, Chief Metaverse Officer, Creative Artists Agency
Emma Chiu, Global Director, Wunderman Thompson Intelligence
Sam Schoonover, head of Immersive at Coachella, and founder of The Future, Immersive Agency
Mirko Vogel, Vaudeville.tv
Moderator - Nelly Gocheva
12PM - XR in Education -Powered by Microsoft :
How do we inclusively onboard educators, emerging creatives and technologists into XR?
Pavani Yalla, Director of platform experience design, Magic Leap
Mauricio Ferrazza, Chair for Miami Animation & Gaming International (MAGIC) Complex
Darrell Booker, Microsoft
Moderator - Tangy Frederick, Founder, Regal Unicorn Academy, Tech Education
2PM - Lightning Talks
Adam Rogers Co-Founder, VP Creative & Head of Studio at Departure Lounge Inc.
Michael Pickering, Cloud Constable - introduces AI "Eva"
2:30PM - IRL as Site and Subject:
As new platforms like augmented reality, interactive displays, and volumetric capture become viable at scale, the world around us becomes site and subject for the experiential. What's next? What are the crucial interventions and imperatives for location-based experiences today?
Hugo Laliberte, Ottomata
Nicolas S. Roy - CEO of Dpt
Tamara Shogaolu
Atley Loughridge, Snap
Moderator - Savannah Niles
3:30PM - Everything is Different - Web3, AI, and the New Creative - Powered by Microsoft
Time to forget everything we know. What does it mean to be "a creative" now? And how will these new technologies continue to transform art, entertainment, commerce, and more?
Pierre Zandrowicz, Atlas V
Michelle Abbs
Victoria Bousis, UME
Mathieu Rozières, Dark Euphoria
Moderator - Denise Mendez, Microsoft
4:30PM - Common Ground | Uncommon Tools:
In this panel, "View Source" behind the work of several featured artists from the exhibition, Common Ground, as they share the diverse artistic research practices and software tools being used to invent a new medium of cultural production.
Lonliboy, Curator
Karan4D, Artist
Ivona Tau, Artist
Sophia Crespo, Artist
Moderator - James Powderly, Snap
Networker and MR Edu & Art Tech Expo, powered by Microsoft
Join us for an evening of interactive "Art-meets-Tech" activations hosted by Microsoft and our partners, featuring
An intimate conversation with Microsofts' Darrell Booker & actress, singer, director, and current Dean of the Chadwick A. Boseman College of Fine Arts at Howard University, Phylicia Rashad.
Other activations include: 
* "Full Steam ahead" Student art gallery created by The Chadwick A. Boseman College of Fine Arts at Howard University
* In collaboration with our Partner Regal Unicorn we are providing our Microsoft technology to power hands on virtual and augmented reality activations that show the interaction of art, education and technology.  
* Step into the the imagination of today's youth with our nonprofit partner Yeah,Art! Their Activation "It Was all a Dream" brings elementary students vision of a dream world to life with VR technology 
* Experience one of a kind live art created digitally by Melissa Mitchell 
* Witness Cosmogony, a live performance featuring three dancers who are motion captured live at Gilles Jobin Company's studio in Geneva and screened in real time for a worldwide audience
Cocktails included.
7PM - Performance of Cosmogony
About the organizer
A COMMUNITY OF ACTORS, FILMMAKERS & DIGITAL CONTENT CREATORS
We mentor and empower Florida's visual storytellers of all ages and socio-economic backgrounds to create projects from a Florida point of view.
We deliver a range of multidisciplinary programs and initiatives in film, digital media, interactive and immersive content, mixed media, virtual and augmented reality.