Winning and Success: Beyond School and Snapchat
About this event
Education Day: Onsite program
Applying for college is a highly competitive and complicated process, from career focus discernment to selecting the educational institution, financial concerns, standardized test readiness and developing the communication strategies to best represent yourself in writing and in person.
This one-day workshop will focus on the academic discernment process, developing a strong resume and personal statement, interview skills, and the power of social media -both negative and positive impact.
After a morning session with experts in the field of education and communication, students will have the opportunity to apply the concepts in practical exercises demonstrating the different skill sets.
We look forward to working with you to make this journey a success!
This event will be livestreamed via Facebook live: https://www.facebook.com/IHCHOUSTON
We will also record the event and upload it to our YouTube channel: https://www.youtube.com/c/IHCHouston
PROGRAM:
10:00 – 10:05 am
Welcome by Andrew Slentz, IHCH Board Member
Paula Santamaria - Chief of Staff to the Global Head of Displays Solutions
10:12 am – 10:32 am
Panel #1 – Lessons from a First-Generation College Student:
Panelists will talk about lessons they learned being the first ones in their family to attend college.
Mayra Valle - Emerge
Juan Holmes - Rice MBA Student
Mariana Isabel - Teacher
10:34 – 10:54 am
Panel #2 – How to Network in College: Panelists will talk about the importance of building your network in college and how networking helped them get jobs post-graduation.
Darlene Garcia - Regulatory & Compliance Advisor, Enbridge
Magda Reyes - Marathon Oil
TaQuana Williams - The New Teacher Project
10:56 – 11:16 am
Panel #3 – Time Management & Procrastination:
Importance of learning how to manage your time and recognizing what works/ does not work for you and how those habits are things that can set you up for success or failure.
Marysela Garza - Teacher, HISD
Belinda Moreira - Rice MBA Student
Humberto Alanis - Miles Ahead Scholars
11:18 am – 11:43 am
Panel #4 – Student Panel – college students talk about the lessons they learned about being a college student.
Joe Camarillo, UH Senior
Crystal Gamboa, UH Senior
Frecia Diaz, UH Junior
Sydney Rodman, Rice Freshman
Luke Stancil, Rice Student
11:45 am – 11:50 am
Closing Speaker
Andy Canales – Executive Director, Latinos For Education
IN PERSON REGISTRATION REQUIREMENTS:
All participants who will be attending in person are required to bring a signed copy of the Authorization form you will receive after registration through Eventbrite. We will notify students that will be invited to join in person.
The Parental Authorization form is required for Minors under 18 years of age.
Please bring a tablet/smartphone for videos.
THIS IS A FREE PROGRAM SPONSORED BY THE INSTITUTE OF HISPANIC CULTURE OF HOUSTON.
BREAKFAST SNACKS AND LUNCH WILL BE PROVIDED.
PARKING IS AVAILABLE ONSITE AND ON THE STREET.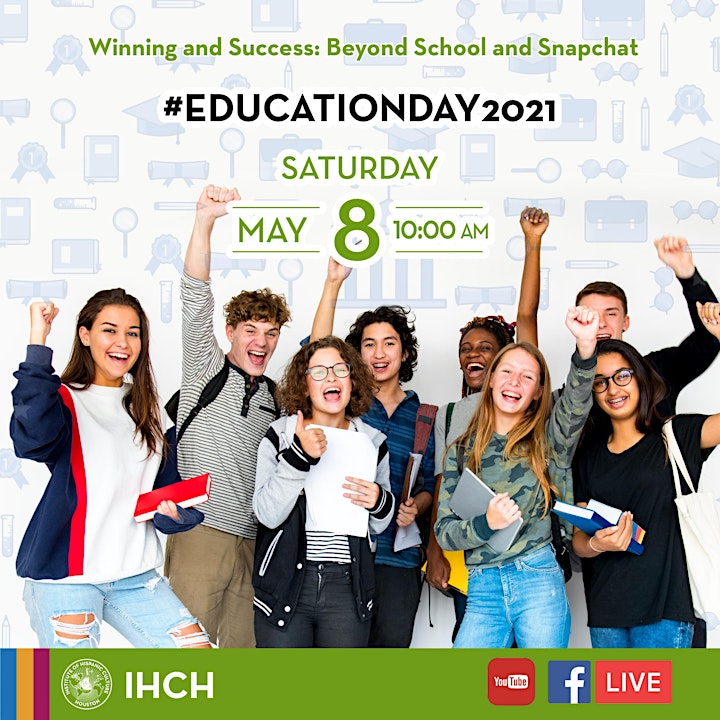 Organizer of Education Day 2021
The Institute of Hispanic Culture of Houston (IHCH) is a 501(c)(3) Non-Profit organization, founded in 1965 by a group of professionals living in Houston interested in preserving, enhancing and promulgating the Hispanic culture and language inherited from Spain and Latin America. The IHCH mission is to disseminate and preserve the rich Hispanic culture, and to highlight the historical, linguistic, scientific, and artistic achievements of Hispanics or Latin-Americans, particularly Hispanics and Latin-Americans residing in Houston, Texas.