We will discuss what women can do to help themselves at work but also what businesses are doing to address the issue
About this event
Last year, International Women's Day called on us all to "Choose to Challenge" in order to fight inequality. Join us as we explore the causes and implications of the Gender Pay Gap, with particular reference to our region. We will discuss what women can do to help themselves at work but also what businesses are doing to address the issue and how they are reaping the benefits of a more equitable workplace.
We aim to
Raise awareness and understanding of the gender pay gap issue, with a particular focus on our region.
Discuss and explore what we can do to address these issues as women and allies (educate and empower)
Explore best practice from a business perspective, the ethical and business benefits of addressing the gender pay gap issue.
Our event will feature a panel of experts. We will open with a brief presentation on the Gender Pay Gap and the work of Dr. Penny Dick from the University of Sheffield who has been conducting research with women in the region over the last 3 years
We will then discuss the gender pay gap in the context of what individuals can do to help themselves, or as allies. Natalie Doherty, Head of Quality, Curriculum and Innovation at the Source Skills Academy will lead on this topic, which will include personal development and training, self-belief and empowerment.
We would then like to consider what businesses are expected to do in terms of pay gap reporting and how that has impacted on the focus on the gender pay gap issue. We would like to explore best practice and the motivations for making improvements (financial, retention, ethical, etc) as well as the ultimate outcomes, realised benefits and any lessons learned.
Our Speakers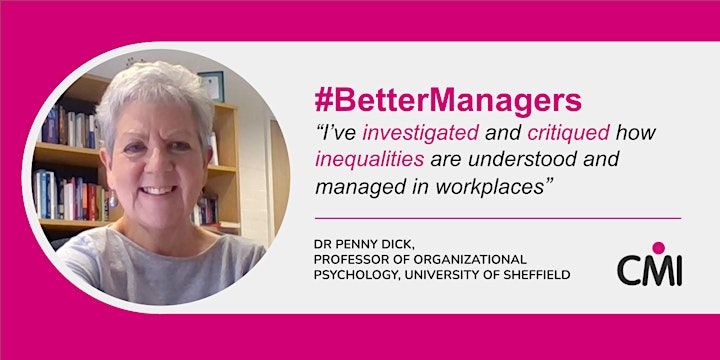 Dr Penny Dick
Professor of Organizational Psychology, University of Sheffield
Penny is a professor of organizational psychology at Sheffield University Management School. Prior to her academic posts, she worked as an Occupational Health Psychologist for Northumbria Police and Tyne and Wear Fire Service, responsible for developing services for the psychological support of operational staff.
It was during this time that she developed her research interest in how language is implicated in what we take for granted in the world and what we see as natural and inevitable. She has used this broad framework to investigate and critique how inequalities are understood and managed in workplaces.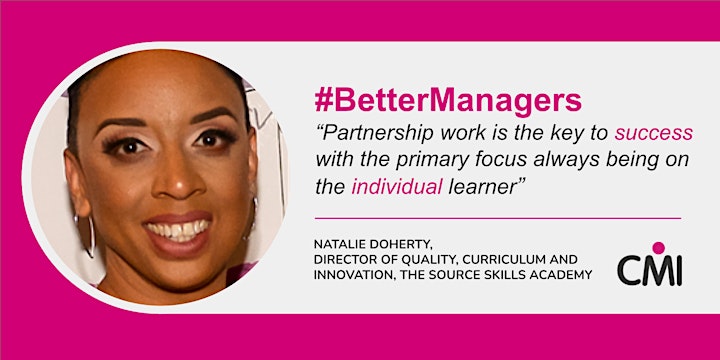 Natalie Doherty
Director of Quality, Curriculum and Innovation, The Source Skills Academy
Natalie Doherty started her early career as a professional dancer working with various choreographers from around the world she then went on to become an events officer coordinating a number of Arts and Culture Events such as The Clipper Round the World Yacht Race, LEAP International Dance Festival and various other high profile sporting events. She has over 20 years of experience of working within the Education Sector with 15 years in Further Education and skills, developing her career from her humble beginnings as a part-time tutor to a member of various Senior Management Team across various organisations up and down the UK. Natalie has worked in multiple large FE colleges, within the prison sector and in training providers which has given her a clear understanding of the range and depth of educational opportunities required by different groups of individuals.
Working within education Natalie has worked with some of the most disadvantaged individuals in society who have made wrong choices and spent time in custody as well as young people in our most deprived regions who have limited access to resources and opportunities which will allow them to break the cycle. Working in partnership with local, regional and national businesses and organisations Natalie has been able to forge positive professional relationships to create opportunities and improve life chances.
Natalie has a drive and passion for education and believes that this is the key to developing and supporting individuals to achieve their personal aspirations. Throughout her career, Natalie has both managed and driven high-quality provision in a number of different sectors such as Business and Law, Sport, Creative Industries, Construction and Digital as well as developing high-quality provision for those learners who require programmes such as Traineeships to bridge a gap.
Natalie has high expectations and strives for excellent outcomes for all learners regardless of their entry point or personal needs and believe that partnership work is the key to success with the primary focus always being on the individual learner.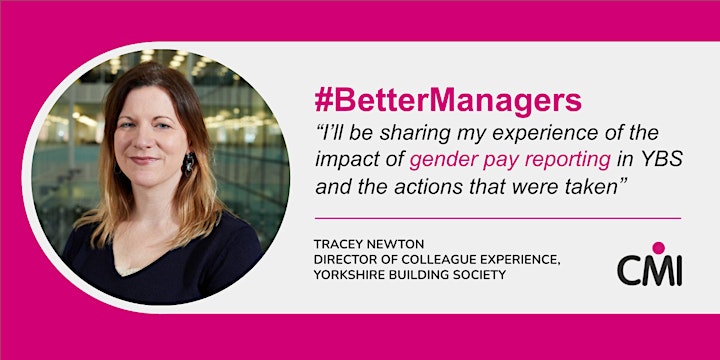 Tracey Newton
Director of Colleague Experience, Yorkshire Building Society
Tracey is the Director of Colleague Experience at Yorkshire Building Society, with a wide remit including Talent & Inclusion, Employee Relations, Recruitment, HR Business Partnering, Reward and Wellbeing. Having started her career in generalist HR before specialising in reward Tracey has a background across a wider range of sectors having previously worked for Centrica, Northern Foods, Lloyds, Arla and Manchester Airport Group. Tracey will share her experience of the impact of gender pay reporting in YBS and the actions that were taken as a result and the changes that this has made.
Our Host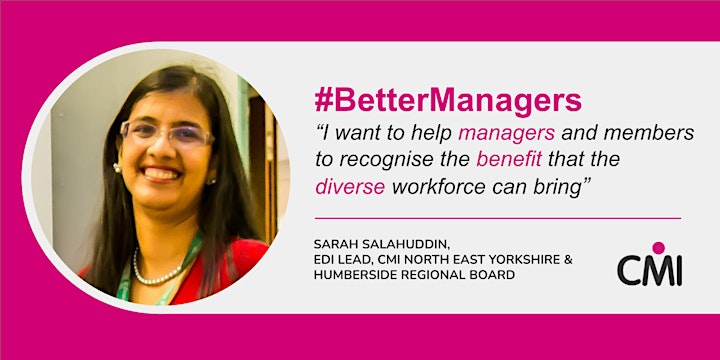 Sarah Salahuddin
EDI Lead, CMI North East Yorkshire & Humberside Regional Board
Sarah is an experienced change and delivery leader with over 17 years of experience in delivering technology and business change. She joined Lloyds Banking Group (LBG) in 2008 as a Senior Test Analyst and having worked in various roles she is currently leading a team for Technology Policy as a Senior Manager in the Chief Information Office at LBG.
Sarah is passionate about Diversity and Inclusion and has been actively involved in leading D&I initiatives to support under- represented colleagues within LBG. She has served as a Steering Committee Member for the Ethnic Minority REACH Network at LBG and was the Events lead for the Network.
She is excited to be on the CMI NEYH Board as the Diversity and Inclusion lead, as it would enable her to utilise the CMI platform to help managers and members to recognise the benefit that the diverse workforce can bring through not just diverse background but through diversity of thought, experience, and creativity. She is also a Trustee at Women's Health Matters.
Sarah holds a PhD in Computer Science from the University of Sheffield and is currently pursuing her Senior Leaders Masters Degree Apprenticeship Executive MBA at the Henley Business School. She currently resides in Halifax with her husband and two young girls.
In the meantime...
If you're a member of CMI, or subscribe to our content, you can find thousands of exclusive, practical development resources in ManagementDirect. Log in here and search for a topic to get started!
Not yet subscribed?
From free newsletters packed with the latest trends, insights and tips for managers and leaders, to the full suite of invaluable tools and benefits that come with being a CMI member, we've got something for everyone. Visit our website to find out more.
Organizer of Educate and Empower: Addressing the Gender Pay Gap