EDTalks: Trauma-Informed Classrooms + Self-care for Educators and Advocates
Description
Join us for our December 5 EDTalks moderated by Adia Morris, with presentations by Mark Sander, Director of School Mental Health for Hennepin County and the Minneapolis Public Schools and Rebeka Ndosi, licensed acupuncturist and level II trained yoga and meditation instructor.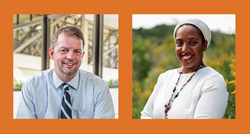 "Understanding Adverse Childhood Experiences: Building Self-Healing Communities"
Dr. Mark Sander, PsyD, LP is Director of School Mental Health for Hennepin County and Minneapolis Public Schools, and a Senior Clinical Psychologist for Hennepin County. As a certified Master Trainer in the Adverse Childhood Experiences Study (ACES), he helps develop trauma informed organizations and trauma sensitive schools, and publishes and speaks nationally on school mental health. Mark is former Assistant Professor of Pediatrics at the University of Maryland Medical School, and also serves as visiting scholar at Wilder Research.

"The Revolution Starts from Within: Integrating Self-Care Into our Lives"
Rebeka Ndosi, L.Ac, MSOM recently left the education and nonprofit worlds to focus on individual and collective healing. A licensed acupuncturist and level II trained yoga and meditation instructor, she is the owner of Healing Illuminated and co-owner of People's Movement Center. Rebeka was nominated for an Emmy as producer of TPT's (Twin Cities Public Television) narrative-changing Black Brilliance, which featured five African American high school seniors. She also teaches yoga and meditation to probational youth in St. Paul, and believes that healing takes place when we are seen and heard as who we really are.
Doors open at 5:30 and the program begins at 6 pm sharp.
Parking in the city can be a challenge! While there are a few spots available in nearby lots, or on the street, we encourage guests to carpool or take public transportation to EDTalks.
Your registration fees helps us cover event costs and provide appetizers that are served on a first-come, first-served basis.
For more information about event accessibility or ticket prices, please contact Rachel Shields at 612.455.1559 or at rshields@achievempls.org.
EDTalks is a lively series of networking and education events that engages the community in public education issues in the Twin Cities. Each program features two compelling 20-minute presentations by cutting-edge educators, youth advocates, journalists, artists, policy-makers and others, along with ample time for conversation and networking.
EDTalks is presented by AchieveMpls and Citizens League in partnership with Indigo Education and Pollen.

---
Check out our past EDTalks videos!
---
EDTalks is generously sponsored by grants from the Bush Foundation and the Verne C Johnson Family Foundation.
The Bush Foundation invests in great ideas and the people who power them in Minnesota, North Dakota, South Dakota and the 23 Native nations that share the geography. We work to inspire and support creative problem solving – within and across sectors – to make our region better for everyone.
The Verne C. Johnson Family Foundation supports activities in the areas of education, youth and mentorship. Verne is a former Citizens League Executive Director and his children wished to honor their father's commitment to the organization over his long life. Check out this video message from the Foundation.