Description
EdSurge Immersion | Get Down to Business
April 7, 2019 | SAN DIEGO
REAL FACE TIME WITH WORLD CLASS EXPERTS
Get next-level business coaching from our highly-sought after experts. One day at Immersion will give you more meaningful time with the people you need to know than you could get from years of networking. Get in the fast lane to raise money, scale your business and sell to school districts and colleges.
Whether you need to meet VCs, get advice on scaling or learn the right steps for selling your company, our interactive clinics will put you in front of the people who can take your business to the next level.
Come with a question. Leave with a plan for next steps. Move your education business forward at EdSurge Immersion.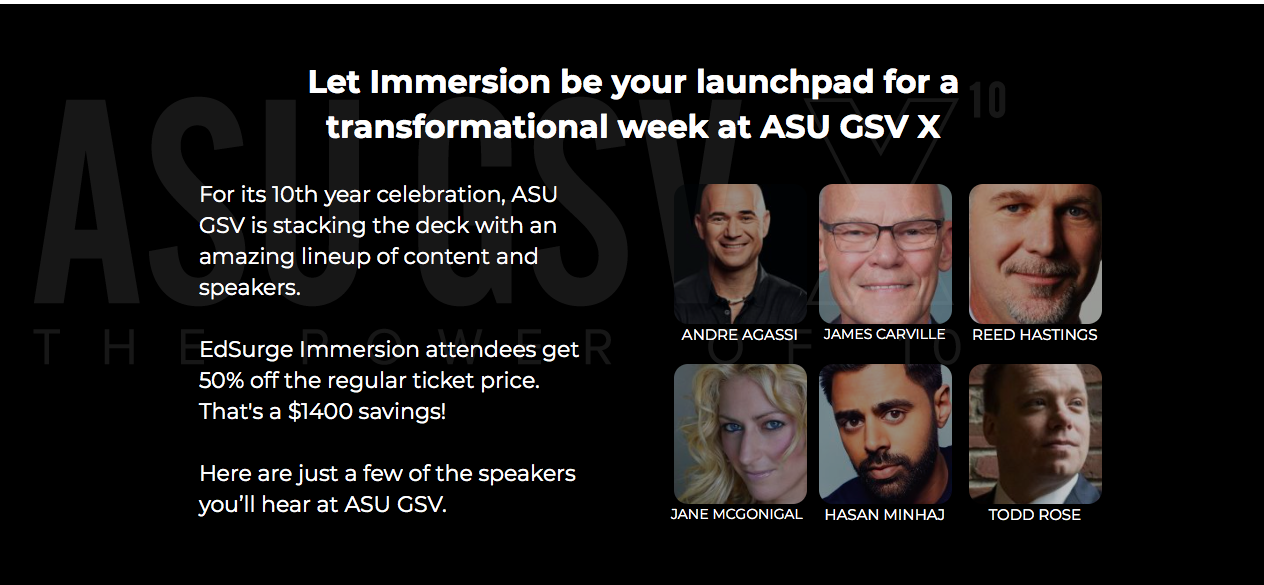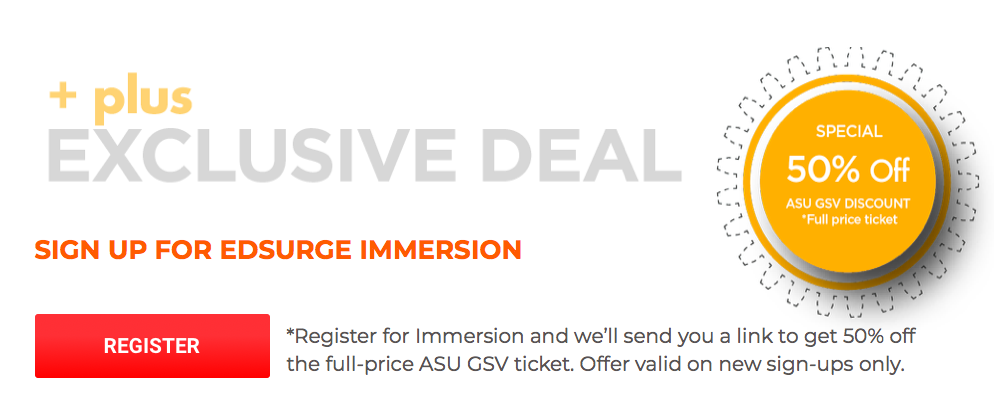 -----------------------
NOTE: Your e-mail address may be used to communicate with you about your registration, related products and services, and offers sent to you directly from sponsors. Use of your personal information is otherwise protected according to our privacy policy.
-----------------------------------

Photos and Video Disclaimer
EDSURGE IMMERSION reserves the right to use any photograph/video taken at the event, without the expressed written permission of those included within the photograph/video. EDSURGE IMMERSION may use the photograph/video in publications or other media material produced, used or contracted by EDSURGE IMMERSION including but not limited to: brochures, invitations, books, newspapers, magazines, television, websites, etc.
To ensure the privacy of individuals, images will not be identified using full names or personal identifying information without written approval from the photographed subject.
A person attending a EDSURGE IMMERSION event who does not wish to have their image recorded for distribution should make their wishes known to the photographer, and/or the event organizers, and/or contact EDSURGE IMMERSION at immersion@edsurge.com, in writing of his/her intentions and include a photograph. EDSURGE IMMERSION will use the photo for identification purposes and will hold it in confidence.
Any person or organization not affiliated with EDSURGE IMMERSION may not use, copy, alter or modify EDSURGE IMMERSION photographs, graphics, videography or other, similar reproductions or recordings without the advance written permission of an authorized designee from EDSURGE IMMERSION.
Thank you for your understanding and cooperation!