Description
Join Heartland CISMA for a day in the field to learn about these species in the habitats in which you might find them!
If you are a land manager, field biologist, or outreach coordinator working with invasive exotic species, this training is for you!
At this training, participants will learn the identifying features of both Scleria microcarpa and Ardisia crenata, recommended treatment options, and decontamination (equipment and personal) strategies to reduce the spread of exotic species. We will be decontaminating before going into the field, in between sites, and after the field session.
Please wear field-appropriate clothing and shoes. You may want to bring bug spray, a hat, and/or wear sunscreen. (Fun Fact: If wearing both sunscreen and bug spray, current UF/IFAS recommendations are to apply sunscreen, allow to dry, then apply bugspray.) Bring a pair of work gloves, this training will include hands-on management training for coral ardisia if time allows.
Scleria microcarpa (tropical nutrush) and Ardisia crenata (coral ardisia) are EDRR species for the Heartland region. These species are eligible for FWC funds for the management of small, new populations on public lands.
This training has been approved for 2 Natural Areas CEUs with FDACS.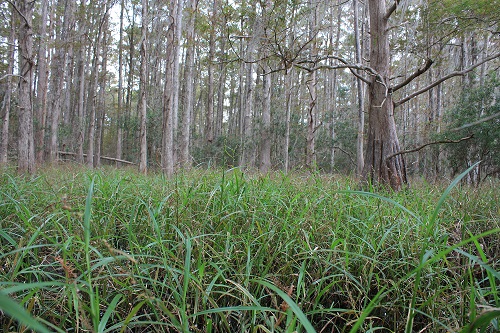 Scleria microcarpa in a cypress dome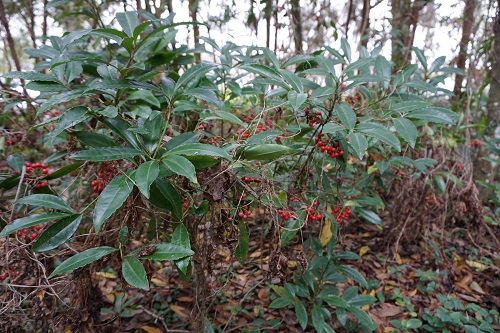 Coral ardisia in an oak hammock near the water
Lunch will not be provided.
FAQs
How can I contact the organizer with any questions?
For information on the event itself, please contact Alex Onisko at aonisko@sfwmd.gov
For information or questions about registration, please contact Shannon Carnevale at scarnevale@ufl.edu
Is it ok if the name on my ticket or registration doesn't match the person who attends?
Yes, that is okay. The most important thing to us is that we have an accurate headcount of those who plan to attend. If you need to cancel, please let us know at least 48 hours in advance. If you have colleagues or friends who would like to attend, please ask them to register on this page.
What's the refund/cancellation policy?
This event is free, but we do ask that you cancel at least 48 hours in advance so we have an accurate headcount. If this event "sells out" we would appreciate cancellations be made as soon as possible to give others a chance of taking your place. Thank you for understanding.