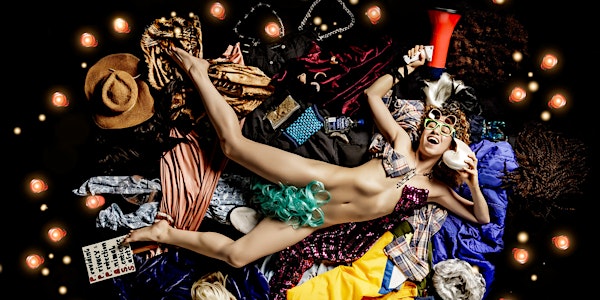 EDNA - MONOLOGUE QUEEN - TURNS 35!
Screening of Edna's award-winning solo show, "ALTARS FOR MY ALTERS" & Bday Set by DJ FLACO & MC Jay3m
Refund Policy
Contact the organizer to request a refund.
Eventbrite's fee is nonrefundable.
About this event
The night, hosted by the monologue queen herself, Edna Mira Raia, includes the screening of Edna's award-winning solo show, ALTARS FOR MY ALTERS - a psychological tour of flawed personalities by an insightfully crafted comic. Audiences called it, "THOUGHT-PROVOKING, QUIRKY & MASTERFUL!"
& 1 hour Zoom Birthday EP release dance party by drum n bass DJ Flaco with MC Jay3m
Edna's company, Potatoes Mashed Comedy, will present "ALTARS FOR MY ALTERS," a bittersweet solo show, depicting the vulnerable sides of our modern world's flawed stereotypes. Edna Mira Raia leads you deep into her bottomless hole of personas, through a proficiency in neo-classic clowning and a dreamy cartoon style that is uniquely hers. From Regina, the Jewish widow to Brian, the vagrant with DID, these characters tell believably intimate stories, hiding their pain behind a pitiful facade while relating to us through comedy. While having been compared to Lily Tomlin, Edna is more like the Anna Deveare Smith of clowns, incorporating morbid candor, innocence and fearlessness to provoke. She'll nudge you towards empathy for the 'tragic clown' in everyone. Don't miss her. Don't miss any of the 'hers.' This solo show was received with rave reviews at both San Francisco Fringe Festival 2018 and Orlando Fringe Festival 2019. Remounting this recorded show in quarantine via online streaming sites: Twitch and Youtube, Ms. Raia will bring her insightful character monologues to a broader internet audience for her birthday bash. Bookended by 2 new character performances to open and close the show. Followed up by a Zoom dance party with a live Drum n Bass DJ and MC Jay3m to celebrate her last and next trip round the sun and DJ Flaco's EP release of Metzger Park. https://www.beatport.com/release/metzger-park-ep/3214536
WARNING: NOT FOR CHILDREN. MATURE CONTENT. NUDITY.
Edna Mira Raia (Writer/Performer) left Texas sixteen years ago to explore a diverse lifestyle in San Francisco. She studied Performing Arts & Social Justice at USF and trained post-grad in neo-classic mime and clowning at the late Flying Actor Studio. Edna has been writing and performing socially conscious sketch comedy and character monologues since 2008. She was awarded 'Best of San Francisco Fringe,' 'Most Attended' and 'Sold Out' awards for her first ever solo show, Altars for my Alters. Her company, Potatoes Mashed Comedy, (facebook), began in 2015, to connect strangers through deep laughter. Her monthly sketch comedy show, "Edna in a Bottle" has been running locally for over two years but has turned to a digital platform as of 2020. She is a drag performance artist with SF's local group, 'Palace of Trash,' and has also switched to digital solo drag since the pandemic. Find her at www.YouTube.com/miramiros and www.PotatoesMashed.com.
Directed by Michael Sommers, winner of 'Best of Fringe' for his 2016 solo performance of Hick in the Hood. Sommers is best known as an actor... as Johnny on the film "Sorry To Bother You" and as Bug on "Sense8" (Netflix) where he was a regular for three seasons. He has directed multiple runs of his award winning solo shows, Heart in the Hood and Hick in the Hood (the latter played LA, Chicago, Vermont, Rome, Italy... to standing ovations!) and scores of sketch comedy shows with Uncle Buzzy's Hometown Theater Show. www.MichaelSommers.com
Kym Hawkins is a San Francisco-based performance arts producer laying the production groundwork for local artists to take pivotal risks in their performance. As Potatoes Mashed Comedy's Company Manager (2015-current) she collaborates with Edna Mira Raia on her signature presentation of fringe characters who endear audiences, allowing them to laugh at their humanity. Ms Hawkins is excited to have produced Raia's first one woman show Altars for my Alters and presenting it now to an online audience.
DJ Flaco (https://www.beatport.com/release/metzger-park-ep/3214536)
Jay3m (https://soundcloud.com/joemousepad)
LINK for show will be emailed to participants at 5 PM the day of show.