The Edmund Janzen Lectureship: Promoting careful scholarship in biblical interpretation as well as the witness of the Christian church.
About this event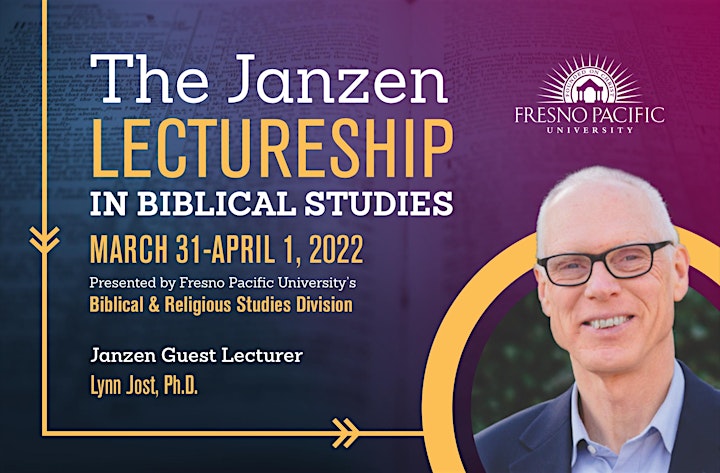 Our guest lecturer is Dr. Lynn Jost, professor of preaching and Old Testament at FPU Biblical Seminary, did church planting in Spain and pastored in California and Kansas before teaching Bible at Tabor College from 1990-2006. He chaired the MB Board of Faith and Life and the Confession of Faith task force and served on the International Confession of Faith writing team. A graduate of Vanderbilt University, Jost served as dean and president of Mennonite Brethren Biblical Seminary. His wife Donna is a retired school teacher.
This year's Edmund Janzen Lectureship is focused on the the question of justice in ancient and modern contexts. "Justice" is a provocative, disputed and politicized term in contemporary society—just as it was in the biblical world. Biblical (particularly in the Hebrew Bible) justice not only prioritizes policies to protect the marginalized but includes them among God's people through covenant stipulations and story-telling. The first lecture attempts to take one more step in the journey of following radical Anabaptist faith. The second lecture invites us to learn from the "school of the prophets."
The Edmund Janzen Lectureship in Biblical Studies promotes careful scholarship in biblical interpretation as well as the witness of the Christian church. The lectureship is made possible through an endowment established in 2005 to honor the 35 years Edmund Janzen served Fresno Pacific University as president and faculty member.
If you would like to support this work with a gift, donations to the endowment that supports this lectureship may be made at fpu.edu/giving-opportunities. Select "Other" in the drop-down menu then enter "Janzen Lectureship Endowment" in the "Other Designation" space. And thank you for your support!
LOCATION: At this current time and pending any additional need in the spring to mitigate the spread of COVID-19, all Janzen Lecture events will occur on the FPU Main Campus. These locations will be updated as we come closer to the the event, so check back for specific meeting locations.
NOTE: Persons attending the event live are expected to follow all campus expectations for COVID-19 mitigation including the wearing of masks. Space may be limited depending on the institutional policy or local, county, or state recommendations at the time.
REMOTE OPTION: In addition to offering this as an in-person event and as a precaution for persons who may not be physically able or comfortable attending in person, the Biblical & Religious Studies Division will be hosting a video link to the events. This link will be available here as we come closer to the event.