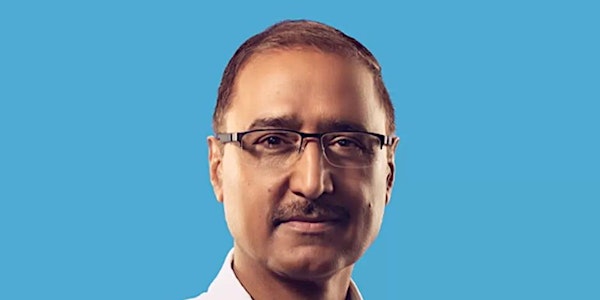 Edmonton Climate Hub: Amarjeet Sohi - Edmonton Climate Solutions
An online presentation on climate solutions for Edmonton, by Amarjeet Sohi, Mayoral Candidate for the City of Edmonton
About this event
Welcome to the Edmonton Climate Hub "I'm a Climate Voter" series. Our vision is to reduce Edmonton's carbon footprint to zero by 2050 and have fun while doing it! The Edmonton Climate Hub supports a 2030 target of 45 per cent reduction in Edmonton greenhouse gas emissions from 2010 levels.
In this series, the Edmonton Climate Hub features climate policies of candidates for the 2021 Edmonton Municipal Elections.
Candidates will present on their planned greenhouse gas emission reduction strategies, followed by questions from members of the Edmonton Climate Hub, followed by members from the general public. Please note that participants are expected to engage in polite and constructive discourse. Non-compliance may lead to a ban from the event.
The speaker for October 12, 2021 is Amarjeet Sohi, Mayoral Candidate for the City of Edmonton.
Brief Bio for Amarjeet Sohi
Amarjeet Sohi moved to Edmonton with his parents at age 18 and started working in a number of enterprises including fast food franchises, delivering newspapers and after working as a taxi driver for a time, began to drive buses for the Edmonton Transit System. While working at ETS, Amarjeet became involved in his local union, advocating on behalf of his fellow members. A passionate community advocate, Amarjeet helped to launch the Mill Woods Crime Council while volunteering his time in support of arts, culture, and community recreation.
Amarjeet was elected as the councillor for Ward 6 in 2007 and served on City Council for eight years. After being elected, he was instrumental in advocating for investment in the LRT system, and in the approval of the Valley Line to southeast Edmonton, which will open this year. He played a prominent role in the downtown revitalization initiative, helping to build recreational facilities, libraries, a senior care centre, and a multicultural centre for Edmonton Mill Woods. Amarjeet helped launch REACH Edmonton, focused on crime prevention and intervention to build strong, safe, and healthy communities.
Dedicated to improving Edmonton's infrastructure and liveability, Amarjeet represented the city on the Canadian Urban Transit Association and strongly advocated for public transit. He also brought forward his passion for inclusive city-building through his representation at the Alberta Urban Municipalities Association and in leading City Council's Immigration, Multiculturalism, and Racism Free Edmonton initiatives.
In 2015, Amarjeet was elected as the Member of Parliament for Edmonton Mill Woods and was appointed to cabinet as the Minister of Infrastructure and Communities. In this role, he delivered for Albertans, & oversaw billions of infrastructure investments including the Winspear expansion and Citadel renovation projects, post-secondary research infrastructure, the expansion of the Yellowhead, and the building of 50th street overpass.
In 2018, he was named the Minister of Natural Resources and worked to ensure the Trans Mountain Pipeline could move forward in the right way, and advocated for the clean-up of abandoned wells in order to create thousands of jobs across the province, all while supporting the expansion of solar and other green energy projects in Alberta.
Topics to be discussed
This presentation will focus on municipal climate solutions for Edmonton, from the perspective of Amarjeet Sohi, Mayoral Candidate.
Please visit the Online Event Page for the link to the event. Thanks.
Note: The Edmonton Climate Hub does not endorse individual candidates, but encourages Edmontonians to inform themselves about the climate platforms of candidates, and to select candidates that have strong policies or track records of positive climate action. Note: this meeting will be recorded and by attending you are agreeing to be recorded.
For more information on the Edmonton Climate Hub visit https://www.edmontonclimatehub.ca and https://www.facebook.com/edmontonclimatehub/