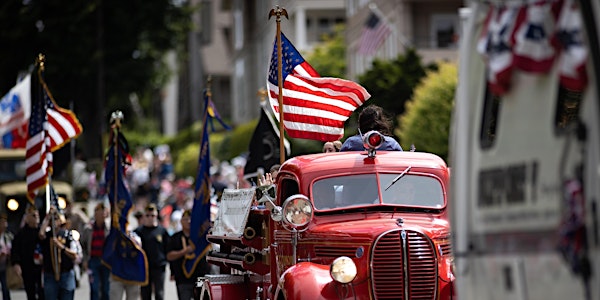 Edmonds 4th of July Parade
Edmonds 4th of July Main Parade! Started in 1907, this grand parade is attended by over 15,000 cheering people.
By Edmonds Chamber of Commerce
Date and time
Tuesday, July 4 · 12 - 2pm PDT
Location
Edmonds 121 - 5th Ave N Edmonds, WA 98020
About this event
The Edmonds 4th of July Main Parade boasts a lineup of over 90 entries with 15,000+ people in attendance! One of the biggest parades in the region, we would love to have your group join in the fun. All sorts of entries are welcome, including neighborhood groups, High School graduating classes and classic car clubs. Join us as we celebrate the great ol' U S of A!
REGISTRATIONS ONLINE ONLY – DEADLINE SUNDAY, JUNE 18
Your support is instrumental in continuing our tradition of a July 4th family celebration. The following fees are charged to participants:
•Groups & Individuals - $35. No vehicle included. Add up to 2 vehicles for $35.
•Commercial, Business, Corporation - $100. No vehicle included. Add up to 2 vehicles for $35
•Political - $500. 1 vehicle included. Add up to 2 vehicles for $35. For any person running for political office to advertise your campaign. Category is limited to 10 entries.
• SUPER SUPPORTER - $500. Sponsor the parade as a Super Supporter entry. If the higher-level sponsorship packages aren't what you're looking for this option is for you! Extra recognition on website & during parade.
•Motorcycle Club - $45. Includes 4 bikes. Option to add 4 bikes for $35 - max 8 additional.
•Automobile Club - $45. Includes 3 vehicles. Option to add 2 vehicles for $35 - max 4 additional.
IMPORTANT – PLEASE READ CAREFULLY
All vehicles entered in the parade must be decorated in a patriotic manner in keeping with the event.
Unregistered entries in the event are not approved by the Edmonds Chamber of Commerce, do not qualify as participants in the event, are not covered by the Chamber insurance, and are not authorized to participate in the event because of potentially undocumented liabilities. If your group shows up at registration without having registered by June 18 you will be turned away.
DO NOT THROW ANYTHING INTO THE CROWD. You must communicate this to all of your group's participants. The Edmonds Police may remove your group from the parade if you do. This is a safety precaution to prevent children from running into the road. You may hand candy/swag directly to individuals in the crowd.
SCHEDULE
9:00 – 11:15 AM Check-in at 7th Ave N & Glen St.
11:45 Ready to roll!
12:00 Parade starts!
THE NUMBERS
Parade route is 9/10th of a mile long (see map of route at www.edmondsfourth.com)
Height limit for any unit is 14 feet.
Length limit for any unit 40 feet total (vehicle and trailer/float)
Width limit for any unit is 12 feet.
EDMONDS MAIN PARADE AWARD CATEGORIES
Most Patriotic – best application of patriotic theme and decorations
Most Original – unusual design and presentation
Funniest – whimsical in design and presentation
Mayor's Trophy – overall excellence
Best Decorated – creativity and imagination in design/decoration
Chamber Trophy – best business or commercial entry
Hopeful contestants must be ready for judges by 10:15am. Winners decided by 11:30am. Winners receive trophies as they pass the parade starting line.